As Grocery and Dollar Stores Compete for Your Money, Here's How To Spend Most Effectively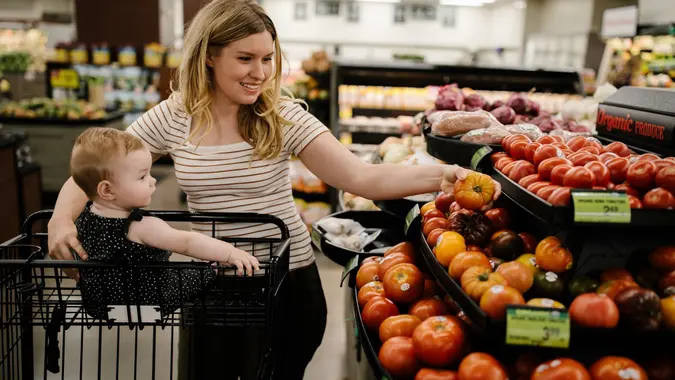 Wirestock / iStock.com
There's a bit of an economic clash brewing across America — one involving a number of grocery stores scrambling to get the most consumer dollars as new competition emerges. The good news: this means extra opportunities for savings if you plan ahead.
See: 10 Aldi Brand Products Worth Buying
Find: 3 Signs You're Serious About Raising Your Credit Score
According to a Today report concerning the grocery wars that are heating up across the nation, 60% of Americans now prefer nontraditional stores for groceries. Wholesale retailers like Costco and "supercenters" including Target and Walmart are now "often the go-to destination for food shoppers." per Today.
This was evident in the latest data from Walmart, as the chain had 60-year-high profits in December — largely due to sales of groceries throughout 2022, as GOBankingRates reported.
Yet, those types of profits are pushing traditional grocery stores to try to stay in the game and attract more shoppers. "Some retailers, to stay competitive for consumers, are going to put items that are staples on sale. They're also upping rewards on loyalty programs," Monti Carlo, senior food editor at BudgetBytes.com, told Today.
Make Your Money Work for You
But it's the dollar stores that are really edging in on the competition, with dedicated TikTok accounts devoted to great finds also causing a viral attraction. "I spent $35 on a week's worth of groceries," said one user Today profiled. The media outlet also reported that one in five people now shop for groceries at dollar stores. According to Carlo, this is because "they have the exact same quality of a name brand for much less."
Take Our Poll: Do You Have a Second Job or Backup Plan in Case You Are Laid Off?
More: Costco's Best Deals? Employee Reveals 10 Standout Buys for Your Money
So, how can you take advantage of the grocery store wars? Here's what the experts advise.
Shop at more than one store if you can, to get the best deals. Do your research ahead of time to see what sales are on offer, and decide which store has the best pricing in advance. Perhaps you stock up on canned goods at the dollar store and fresh produce at Aldi, but get dairy at your local grocery chain. By doing so, Carlo said, "You'd really be surprised how much money you can save."
Try to take home as many store brand products as possible. As Kroger CEO McMullen pointed out to Today, there are significant savings to be had by shopping for store brands (or private label products).
Take advantage of "buy one, get one" offers for essentials. When you see these promos, don't sleep on them. Stock up. Looking at weekly flyers will help you see who is offering the best BOGO deals.
Freeze anything you don't use to make it last longer. Freezing can be good for just about anything perishable. So, when you see a deal at the store, don't limit yourself to only what you can use within the week if the price is really good.
Set up a meal plan for the week. While you can freeze a number of options, it's also good to make a plan for what you want to eat the next seven days, and stick to your list to limit overspending.
Always tap into loyalty programs to save. No matter where you shop, most grocery stores and big box chains have loyalty programs that reward frequent shoppers. Always be ready to have your app open on your phone and scan it to get your points.
Try new apps to remind you of what you need. Newer options, per Today, include AnyList and OurGroceries — these help get you organized for shopping trips. ListEase can remind you what you have at home and what you need to stock up on and ShopSavvy offers strong coupon opportunities.
Look for digital coupons. These are one of the hottest grocery savings vehicles, according to Today. Before shopping, be sure to see who has the best coupons for the week and "clip" them to use at the register later.
Make Your Money Work for You
More From GOBankingRates
Make Your Money Work for You