7 Grocery Items Where Prices Haven't Been Affected by Inflation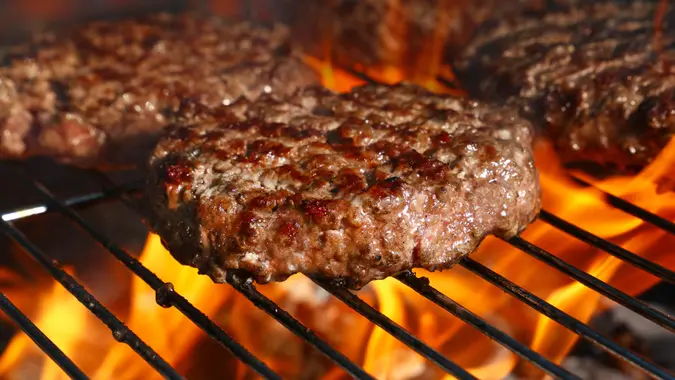 BreakingTheWalls / Getty Images/iStockphoto
Studies show that Americans are spending hundreds of dollars more on groceries than they did a year ago. The increase in spending has little to do with more food being put on the table, and more to do with the sky-high price of groceries across the country.
According to ABC 13, Moody's Analytics reports that in December 2022 American households spend an extra $371 on goods and services each month compared to 2021. While it is a drop from the summer 2022 high of an additional $502 per month, it is still hitting most consumers hard as they try to stabilize their spending. 
Unfortunately, most grocery prices are not coming down fast enough and many might not return to pre-pandemic costs. Inflation and other external forces are working in conjunction to keep prices high. As of February 2023, the U.S. Bureau of Labor and Statistics (BLS) estimates that eggs, for instance, are 110% higher than they were in February 2022. It is likely not only because of inflation but also due to an avian flu outbreak. 
Luckily, not all perishable products have as grim a fate. We searched the BLS' Average Food and Energy Prices in the U.S. to find affordable foods that will keep your family fed without breaking the bank. Here are seven grocery items not affected by inflation from February 2022 to February 2023. 
Make Your Money Work for You
Sirloin Steak
It is a good time to be a meat lover. If you have an affinity for steak or beef then you are in luck since these items have been less affected by inflation compared to other proteins. The price of boneless USDA Choice sirloin steak in February 2022 was $10.584 per pound. The price in February 2023 had dropped to $10.286 per pound, representing a decrease of 2.8% compared to the previous year.
USDA Choice Beef
Beef is definitely having a moment, at least as far as price is concerned. Boneless USDA Choice round steak has also seen a substantial reduction in price. The BLS states that the price went from $7.489 per pound in February 2022 to $7.218 in 2023. The drop represents a percentage decrease of 3.6% over the 12-month period.
Take Our Poll: Are You Concerned About the Safety of Your Money in Your Bank Accounts?
Lean and Extra Lean Ground Beef
If you are in the mood for hamburgers then you might want to consider lean or extra lean ground beef which saw a 0.6% decrease from February 2022 to February 2023. Last year, the beef cost an average of $6.465 per pound. Fast forward to last month and it was listed at $6.427.
Boneless Pork Chops
If red meat isn't the only thing on your menu, you still have affordable protein options. Unlike many other foods which saw double-digit increases in price, boneless book chops only changed by 1% from February 2022 to February 2023. Chops went up only slightly from $4.449 to $4.494 per pound over the course of the year.
Make Your Money Work for You
Romaine Lettuce
Romaine lettuce appears to be fairly inflation-proof, dropping 10% from February 2022 to February 2023. The fan-favorite greenery was selling for an average of $3.182 per pound in February 2022, decreasing to $2.865 per pound during the same month in 2023.
Bananas
Bananas were one of the only other produce items to stay relatively stable over the course of the year. They increased slightly from $0.628 per pound in February 2022 to $0.641 per pound in February 2023. 
The just over 2% jump was palatable for most families, particularly compared to the 9% increase in tomatoes and the nearly 22% increase in the cost of potatoes during the same period. Both were once considered to be standouts in the rising cost of food. 
Wine
Finally, wine drinkers can rejoice in paying slightly less for their bottles this year compared to last. Whether you enjoy white or red for dinner, the average cost of a one-liter bottle fell from $13.488 to $13.213 from February 2022 to February 2023. The 2% decrease was a welcome sign given the eye-popping prices of most other foods and drinks. 
More From GOBankingRates
Make Your Money Work for You
Make Your Money Work for You