How Does Your Grocery Bill Compare to the Average? 10 Ways You Can Reduce It More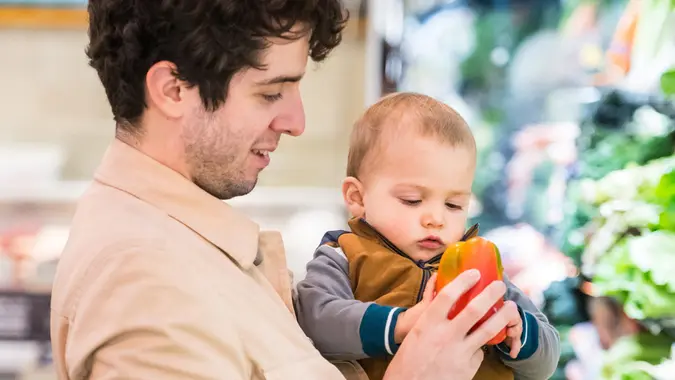 Juanmonino / iStock.com
Anyone who does the grocery shopping knows first hand how much more expensive groceries are than they've been in recent years, largely due to inflation. And this upward trajectory in prices doesn't seem to be stopping. According to the Bureau of Labor Statistics, the overall food index leaped another 0.2% in August, and it had already risen 0.3% in July.
Also in August, poultry, fish and eggs increased by 0.8% and the pork index by 2.2%. Other food at home increased 0.2%, and cereals and bakery products rose by 0.5%.
Average Grocery Spending
However, overall household grocery spending differs depending on factors, such as how many people are in your household and even age and gender. The U.S. Department of Agriculture (USDA) categories the average grocery spend — if people shop to fulfill their nutritional needs — as falling into three categories per week: low-cost, moderate-cost and liberal.
If you wonder how your grocery costs stack up against other families, a family of four comprised of an adult male and female who are between the ages of 19 to 50, with two children in the 6 to 8 and 9 to 11 age brackets, would spend around $242.70 per week on groceries on the low-cost plan; $301.80 on the moderate-cost plan; and $364.40 on the liberal plan.
These figures add up quickly. The family on the lowest cost plan would be spending over $12,500 per year on groceries, and the family on the liberal plan would spend almost $19,000 per year on groceries alone!
To help you figure out how to reduce your costs, GOBankingRates asked experts for the following 10 tips.
Make Your Money Work for You
Shop Weekly Sales
Most grocery stores have weekly sales, and according to Julie Ramhold, consumer analyst with DealNews.com, "This is one of the easiest ways to try to cut back on grocery bills."
However, she warned that it's important to be mindful of your purchases. "Don't opt to buy something you have no plans for just because it's on sale. Try to stick to items that you know you'll use or are interested in trying anyway. If you buy items you wouldn't otherwise, then you're just going to be susceptible to overspending."
Stick With Generics
Ramhold explained that there are generics available for most grocery items now, and even said that "often the store brands will be on par if not even better than the name brand alternatives." So long as you don't have dietary restrictions, generic products typically have better prices, Ramhold said. "In some cases, generics can be 50% cheaper, if not even more, depending on the product."
Use Store Pickup for Orders
If you find grocery shopping to be a time-suck and that you're prone to giving in to impulse buys, then, Ramhold said, consider shopping online ahead of time and opting for in-store pickup. "The service is free at a lot of retailers, including stores like Target, so as long as you can pick up everything on your list, this is a real time-saver and won't cost you anything extra."
This does, however, often mean letting someone else choose your produce and perishables, which may not be for everyone. "That doesn't mean you have to shop for everything yourself, though, so it's definitely worth opting for this method for items you aren't too picky about and restricting your in-store shopping for the products you need to select yourself."
Make Your Money Work for You
Consider Your Time, Too
Time is money, as you know. Ramhold offered that "convention says buying a whole onion is going to be cheaper than opting for a package of pre-chopped onions, but if you're particularly busy, then it may be worth buying pre-cut veggies and fruits to simplify your prep at home."
Even though a container of pre-cut onions might be close to $4 for 8 ounces, versus a single white onion around $2, she asked whether the bag of onions is really a better buy? "Your time is valuable, too, and if buying pre-cut fruits and veggies ensures you'll use them all and save you time in addition to risking having to toss out spoiled produce, I say go for the convenient factor. You can cut your costs in other ways."
Budget and Meal Plan
Eric Sornoso, CEO of Mealfan, suggested you start by creating a monthly grocery budget. "Meal planning plays a crucial role here. Plan your weekly meals, make a shopping list, and stick to it. This prevents impulsive purchases and ensures you buy only what you need."
Use Loyalty Coupons and Discounts
If you aren't shopping at the same places regularly, you may be missing out on coupons, loyalty programs and discounts offered by grocery stores. "Many stores have digital apps or online platforms where you can find coupons tailored to your shopping habits," Sornoso said.
Buy in Bulk Wisely
If you have the ability to store bulk items, whether these be freezable or items that keep well, Sornoso said this can save money, but it's essential to be strategic. "Purchase non-perishable items or those with long shelf lives, such as pasta, rice and canned goods, in bulk. This can lead to significant savings over time."
Buy Seasonal and Local Produce
Buying seasonal and locally sourced produce can also be cheaper and fresher, Sonorso said. "These items are often on sale when they are in abundance, so take advantage of the savings."
Reduce Meat Consumption
Meat is very often one of the biggest expenses on your grocery list. Sonorso said this makes it a great time to "consider incorporating more plant-based protein sources like beans, lentils and tofu into your meals." When you do buy meat, he said, look for sales and consider cheaper cuts.
Avoid Pre-Packaged Convenience
While a lot of pre-packaged and convenience foods are tasty, quick and easy to make, they also tend to be more expensive, Sonorso said. "Opt for whole ingredients and cook from scratch whenever possible. It's not only cost-effective but also healthier."
More From GOBankingRates