10 Walmart Brand Grocery Items That Are Now Cheaper at Aldi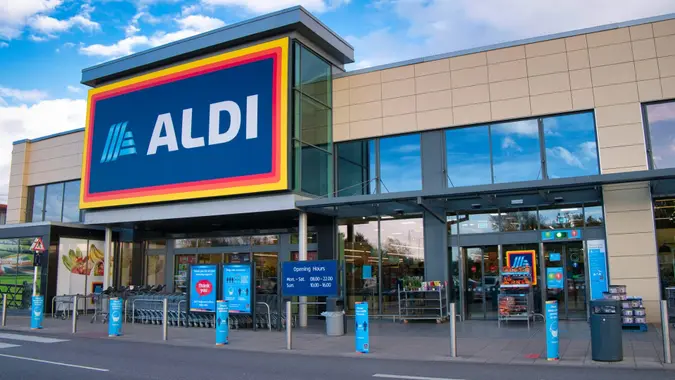 Alan Morris / Getty Images
Everyone is aware that groceries have gone up over the last couple of years because of inflation and several other factors. But a new viral TikTok video shows just how much more we're paying at the register.
TikTok creator @__curtdogg recently received 3.7 million views on a video comparing 2020 Walmart prices to today. In the video, he went through a Facebook post from a customer who shared a receipt from a 2020 Walmart mobile order and another more recent one. Many of the items were the company's Great Value house brand, and the receipts showed a 100% price increase on some products.
"It's sad/funny. I have doubled my income between 2013 and 2023, yet I'm struggling more than I was back then," a shopper commented, reported Eat This, Not That. Some also accused Walmart of price gouging and encouraged other shoppers to go to Aldi or Costco instead to get better savings.
According to Delish, Aldi is one of the cheapest grocery stores in the U.S. (Walmart wasn't even on the list). Aldi claims 90% of its products are private-label brands, and the company's business model is designed to minimize the cost to the consumer.
But how do these two grocery rivals really compare? Rachel Cruze, author, financial expert and host of The Rachel Cruze Show, bought and compared each store's own brand in June 2023 in Franklin, Tennessee. While it's important to note that prices vary by location, here are ten items Cruze said are cheaper at Aldi versus Walmart.
Make Your Money Work for You
Chicken
Aldi: $2.29 per pound
Walmart: $2.97 per pound
Price difference: $0.68 per pound (25% cheaper)
Ground Beef
Aldi: $3.59 per pound
Walmart: $4.42 per pound
Price difference: $0.83 per pound (20% cheaper)
Eggs
Aldi: $1.09 per dozen
Walmart: $1.10 per dozen
Price difference: $0.01 per dozen
Butter
Aldi: $3.69
Walmart: $3.98
Price difference:$0.29
Apples
Aldi: $3.95
Walmart: $4.52
Price difference: $0.57
Spinach
Aldi: $1.45 ($0.18 per ounce)
Walmart: $1.98 ($0.20 per ounce)
Price difference: $0.02 per ounce
Organic Chicken Broth
Aldi: $2.09
Walmart: $2.18
Price difference: $0.09
Diapers
Aldi: $12.39 (82 diapers/15 cents per diaper)
Walmart: $17.48 (80 diapers/21 cents per diaper)
Price difference: $0.06 per diaper
Trash Bags
Aldi: $7.69 (80 count/10 cents per bag)
Walmart: $6.88 (40 count/17 cents per bag)
Price difference: $0.07 per bag
Dish Soap
Aldi: $1.89
Walmart: $2.18
Price difference: $0.29
More From GOBankingRates