Is Aldi Cheaper Than Walmart?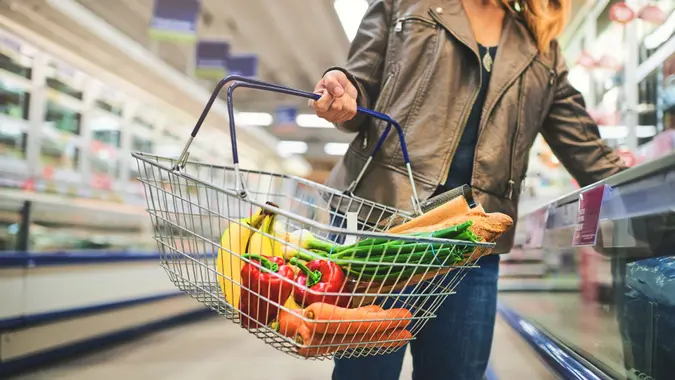 PeopleImages / iStock.com
As inflation continues to soar, especially where food cost is concerned, it's more important to save money on groceries and other items than it has been in the past. One common belief is that consumers can save money by shopping at low-cost grocery store chains and retailers like Aldi and Walmart and comparing prices, but which is cheaper? 
Read: How To Get Cash Back on Your Everyday Purchases
Aldi vs. Walmart: Key Takeaways
These two discount one-stop-shop have a lot in common, but who gives the better bargain? Is Aldi cheaper than Walmart? Does Walmart have deeper discounts?
Aldi beat Walmart in price in many cases, but that's the thing with grocery pricing, it's always on a case-by-case basis with food items. Here are some things to know about the two mega-retailers:
Who Has the Better Meat Deals? Aldi or Walmart?
Meat is a staple food for many households around the world. It's a significant source of protein. Is Aldi cheaper than Walmart for meats? Here are some example comparisons:
Chicken thighs: The lowest-priced chicken thighs at Walmart are about $1.42 per pound. The lowest-priced chicken thighs at Aldi are about $2.39 per pound.
Ground beef: Shoppers can find ground beef at Walmart for about $4.08 per pound. The lowest-priced ground beef at Aldi costs about $2.99 per pound.
Tilapia: At Walmart, consumers pay about $4.89 per pound for the lowest-priced tilapia. Similar products at Aldi sell for $5.79 per pound. 
Dairy Deals at Aldi vs. Walmart
Dairy is another important part of consumer diets and the shopping experience. The average American drinks about 18 gallons of milk per year. Here's how dairy prices compare between the dairy products in your Aldi and Walmart shopping cart:
A gallon of milk: Store-brand milk at Walmart costs about $3.38 per gallon while consumers pay about $3.21 per gallon at Aldi.
Stick of butter: The cheapest stick of butter at Walmart costs about 27 cents per ounce. Consumers at Aldi pay about 25 cents per ounce. 
American cheese: Shoppers pay about 16 cents per ounce for store-brand American cheese at Walmart. At Aldi, the price for a similar item is 18 cents per ounce. 
Make Your Money Work for You
Who Offers a Deeper Discount on Eggs?
Eggs are a category all of their own, but they're important to most people's diets and the pricing has been high as of late. At Walmart, shoppers need to buy a 60-pack of eggs to get the lowest price. When they do, they'll spend about 18 cents per egg. At Aldi, the lowest-priced eggs are about 20 cents per egg. Aldi does not have large packs of eggs and only sells them in cartons of one dozen.
Prices on Dried Goods
Pantry items like bread, canned goods and flour are all important staple foods. Is Aldi cheaper than Walmart for dried goods? Here's how the prices compare:
White Bread: Store-brand white bread at Walmart costs about 5 cents per ounce. At Aldi, the price for a similar product is 5 cents per ounce. 
Canned Corn: The lowest-priced canned corn at Walmart costs about 10 cents per ounce. Similar products sell at Aldi for 4 cents per ounce.
Flour: The lowest-priced all-purpose flour at Walmart sells for about 2 cents per ounce compared to 3 cents at Aldi. 
Fresh Produce Comparison
Finally, a shopping trip isn't complete without fresh produce, but is Aldi cheaper than Walmart? Here are how the two compare:
Oranges: The cheapest oranges at Walmart cost $1.33 per pound. The oranges with the lowest price at Aldi cost $1.20 per pound. 
Tomatoes: The cheapest tomatoes at Walmart cost about $1.48 per pound. At Aldi, the lowest-priced tomatoes cost about $1.19 per pound. 
Lettuce: At Walmart, lettuce costs $1.74 per head. At Aldi, the price per head is $1.99. 
Which Is Cheaper Overall, Aldi or Walmart?
After a detailed price comparison, it became clear that Walmart is typically the lower-priced option for consumers for some grocery items when it runs specials. However, shoppers should consider shopping at both stores to ensure they get the lowest prices for each item on their shopping lists. Aldi many times came in cheaper for produce and certain meats or pantry items, but it is the price consistency you find there that can really help you budget your grocery bill. 
Make Your Money Work for You
Joshua Rodriguez contributed to the reporting for this article.
Our in-house research team and on-site financial experts work together to create content that's accurate, impartial, and up to date. We fact-check every single statistic, quote and fact using trusted primary resources to make sure the information we provide is correct. You can learn more about GOBankingRates' processes and standards in our editorial policy.