Can You Buy Aldi Stock? What To Know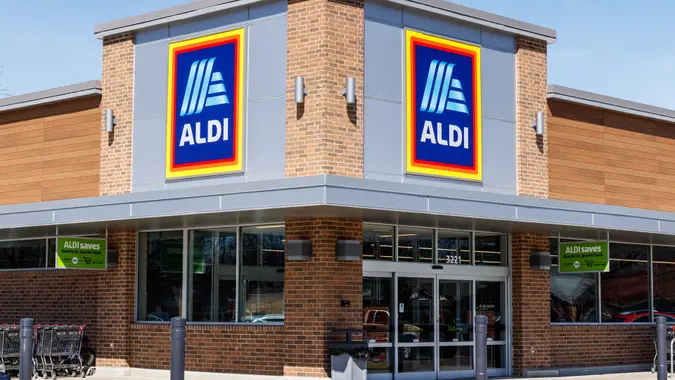 jetcityimage / Getty Images
In the highly competitive grocery wars, German-based discount supermarket chain Aldi is close to becoming the third-largest food store in the U.S., with around 2,100 stores nationwide. With roughly 11,000 locations worldwide, the wildly successful supermarket chain is a global heavyweight and has ambitious plans to expand further into the U.S. but investors may not be able to get in on this growth. Here's why.
Can You Buy Aldi Stock?
Unfortunately, those watching for an Aldi initial public offering may have to wait a while. Aldi's parent company Aldi Einkauf S.E. & Co. oHG is firmly in the hands of the founding family, Albrecht, and as of 2022, there are no indications that investors will be able to buy into an initial public offering anytime soon. For now, investors will need to look elsewhere for a grocery store stock fix.
How Is Aldi Performing? 
Because it's a privately-held company, Aldi Einkauf S.E. & Co. oHG doesn't have to share its discount supermarket chain's financial statements or performance estimates publicly. The company has actually made an extra effort at keeping this information secret, only releasing minimal details about its affairs. 
A Deloitte Global Powers of Retailing states that Aldi's retail revenue growth for 2019 stood at 5.6% compared to Walmart's 1.6% for the same period. This report also suggested that Aldi Nord and Sud — two branches that cover different global regions — will likely join together, as Aldi Sud's growth has far outpaced its lagging counterpart. 
How Did Aldi Start?
Aldi's story began after WWII when Germany faced tremendous challenges in rebuilding shattered cities, sheltering millions without homes and providing food for its citizens. 
German brothers Theo and Karl Albrecht returned home after the war and took over their mother's small grocery store in 1946. The Albrecht brothers understood their price-conscious customers and slashed costs to stay competitive. With that action, a new kind of grocery store was born. The brothers were ruthless cost-cutters and resorted to strategies like running smaller storefronts and quickly removing products that didn't sell to save money on operations.
Aldi Nord and Aldi Sud 
In 1961, the brothers went their separate ways after disagreeing about selling tobacco products. They split the family business, with Karl Albrecht taking the stores in southern Germany along with the rights to the U.K., Australia and the U.S., branding this branch of the company Aldi Sud. Theo Albrecht claimed the companies in northern Germany and Europe, branding his division Aldi Nord.
In the 1970s, Karl Albrecht ventured overseas and opened the first U.S. Aldi store in Iowa, while his brother purchased California-based Trader Joe's. 
Aldi the Fierce and Good 
Aldi is unabashedly no-frills: there's no gentle misting of vegetables, no courteous grocery-bagging clerks or free-sample Saturdays. Nonetheless, customers flock to Aldi stores for the low prices and high-quality goods.
Many competitors have underestimated Aldi's potential. Referred to as a "silent killer" by some industry insiders, Aldi is the discount supermarket that quietly appears in a community and quickly snaps up business from local competitors. Not one to rest on laurels, the company has plans for a five-year, $5 billion expansion in the U.S.
Good To Know

In 2021, Aldi was named the most sustainable grocery store in America and is continuing its commitment to support our planet's resources by becoming the first major U.S. retailer to eliminate all plastic shopping bags from their stores.
Does Aldi Have a Decentralized Corporate Structure?
Because Aldi Einkauf S.E. & Co oHG runs its discount supermarket chain as two distinct branches or divisions, the company operates — and favors — a highly decentralized organizational structure, which emphasizes flatter chains of command. This allows subsidiaries to reflect on regional markets and pivot with changing situations. Aldi Sud, for example, organizes itself as a group of companies collected under international and regional "head offices."
Takeaway
Given Aldi's growing popularity and future growth plans, it's no wonder investors want in on this discount supermarket chain's success. But because Aldi's parent company is private and has no intentions of going public anytime soon, investors are going to have to seek gains elsewhere for now.
Those interested in an Aldi IPO may want to wait and see whether Aldi Nord and Sud merge first. Industry experts believe Aldi Nord is experiencing financial losses. This may weigh down Aldi Sud's more buoyant performance and impact the overall value of the company.
Information is accurate as of May 4, 2022.
Our in-house research team and on-site financial experts work together to create content that's accurate, impartial, and up to date. We fact-check every single statistic, quote and fact using trusted primary resources to make sure the information we provide is correct. You can learn more about GOBankingRates' processes and standards in our editorial policy.