The Ten Most Popular Grocery Chains in America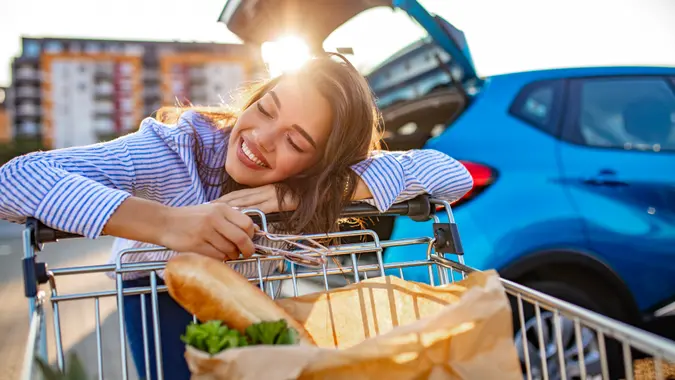 dragana991 / Getty Images/iStockphoto
In general, there are three kinds of grocery shoppers: the ones who stop at the closest store, the ones who follow the sale ads, and the ones who will go out of their way to shop their favorite store.
But just what grocery stores do Americans prefer? The one-stop shop that has everything or the smaller store with lesser selection but awesome prices? Turns out we like both.
GOBankingRates looked at the results of a survey done by YouGov Ratings to determine what America thinks about grocery stores by measuring their popularity rate. Read on to see the 10 most popular stores, in reverse order.
See: Costly Mistakes People Make While Grocery Shopping Without Breaking the Bank
10. Piggly Wiggly
Popularity Rating: 40%
Piggly Wiggly was founded by innovator Clarence Saunders in Memphis, Tennessee, in 1916. In that era, shoppers gave a list to clerks who picked their items for them. Saunders created Piggly Wiggly as the first self-serve grocery store, with shopping carts and aisles to shop with goods on open shelves. The store also was the first to refrigerate produce to keep it fresher longer, it boasts. Today, Piggly Wiggly has more than 530 stores in 17 states.
Learn: 25 Extra Grocery Costs You're Probably Forgetting About
9. Winn-Dixie
Popularity Rating: 42%
Winn-Dixie operates full-service grocery stores, complete with a liquor department and in-store pharmacies in five states in the Southeast: Alabama, Florida, Georgia, Louisiana and Mississippi. Founded in 1925, Winn-Dixie has a robust app and rewards program, including the Baby Club.
Make Your Money Work for You
Yes or No: Should You Buy Groceries at the Dollar Store?
8. Circle K
Popularity Rating: 43%
Generally categorized as a convenience store, Circle K got it start in 1951 when Fred Hervey bought three Kay's Food Stores in El Paso, Texas. Circle K sells all the food needed by people on the go – ready-to-eat food and snacks – as well as staples for the cupboard and refrigerator at home. Circle K has about 9,500 stores in North America.
Read More: AmazonFresh, Instacart and More: The Best Grocery Delivery Service for Your Budget
7. Publix
Popularity Rating: 43%
George W. Jenkins managed a Piggly Wiggly in Winter Haven, Florida, and thought the store could do better. When the owner declined to meet to hear his ideas, he founded his own store in the same city in 1930, according to the company biography. Today, Publix says, it is the largest employee-owned company with more than 1,300 stores, primarily in Florida, plus six other states in the Southeast.
Alternatives: Under-the-Radar Online Grocery Stores — And How Much They Charge for the Convenience
6. Safeway
Popularity Rating: 44%
The first chain with roots in the West, Safeway now is a division of Albertsons Companies, which has branches in 35 states and the District of Columbia under 20 store banners. The store dates back to 1915, when M.B. Skaggs bought his father's small grocery store. By 1926, he had opened 428 Skaggs stores in 10 states, and later that year, a merger with 322 Safeway stores let to the start of a major chain that survived the Great Depression. Among its innovations: the start of pricing produce by the pound.
Savings Strategies: 16 Ways To Save Money on Food Now That Prices Are Rising
Make Your Money Work for You
5. Whole Foods Market
Popularity Rating: 55%
The first Whole Foods Market opened in Austin, Texas, when four local people chose to start selling natural foods in a supermarket-like setting. It expanded within Texas, then to New Orleans and later to Northern California, adding stores organically as well as through acquisitions across the country and eventually into Canada and Europe. The stores themselves are known for local products. A recently opened store in San Francisco, for example, features 4,000 local products, including California wines and artisan cheeses.
Learn More: How To Beat Inflation at Costco and Other Grocery Stores
4. 7-Eleven
Popularity Rating: 57%
In 1927, "Uncle Johnny" Jefferson Green started selling staples from the dock of an icehouse in Dallas – the ultimate in convenience for customers. Ten years later, the president of the ice company expanded the concept and called the new locations Tote'm Stores, and in 1946 the new name was adopted to reflect the store's hours. Like Circle K, 7-Eleven is more convenience store than grocery store but sells the staples.  
3. Kroger
Popularity Rating: 57%
Kroger is the flagship store of the Kroger Co., which operates nearly 2,800 stores in 35 states with 28 different names. Its headquarters are in Cincinnati, where Barney Kroger used his life savings of $372 to open the first location in 1883. His goal then was to sell customers fresh, low-priced food, but Kroger now is a spot to buy groceries, fill your prescriptions and fill your gas tank.
See: 39 Supermarket Buys That Are a Waste of Money
2. Aldi
Popularity Rating: 58%
Aldi opened in 1961 in Germany and made its way to the United States in 1976. Without the square footage or frills of other grocers, Aldi is guided by the principle that great quality goods still can come with everyday low prices. The corporate philosophy: only four to five aisles with all of the essentials, according to its website. Today, Aldi has about 2,000 stores in 36 states.
Make Your Money Work for You
1. Trader Joe's
Popularity Rating: 59%
The first Trader Joe's opened in Pasadena, California, but has expanded nationwide, now calling itself "a national chain of neighborhood grocery stores." It aims to provide exceptional quality at the lowest possible prices. Its fervent fans are especially drawn to the store's Mandarin Orange Chicken, Dark Chocolate Peanut Butter Cups, Unexpected Cheddar, Everything but the Bagel Seasoning Blend, and Butternut Squash Mac & Cheese, according to the store's 13th Annual Customer Choice Awards.
More From GOBankingRates