The 7 Best Places To Buy Discount Groceries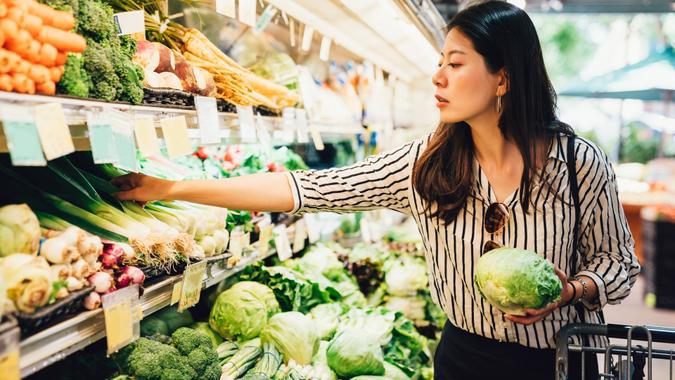 PRImageFactory / iStock.com
The cost of groceries adds up. In 2019, Americans spent $1.77 trillion on food and beverages in grocery stores. Grocery prices rose 3.5 percent in 2020 due to the pandemic, which was a much higher inflation rate than usual. Shoppers are searching for any chance to score a deal or find groceries at a discount. Here's a list of places where you can get quality groceries for a lower price. 
See: 6 Holiday Purchases That You Should Only Make at Costco
Find: 25 Best and Worst Deals at Walmart
Misfits Market
Misfits is one of the many services that delivers groceries to your door. Though it might seem like you'd have to pay more for that service, you can actually save up to 40 percent off grocery store prices. Misfits claims you can save an average of $21.49 a week when you switch to their delivery service. The products they deliver include pantry staples, produce, coffee, meats, and seafood. Membership is free and Misfits often offers a certain percentage off your first order. 
Make Your Money Work for You
Save: The 11 Best Deals From Costco's December Coupon Book
Imperfect Foods
Imperfect Foods is another grocery delivery service that provides your store must-haves for as low as $30 per week. How it works is that when you sign up, you take a quiz so you won't be recommended anything you're allergic to or don't like. Then, you're assigned a "window" in which you can shop during and pick all the goodies that will be sent to your doorstep. Imperfect Foods offers 60 produce items and around 200 grocery staples. The company prides themselves on providing access to high-quality, sustainable products sourced directly from farmers and producers. You can always skip weeks and cancel anytime.
Discover: 34 Dollar Store Secrets You Need To Know Before You Shop
Thrive Market
Thrive not only offers up to 30 percent on grocery items, but you can also shop for cleaning supplies, beauty products, alcohol, supplements, and more. Thrive Market offers more than 6,000 products in their selection. You can shop for what you need and completely customize your weekly order. They offer food to fit gluten-free, keto, organic and vegan diets and only sell thoughtfully-sourced seafood.  If you find a lower price on an item somewhere else, Thrive promises to beat their price. You can try Thrive Market risk-free for 30 days. After the trial period, it's $5 a month in addition to the cost of your items. 
Make Your Money Work for You
See: The Top 7 Money-Saving Strategies When Shopping for a Family at Costco
Grocery Outlet
Grocery Outlet is a brick and mortar grocery store that offers deeply discounted items. You can find these stores in California, Oregon, Washington, Idaho, Nevada and Pennsylvania. Most of the items sold do come from overstocks of brand name items, but Grocery Outlet recommends scooping up items as soon as you see them because they're likely a one-time deal. And because most of the stores are independently owned, there's no guarantee you'll be able to find the items at another Grocery Outlet. Local vendors also have the opportunity to sell their products at Grocery Outlet, so you might be able to find deals on your favorite local business's items as well. 
Find: Still Holiday Shopping? These Stores Will Get Deliveries to You Before Christmas
ALDI
ALDI is a huge discount grocery chain with more than 10,000 stores in 20 countries. There are more than 2,000 locations in the United States. Most of them are in Illinois, Florida, and Ohio. ALDI sells high-quality groceries for low prices including very discounted alcohol. You can find their weekly price specials on their website based on your zip code. The grocery chain won 2019 Store Brands Retailer of the Year. 
Make Your Money Work for You
More Tips: 4 Costco Items That Have Remained Cheap for Years
Smart & Final
Smart & Final is a warehouse grocery store, meaning there's a big selection of groceries at discounted prices. Operating with stores in California, Arizona and Nevada, the chain offers products for both families and businesses, so you're able to stock up on a product for less. Items include farm-fresh produce, fresh meat, frozen foods, dairy, deli, grocery basics, and natural and organic options. Their weekly ad can be found online and is the best spot to make sure you're getting the top deals.
Check Out: 21 Items That Are Always Cheaper at Costco
Family Dollar
These grocery stores are run by the same company that operates Dollar Tree, so you know the prices will be low. Not only can you get groceries and household essentials, but Family Dollar also offers deals on games, toys, clothes, electronics and other items that are more in-line with what you'd find at a department store. Family Dollar has stores everywhere except Alaska, Hawaii, Oregon and Washington. 
More From GOBankingRates