How Much Does a Costco Hot Dog Actually Cost Amid Inflation?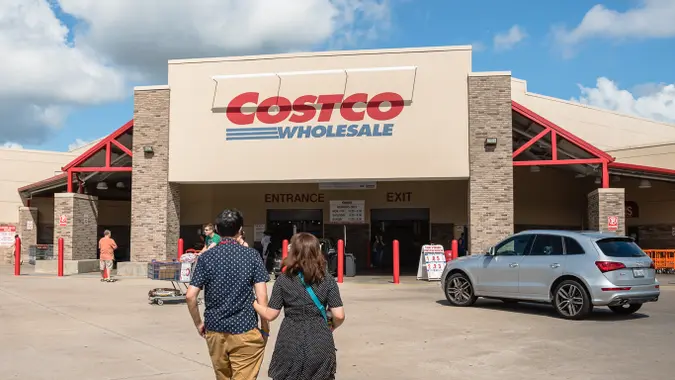 Trong Nguyen / Shutterstock.com
First introduced in the mid-1980s, the Costco hot dog and soda combo has long been a staple of the big-box store. If you have a Costco membership, chances are you've stopped by the food court and grabbed this deal yourself. After all, it's convenient and only $1.50 — cheaper than most other quick meal options.
But what's interesting about the Costco hot dog is that its price has never changed. Even amid inflation, the company continues to offer the hot dog and drink combination for $1.50. Considering rising costs almost everywhere else, bread and hot dogs included, you may be wondering how Costco has managed to keep such a deal for its customers.
Here's how this $230 billion big-box store does it — and what the hot dog really costs.
How Much the Costco Hot Dog Truly Costs
The Costco hot dog combination consists of Kirkland brand beef hot dogs and a 20-ounce soda. Both the hot dog and the soda are slightly larger than they used to be.
In total, this combination costs $1.50. But if Costco had risen its prices to match the trajectory of the Consumer Price Index (CPI), it would currently cost roughly $4.28.
Now, what if you were to make this same meal at home?
At Costco, you can get three 12-packs of Kirkland Signature hot dogs for around $17.59 — or roughly $0.49 per hot dog. A 12-pack of hot dog buns costs anywhere from $2 to $4, depending on the brand. This breaks down to $0.17 to $0.33 a bun. This means a hot dog would cost $0.66 to $0.82, excluding any condiments.
Make Your Money Work for You
But what about the soda?
A 20-ounce bottle of Coca-Cola costs roughly $2 to $2.50, depending on where you go. Pepsi and similar soft drinks go for about the same price. Add everything together and you're looking at spending $2.66 to $3.32 for the entire meal — if you were to make it at home.
How Costco Keeps Its Hot Dog Combo the Same Price
Since the beginning, Costco has been committed to keeping the hot dog combination at the same price it's always been. Even when the CEO suggested raising the price to match the rate of inflation, the idea was shot down.
But the question remains: How has Costco managed to keep the price of hot dogs the same over nearly 50 years?
Here are the biggest ways:
Profits are soaring in other areas. While the hot dog combination deal may not have changed, other Costco items have. Everything from bottled soda to eggs to hygiene products have risen in price over the years.
Costco switched suppliers. The original hot dogs came from Costco's longtime supplier, Hebrew National. In 2008, the big-box store built its own hot dog factories, reducing production costs and thereby keeping the $1.50 deal intact.
Costco implemented other cost-saving measures. Costco uses its own brand, uses streamlined processes to reduce waste, maximizes storage space and doesn't spend a lot on displays. All of these factors add to the store's overall savings — and profits.
Costco buys in bulk. The store imports many of its supplies — including bread — in bulk, so it benefits from some major savings there. Plus, it uses soda machines, which tend to be more cost-effective than bottled or canned beverages.
There's a surprisingly low amount of employee turnover. Costco's employee retention rate is around 83% — higher for employees who've made it past the year mark. This helps the company save money on hiring and training new staff members.
Make Your Money Work for You
And last but not least, there's the cost of membership. An annual membership to Costco costs anywhere from $60 to $120, depending on which tier you choose. This allows the store to keep its discounted prices while still turning a profit.
Keep in mind that having a Costco membership still offers a good deal of savings for you as the customer. But you can maximize your potential savings in a few ways, including:
Shop in bulk to save your household hundreds or even thousands of dollars a year
Get an executive membership and use the Costco rewards program to earn points on food, gas, travel and other Costco purchases
Make a budget whenever you shop (and buy only what you need)
Create a weekly or biweekly meal plan and stick to it
Take advantage of Costco's lifetime return policy
Get gas at Costco
Get regular free health screenings at Costco locations.
And, of course, take advantage of the hot dog combination deal — and similar low-cost meals at the food court.
More From GOBankingRates