How Much Does It Cost To Hire a Private Chef?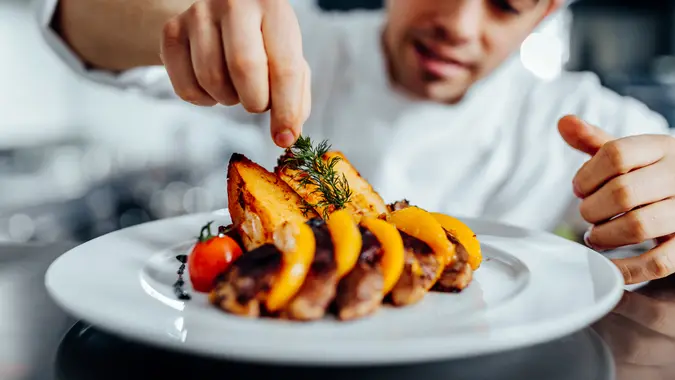 bernardbodo / Getty Images/iStockphoto
Imagine this.
You spend the afternoon at the beach, soaking up the summer sun. By the time 4 p.m. rolls around, you walk back to your waterfront mansion, and dinner is already on the table. It's a full three-course meal, prepared by a Michelin-rated private chef.
$2,000 Quarter? Check Your Pockets Before You Use This 2004 Coin
See: 3 Signs You're Serious About Raising Your Credit Score
This is the reality for the ultra-wealthy, but how much would something like this actually cost?
In this article, we'll break down the cost of hiring a private chef, and detail what is included in their services.
Private Chef vs. Personal Chef
It's important to note first that a private chef may differ from a personal chef. A personal chef may work for several clients, and prepare meals in advance to cater to various clients, while a private chef is typically an exclusive worker who only works for you.
Make Your Money Work for You
A private chef will typically cook all meals for you, and serve many of them immediately, while a personal chef may prepare food at home and it is more like a personalized meal prep service.
A personal chef will cost a lot less than a dedicated private chef (starting at $30 an hour or so).
How Much Does It Cost To Hire a Private Chef?
The cost for a private chef can vary widely. For example, the cost to have a private chef cook six different small-family entrees can run from $100 to $400, according to Fash. This includes meal planning, shopping, cooking and cleaning, as well as transportation costs.
The amount you pay will depend on a number of factors, including:
Location
Number of meals
Number of persons to cook for
In-house or delivered
Services included (menu planning, food prep, shopping, cleaning)
Part-time or full-time needs
Costs are much higher in "high-cost-of-living" areas, and the more meals being prepared, the higher the overall cost will be.
Take Our Poll: What Do You Plan To Use Your Tax Refund For?
How Much Does a Full-Time Private Chef Cost?
If you are looking for a dedicated private chef to cook all of your meals, this could cost you upwards of $60,000 per year in salary, according to Chefs for Seniors, and that doesn't include grocery costs. This includes full-time employment, planning, shopping, cooking and cleaning for all meals (including snacks). This means three meals a day, or about 90 meals per month.
Make Your Money Work for You
Some full-time chefs will also require lodging if they are "live-in" staff, though you may be able to get a discount on their overall salary in this case. Costs will vary by location and needs.
Least Expensive Private Chef Cost
Some private chef services can cost around $45 per person. How much you can save depends on the duties of the chef. While most private chef services are all-inclusive, if you simply need meal prep services or just a few meals per week, you can find lower-cost private chef services by working with a personal chef instead.
Personal chef services cost a lot less than a private chef (as low as $30 an hour), so a personal chef may be a better option if you are looking for customized meal plans and meal prep.
Most Expensive Private Chef Cost
A full-time dedicated private chef can cost up to $150,000 or more per year just for salary and benefits, which does not include grocery costs. Locations like Los Angeles and New York City will command a much higher cost for private chef staff.
Make Your Money Work for You
According to a private chef agency, the most they charge for an eight-person meal is $2,000, which comes out to $250 per person.
Bottom Line
Hiring a private chef can be one of life's most expensive luxuries, but it doesn't have to be. There is a wide range of costs, and it all depends on your dining needs.
Personal chef services can be as low as $30 an hour, and you can also find part-time meal prep services for even less.
But if you want a dedicated full-time private chef, be prepared to fork out at least $60,000 per year (plus benefits).
More From GOBankingRates
Make Your Money Work for You