How Much a Happy Meal Costs Around the World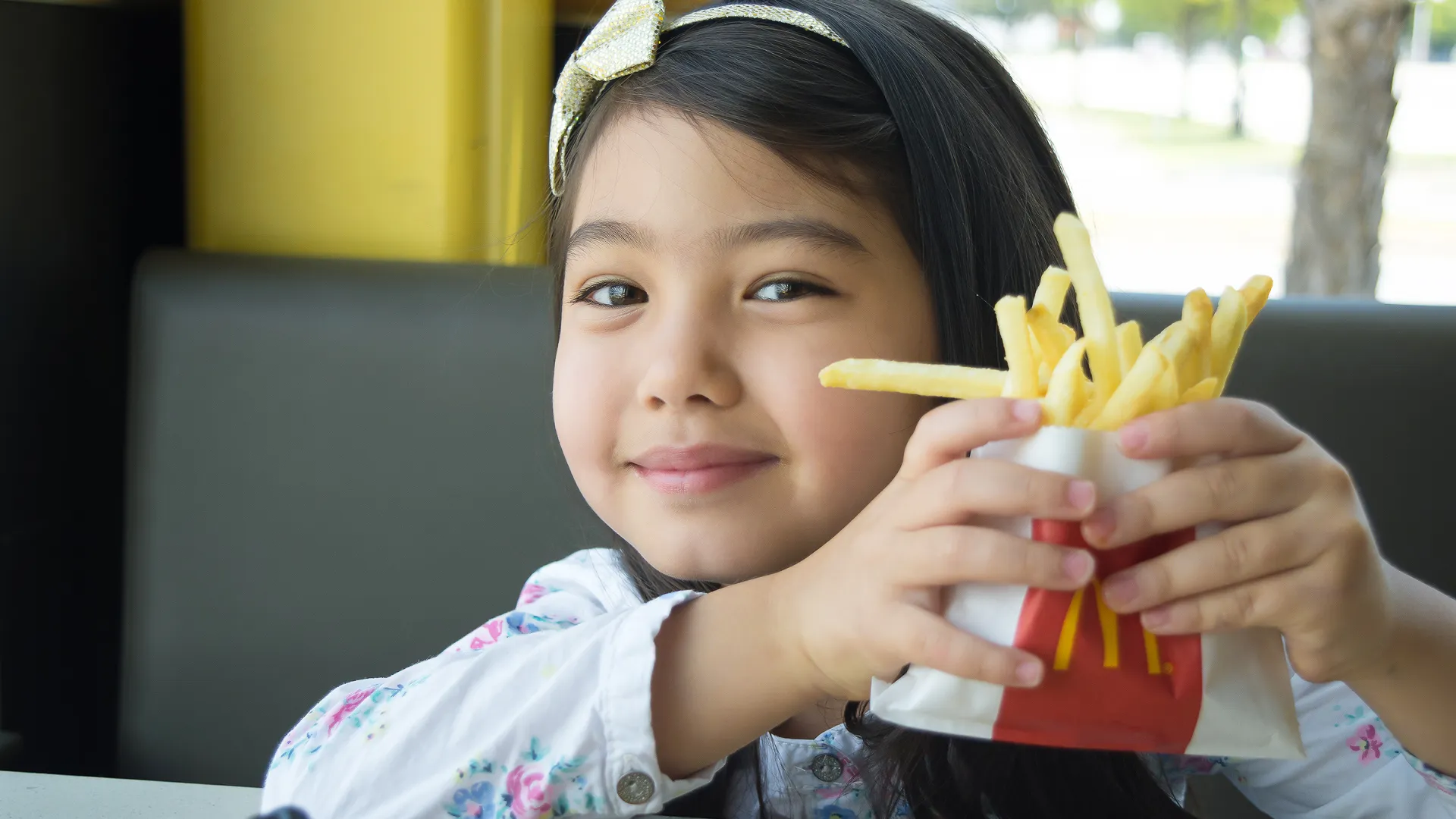 In 2016, the McDonald's corporation made more than $6 billion in total revenue. That same year, a study conducted by the industry researchers at Sense360 proved how vital the Happy Meal was to McDonald's profits, finding that the fast food chain sold 250 units every three seconds in the U.S. — or roughly $10 million worth of profit per day.
For a meal that costs about $3.50 to $4.20 with tax in California, that's not too shabby. To find out if that same kind of value stacks up globally, read on to learn more about McDonald's and how much a Happy Meal costs around the world.
Japan
Happy Meal Cost: 460 to 500 yen ($4.09 to $4.46)
At first glance, the McDonald's kids meal in Japan is pretty close to the American version. You've got plenty of choices — you can take a bite of the classic hamburger, a cheeseburger or chicken McNuggets, and the restaurant offers a variety of drinks like milk and juice, along with the usual lineup of sodas.
Look closer, though, and you'll notice a few differences. You can opt for a side of corn rather than fries, but the standout is the option to substitute the burger for mini pancakes with sweet cream and applesauce. No signs of any McSushi coming.
India
Happy Meal Cost: 126 rupees and up ($1.59 and up)
When you think about a McDonald's Happy Meal, you might not think of potatoes and peas, but that's exactly what you'll get with the McAloo Tiki option — an India-specific patty that's coated with breadcrumbs and topped with sweet tomato mayo, onions and tomatoes. The Happy Meal price in India might be low, but the Happy Meal options are vast. In addition to the McAloo and regular options like burgers, chicken and nuggets, you can choose hotcakes, a variety of egg sandwiches or the fried McVeggie.
Make Your Money Work for You
Philippines
Happy Meal Cost: 112 to 135 Philippine peso ($2.20 to $2.65)
Although standard breakfast and lunch options are included on the kids menu, "McDo," as it's called in the Philippines, is stacked with distinctly Filipino comfort food. From Spam to southern fried chicken, the country is known for embracing food from all over the map, and the additions of McSpaghetti and fried Chicken McDo legs to the Happy Meal offerings reflect that. McDo's prices are pretty reasonable in the Philippines, too, as their Happy Meals cost less than $3.
Cyprus
Happy Meal Cost: 3.70 euros ($4.35)
The Happy Meal in the most populous island of the Mediterranean is a little pricey, but maybe all that sapphire blue water and idyllic historical architecture will help make up for it. Speaking of postcard-worthy waters, the one quirk Cyprus' Happy Meal has is its inclusion of a little seafood — if your kid doesn't want chicken or beef with their fries and toy, they can get a McFish sandwich for the same price.
France
Happy Meal Cost: 4 euros ($4.70)
Hop over to the official site of McDonald's France and you'll notice every option is emblazoned with handy health info, from kcals to carbs. The slightly healthier French Happy Meal options include the flatbread McDo Cross sandwich, cherry tomatoes in place of fries, and the addition of fruit for dessert. According to FastFoodPrix.com, this more deluxe kids meal will run you almost $5.
South Korea
Happy Meal Cost: 4,300 won ($3.77)
Head over to "the Land of the Morning Calm" for a Happy Meal and you'll find the usual suspects: chicken McNuggets, cheeseburgers and hamburgers. South Korean kids go for the healthier option and eat sides of corn rather than french fries, but it's the bulgogi burger — inspired by the country's ubiquitous marinated beef dish — that really steals the show.
Unfortunately, you might have to wait to sample it. In early September 2017, Bloomberg reported that Korean McDonald's locations were temporarily halting sales of the burger after seven customers reported burger-induced food poisoning.
Make Your Money Work for You
Turkey
Happy Meal Cost: 9.75 to 10.75 lira ($2.73 to $3.02)
Like France, Turkey is one among the McDonald's countries that let kids order cherry tomatoes instead of fries. In fact, Turkey goes pretty crazy with the substitution options.
So, you've got your fry fix handled and are tired of tomatoes — take a bite out of some crispy onion rings instead. You can also swap out your nuggets for chili-spiced Chicken McBites or go with fried cheese croquettes jammed with melted white cheese and corn bits. Oh, and throw in a donut if your sweet tooth is tingling.
Indonesia
Happy Meal Cost: 34,000 rupia ($2.52)
At McDonald's in Indonesia, go with a Happy Meal Ayam to swap out the standard burger, nuggets or chicken sandwich for a fried chicken leg and a big scoop of rice. Chicken and rice might be expected from a McDonald's chain that sells bulgogi beef and teriyaki chicken rice bowls, but don't get shocked by the price — one Indonesian Rupiah equals 0.000074 cents.
South Africa
Happy Meal Cost: 31 to 34 South African Rand ($2.28 to $2.50)
Aside from the option to substitute fries for corn, the South African Happy Meal menu is close to its American counterpart, even though the country's McDonald's regular menus feature the Boerie Burger, a South African staple inspired by the flavor of boerewors sausage and topped with grilled onions. According to the official website, it's "guaranteed to make you feel those lekker local vibes." Plus, if you toss in an extra 10 rand — about 74 cents — they'll throw in an extra toy.
China
Happy Meal Cost: 20 to 21 yuan ($3.01 to $3.16)
In September 2017, the promotional items on the Chinese McDonald's menu were enough to make adventurous eaters squeal. The menu takes a Yin-Yang approach and isn't afraid to turn up the heat — hot and spicy chicken on a black bun for the salty side of your tongue, and lemon-coconut pie, sea salt lemon soda and a Yuenyeung tea-inspired McFlurry for the sweet side. Don't get too excited about the Happy Meals though, as they're almost identical to the U.S. versions. It turns out that the U.S. isn't the only place you can pay 90 cents — or 6 yuan — for a side of apples.

BEFORE YOU GO
See Today's Best
Banking Offers