Gen Z vs. Boomers: This Is How Much Money They Spend on Groceries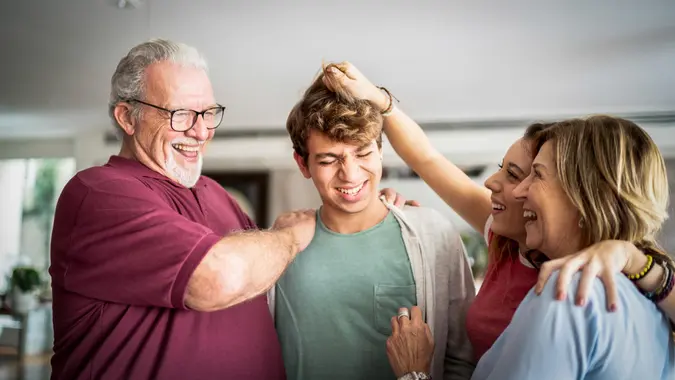 FG Trade / Getty Images
Every generation has differences that contrast to the one that came before and the one that comes after. From music to clothing trends, politics to pastimes, the split between trends of the prior group of people versus their later counterparts are vast and wide, especially when it comes to the outlook on their financial futures.
It even extends into how much money they spend on groceries each month.
The U.S. Bureau of Labor Statistics conducted a study on the spending habits of generations and found that in 2021 the average annual amount of money put toward groceries from a shopper from each age group was as follows:
Gen Z: $3,046
Baby boomers: $5,112
Breaking that down month by month, that's about $253 for Gen Z and $426 for boomers. 
But it all comes down to the question of why — if the younger generation is spending less money each month than their senior counterparts, is there a particular cause behind it?
"As an expert in personal finance and budgeting, I can confidently say that generational differences in grocery spending can be attributed to a variety of factors, including income levels, lifestyle choices and cultural values," says Trinity Owen, founder and CFO of The Pay at Home Parent.
"Boomers may tend to spend more on groceries due to a preference for brand-name products and a higher priority on home-cooked meals. Gen Z, on the other hand, may prioritize convenience and opt for more prepackaged and quick-preparation options," Owen explains.
Make Your Money Work for You
A 2023 Statista report also suggests there are certain factors across generations that sway their shopping trends. However, one factor rules above all others: convenience. As cited in the the study, the evidence found show that the most influential factor when choosing a grocer and pharmacy in the U.S. for both Gen Z and baby boomers was proximity to the store.
In a 2019 report by the Bureau of Labor Statistics it was calculated that households headed by someone under the age of 25 spent an average of $3,037 each year on food, with about 44% of that going toward groceries. In contrast, households headed by someone over the age of 65 spent an average of $5,620 each year on food, also with 44% of that going toward groceries.
It makes sense that in both 2019 and 2021, baby boomers outspent Gen Z in the grocery and overall food categories. After all, most boomers have more to spend than Gen Z, who are no older than their mid-20s and may be on stricter budgets. But one interesting piece of data leads experts to believe there could be a shift in spending when Gen Z has a little more capital.
About 25% of baby boomers analyzed by Statista shared that food sustainability was very important — so some of them are likely willing to pay more for products like organic foods. Turn it around and a whopping 72% of Gen Z reported similarly. Because organic groceries are expensive and more of Gen Z seeks them out, they may be willing to spend more money to ensure the best products on their shelves. 
Make Your Money Work for You
"Additionally, the rising trend of plant-based diets and sustainable practices among younger generations may also impact their grocery spending habits," Owen adds. "Ultimately, it's important for individuals of all generations to prioritize their financial goals and make informed decisions when it comes to their grocery budget."
More From GOBankingRates