How Our Family Throws a Killer BBQ for Cheap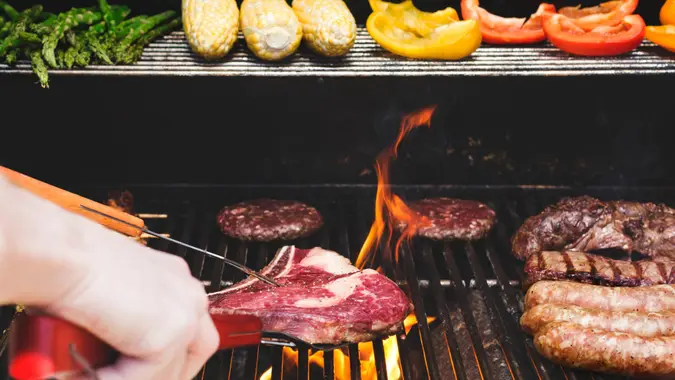 Sarah Pflug / burst.shopify.com
Summertime, to me, is all about warm breezes, family fun and barbecues. Barbecues are a fun and popular pastime for many families and a great way to bring everyone together. Our family grills several times a week. I'm in charge of finding the deals, Hubby is in charge of the grill and our boys love to pitch in wherever they can.
As much fun as it is, barbecuing can be a pretty expensive activity. However, I've learned some tips over the years that have helped my family cut down on the cost. These tips can be used whether you are cooking for your family or a crowd.
Read More: Simple Ways to Cut Back on Your Summer Spending
Look for Deals at the Grocery Store
In-store deals are definitely at the top of my list of favorite ways to save on barbecues. When you combine sale prices with coupons, you are sure to get some sweet deals. I will often stock up my pantry on barbecue essentials like condiments ahead of time, as I can get them for next to nothing.
Related: 35 Ways to Save Money on Groceries
Shop for Meat on Markdown Sales
Shhhh, don't tell anyone, but some mornings you can find me doing the happy dance in the meat aisle of my local grocery store. Why, you ask? You might be surprised that when you shop early in the morning at your local store, there are mark-downs on packages of meat. Often stores need to clear out meat from the previous day to make room for new inventory. The meat isn't bad; it just needs to be purchased and placed in your freezer (or cooked) that day. This tip alone has saved me a ton of money over the years.
Make Your Money Work for You
Make Your Own Rubs and Marinades
Barbecue season is a great time to clean out your pantry. Did you know that coffee is not just for drinking? It also makes a great rub for meat. And, be sure to keep those end-of-the bottle drippings from maple syrup and balsamic vinegar. These make delicious and frugal options for marinades.
Stock Up on Fresh Veggies
I am in love with all of the fresh veggies that abound during the summer months. Corn on the cob is a good, frugal option, with ears priced from $0.10-$0.20 each. A great tip is to shuck the corn, cut from the cob and place in freezer bags. This makes for a great side dish or a delicious addition to salsa.
More on Frugal Foods: Cheap Foods You Should Throw on the Grill Before Labor Day
Make a S'mores Bar with Items from the Dollar Store
One of our favorite desserts during barbecue season is s'mores. We love to do a s'mores bar, purchasing all of the ingredients from our local dollar store. You can think outside of the box, too, which is always fun. We love peanut butter cups, chocolate-covered graham cookies and of course, the traditional s'mores favorites.
So, what are you waiting for? Here's to a summer full of fun memories and frugal barbecues with the ones you love.
Read More: How Costco Can Help You Plan a Cheap and Healthy Barbecue
Make Your Money Work for You
More From Our Smart Money Squad: