How Costco Can Help You Plan a Healthy and Affordable Summer BBQ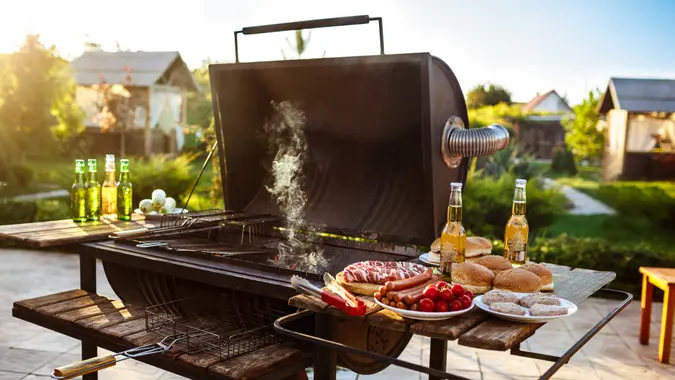 Cookie Studio / Shutterstock.com
Are you tempted by the turkey patties in the Costco cold case, but don't have the appetite or freezer storage space to justify investing in a 4-pound bag of burgers? A big backyard barbecue offers the perfect excuse for a bulk-buying binge.
Costco annual memberships start at $60, but barbecue bargain hunters might just consider it a wise investment, especially if they're watching their waistlines and wallets this summer. The warehouse club offers everything from fresh foods, including an array of organic options, to grills and gardening supplies that will help pit masters get their landscaping looking its best for guests.
Consider these reasons, recipes and retail savings strategies that could help make Costco your go-to grilling stop for staging a healthy (and affordable) summer barbecue.
Shopping at Costco Can Help You Save Money
There's a reason healthy barbecue basics like organic ground beef are much cheaper at Costco. Costco makes a relatively small profit on the goods it sells when compared to its retail peers. Instead, it relies on membership dues from its more than 88 million Costco cardholders worldwide to bolster its bottom line, the Motley Fool reported.
Costco is also an affordable option for hosts who want their grilling goods delivered to their doors. The members-only store is ramping up its delivery operations, and testing one- to three-day delivery to 17 states, MarketWatch reported.
Costco Offers an Array of Organic Food
"The produce at Costco, even when not bought with a coupon, is very reasonably priced," said Kristen Link, an integrative nutrition health coach in New York City who runs the website Wellness by Kristen. "The organic produce, including organic berries and spinach, is a very good value when buying for a barbecue."
Make Your Money Work for You
Costco sells more than $4 billion in organics, according to a 2015 BMO Capital Markets report. This possibly puts it at the top of the list of organic retailers thanks, in part, to its affordability when compared to a retailer like Whole Foods Market.
Costco offers many organic options beyond produce. For example, health-conscious shoppers looking to host an all-organic barbecue can find ground beef, chicken, turkey and even Triscuits made from organic ingredients on Costco's shelves.
Also See: How to Save $100 on Your Next Trip to Costco
Costco Is a One-Stop Shop for Healthy Ingredients
Link, who is also a natural foods chef, offered this original barbecue recipe that starts with inexpensive ingredients found at Costco.
For example, her mayo-free potato salad comes together in about 30 minutes and can satisfy everyone from meat-and-potato purists to vegans. Bonus: There are no worries about mayonnaise going bad under the summer sun.
Simple Mayo-Free Potato Salad
Serves: 6
Ingredients:
16 ounces baby potatoes, quartered and boiled until tender
1 cup celery, diced
1 red bell pepper, diced
½ cup green onion, sliced
1 tablespoon dijon mustard
¼ cup avocado oil
½ teaspoon sea salt
1 teaspoon pepper
Directions:
In a large bowl, whisk together the dijon mustard, avocado oil, salt and pepper until creamy. Toss in the baby potatoes, celery, bell pepper and green onion. Toss well until combined and chill until ready to serve.
Costco Offers Seasonal, Barbecue-Ready Foods
Buying in bulk makes sense for a big barbecue, and Costco offers a seasonal food selection perfect for summer that goes well beyond brats and burgers, said Pam Danziger, an author, market researcher and founder of Unity Marketing.
Make Your Money Work for You
"With the meat the centerpiece of any outdoor barbecue party, its price, quality and selections are spot on to fill any barbecue needs," she said. "Plus, with Costco's highly curated merchandise across many categories that are seasonally appropriate, a Costco member can find everything else needed to fill their guests' plates — including salads, bread, veggies and fruits suited to grilling, beverages and, of course, dessert."
Here's a warm-weather dessert recipe featuring Zespri Sungold Kiwifruit, a New Zealand-grown kiwifruit available at Costco during barbecue season.
Kiwi Coconut Ice Pops
From the online magazine The New Potato
Serves: 6
Ingredients:
¾ cup Zespri SunGold Kiwi, peeled and diced
2 cups coconut milk
1 tablespoon coconut oil
1 teaspoon agave
Directions:
Blend all ingredients together and pour into ice pop molds. Freeze four to six hours, or overnight, then enjoy.
Attention Shoppers: 7 Must-Have Items You Should Always Stock Up on at Costco
Costco Sells Everything From Grills to Groceries
In addition to BBQ party "software," such as food and disposable dinnerware, "Costco can also fulfill the 'hardware' needs, including grills, charcoal, grilling tools and plenty of options to discourage bugs from disrupting the fun," said Danziger, who appeared on the CNBC special, "The Costco Craze: Inside the Warehouse Giant."
Costco customers can also find discounts and deals on patio furniture, playsets and more on Costco's website, which showcases several online-only offers. The website even features hot tubs in case harried hosts and their favorite barbecue guests want to unwind after the coals cool.
Costco Showcases Summertime Specials and Coupons
Costco's members-only monthly savings mailer offers coupons on barbecue basics, including Kingsford Professional Competition Briquets, Chinet dinner plates, a variety pack of fruit-flavored San Pellegrino sparkling water and Healthy Choice organic fudge bars to provide a sensible, yet sweet, finish to a healthy barbecue.
Click to read more about how one family throws an amazing — and cheap — bbq.
Up Next: Your Costco Membership Is More Valuable Than Ever — Here's Why