20 Deals You Can Only Get at Costco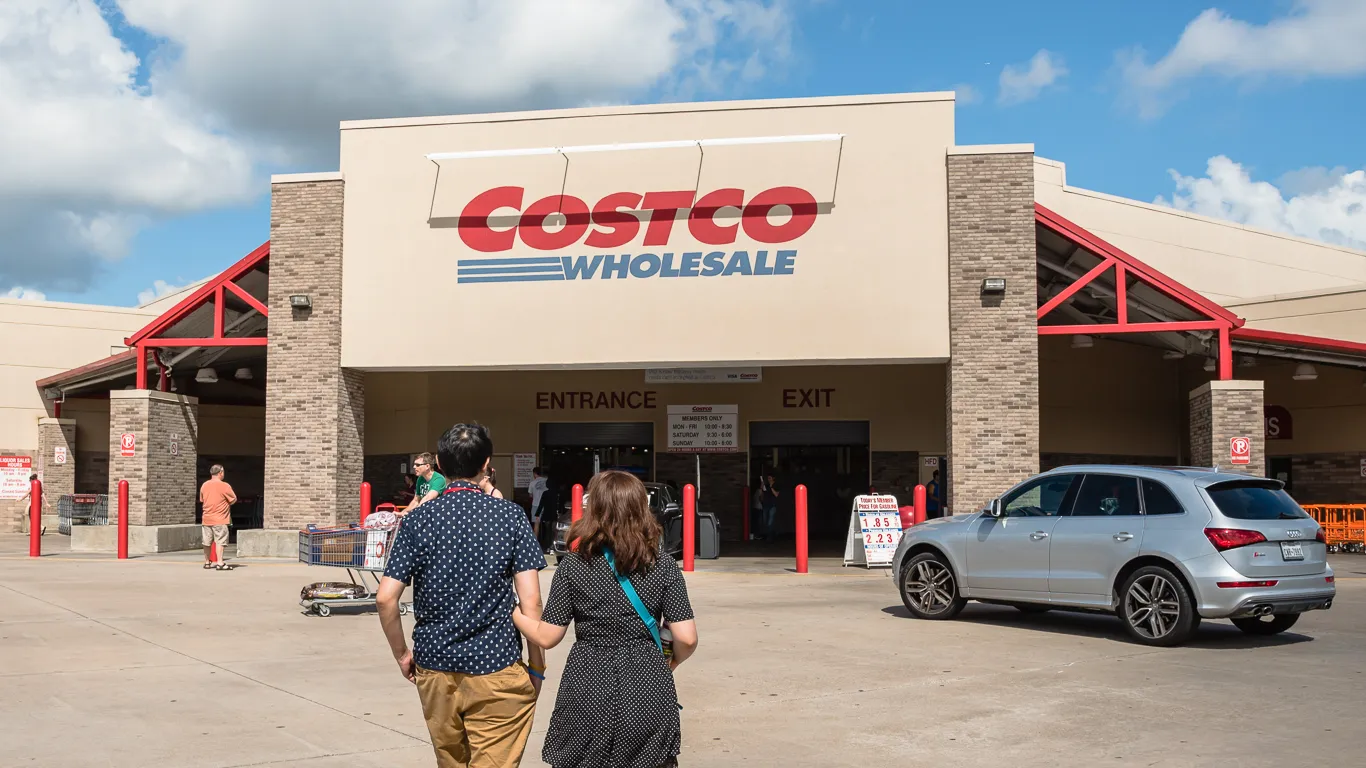 If you're already a Costco shopper, you know the warehouse store offers low prices on everything it sells. You also know that some deals are especially eye-catching.
We reached out to shopping experts and asked what products they always buy at the membership-based store.
Read on to discover some of the ways you can pay less by shopping at Costco.
A Pancake Lover's Dream
Flapjack fans should know that Costco is on their side. The store's Kirkland Signature brand of organic maple syrup is one of the best deals under its roof, said Kendal Perez, a blogger at Hassle Free Savings.
"I've paid $11 to $14 for small bottles from Walmart and King Soopers," she said. "Yet, Costco sells a 33.8-ounce jug of Kirkland organic real maple syrup for less than that. It's a steal. Period."
Guilty Pleasure Treats
Nutella is a habit that's hard to kick — and one that can break your budget. Fortunately, you can save on the sweet stuff when you do your shopping at Costco.
"At 21 cents an ounce, Nutella is a smart buy from Costco," said Kyle James, founder of the online coupon and deal discovery site Rather-Be-Shopping. "Sure you have to buy the two-pack from Costco to get the lower price, but since when is MORE Nutella a bad thing?"
Make Your Money Work for You
Intoxicating Deals
If you're a wine connoisseur, you'll probably think Costco's prices are worth toasting to.
"On average, you can save $5 to $12 per bottle, depending on the original price of the wine," said James. "Check out the Costco Wine Blog for terrific independent reviews of the wines found at Costco."
Baby Basics
Katie Tringali, an ambassador of client happiness at the Georgia-based financial planning firm oXYGen Financial, said Kirkland brand diapers are kind to both her bottom line and her 2-year-old son.
"You can save in the early years $8 to $10 for 192," she said. "As they get older, it is about a $5 savings depending on where you buy."
For instance, a package of 192 size-1 Kirkland Signature Supreme diapers is priced at $29.99 on Costco's website compared with 192 Huggies Little Snugglers Plus, which are also available at Costco for $37.49. Tringali swears by Costco's Kirkland baby wipes as well. Members can get a box of 900 for only $19.99.
"It comes with nine separate packs of 100 wipes, and they have an awesome reclosable lid," she said.
Incredible Eggs
Many nutrition experts now say that eggs are good for the body, but that doesn't mean they're good for your wallet. Costco's 24-pack of organic eggs is a great deal, however. In fact, you can pick this up for $7.49 at some locations.
"Elsewhere, a dozen organic eggs is priced anywhere from $4 to $6," she said.
Savings like that will turn any egg lover's day sunny-side up.
Sweet Sound of a Deal
If you appreciate good sound quality, the price of Bose products at Costco could be music to your ears, said Perez.
"We've purchased Bose products from Costco before, saving $30 to $50 compared to Amazon," she said. For example, you can currently get the Bose SoundLink Mini II Bluetooth Speaker at Costco for $149.99. The same item costs $189.99 at Amazon.
Make Your Money Work for You
Kirkland Cures
Kirkland Signature offers several over-the-counter medications with the same active ingredients as their brand-name counterparts at significant savings, said Lindsay Sakraida, director of content marketing at DealNews, which compiles attractive offers from across the internet.
"The DealNews staff raves about Costco's generic medications, especially for over-the-counter options that someone might have to purchase frequently," she said. "For example, Zyrtec can cost about 43 cents per pill at drugstores, but (for $10.99) the Aller-Tec generic version at Costco checks in at about 3 cents per pill."
Bring Home the Bacon
Eggs aren't the only breakfast bargain available at Costco. Customers willing to buy their bacon in bulk can pig out, so to speak.
"Bacon at a local grocery store can cost $5 to $7 per pound, depending on what kind you get," Sakraida said. "At Costco, their bacon typically costs about $12.99 for 4 pounds, which is $3.25 per pound. While that price can still go up — one of our writers says a 4-pound pack (used to) cost $20, but the price has come down again to $12.99 — it's often much cheaper than a regular grocery store."
Movies and More
These days, dinner and a movie is no cheap date. But if you want to save 20 percent off the top, make sure to stop by Costco's gift card kiosk, said Perez.
"Buying gift cards in bulk is a no-brainer, and both Sam's Club and Costco offer gift cards to restaurants, movie theaters and other entertainment venues for 20 percent off face value," she said.
Budget-Friendly Beans
"Another great buy is coffee, especially if you're a daily drinker," Sakraida said. "Their Kirkland blends are about $5 per pound, whereas comparable blends will go for about $8 per pound on Amazon. In general, staples like this can be an excellent buy at Costco."
Caffeine-loving customers can get a 3-pound can of Kirkland Signature Colombian coffee for $11.49 through the Costco website, while the same product sells for $16.47 on Amazon.
Make Your Money Work for You
Refreshingly Good Prices on Healthy Fare
Along with sweet treats, Costco offers deals on healthier fare. During her trips to the warehouse store, Perez stocks up on frozen fruits like blueberries and cherries.
Currently, you can get a 5-pound bag of blueberries for $11.39 at Costco. You'd spend $9.96 for just 3 pounds of blueberries at Walmart.
This frozen deal sounds hot to us.
Budget-Friendly KIND Bars
KIND bars and other on-the-go snacks often save you time but not money. But Costco can help.
Perez gets KIND bars from Costco, where they cost $21.09 for a 20-count. If you purchased bars at Walmart, you'd spend more than $1.25 per bar.
Sleep Savings
Costco also offers member-only savings that change each month — and that includes savings on mattresses.
Right now, Costco is holding a sale where cardholders can get a Comfort Tech 10-inch Serene Foam queen mattress for $349.99, making it $100 cheaper than the same mattress at Sam's Club. So, if you have memberships to both warehouse clubs, scan sales circulars often, especially for savings on big-ticket buys.
Car Rental Price Cuts
Perez suggests checking Costco Travel for cheap rental car deals. While the rates aren't always lower then those available at the agency, you can often score a good deal.
"Some offers are better than what you can find directly from rental car companies, though not always," she said. For example, on one trip, she found that renting an economy car from Alamo for three days from Ontario International Airport in California cost $150 when booked online. The same reservation cost just $52 through Costco Travel.
Make Your Money Work for You
Winner, Winner, Chicken Dinner
If you aren't in the mood to cook, you might want to stop by Costco to pick up a ready-made meal. There are a plethora of budget-friendly bites, but James says the rotisserie chicken is one of the best buys in the warehouse store.
"Costco actually loses money on them knowing that many will also buy $50-plus worth of stuff they don't really need when running in for dinner. It's no secret why they put them at the back of the store so you have to walk by all of the tempting, bright and shiny objects in the center of the warehouse," James said.
In fact, Costco opted to keep its rotisserie chicken prices low, even when other retailers raised their rates. According to Consumerist, that choice costs the warehouse club $40 million per year.
Savings on Savers
If you like to freeze foods and save them with vacuum-sealing, Costco is the place to buy FoodSaver bags, said Perez.
"We freeze nuts, meat and other food items using a FoodSaver, and refill bags are expensive. So, we buy them from Costco, when there's an instant savings or manufacturer's rebate," she said. For example, you can get a combo pack of FoodSaver bags on sale for $31.99, regularly $39.99, at Costco. That same pack costs over $40 from Amazon.
Pet Food for Less
If you're a dog owner, you know that caring for your furry friends can be costly. After all, the average pet owner has to purchase food, toys, leashes, beds and more. But Costco's pet section can take some of the bite out of that cost, said Perez.
"We have two Australian Shepherd-Lab mixes, and we typically purchase their beds from warehouse club stores," she said. In fact, she nabbed a pair of pillow-top dog beds for $45 each at Costco; she said that similar PetSmart beds would have cost her $119.99 each.
Make Your Money Work for You
Honey, I Shrunk the Bills
Whether you like it in your tea or drizzled on your granola, honey can be a pricey purchase.
Perez said she used to buy raw, unfiltered honey from Sprouts for $8.99 per 24-ounce jar. She found this product at Costco for $14.29 for an 80-ounce jar, though. That's a sweet deal.
Cheesy Delights
If you're a cheese aficionado like Perez, you might want to check out Costco's price on Cabot Vintage Extra Sharp Cheddar.
"Honestly, this cheese is the reason my husband and I signed up for a Costco membership," joked Perez. She said that she typically buys a 2-pound block of cheese at Costco for $10.79. Meanwhile, iGourmet charges $9.99 for just 8 ounces of the good stuff.
Tire Triumphs
New tires are a big purchase, so you'll want to save every penny you can on them.
"Not only does Costco have excellent prices and instant rebates on tire brands like Goodyear, BFGoodrich and Bridgestone, but they offer awesome add-on services," said James.
Costco freebies include lifetime rotation and balancing, lifetime warranty replacements and nitrogen tire inflation, which keeps pressure much better than air, said James.
All photos are representational and do not necessarily depict the item listed. Charlene Oldham contributed to the reporting for this article.

BEFORE YOU GO
See Today's Best
Banking Offers