I Work in a Grocery Store: These Insider Tips Will Save You Money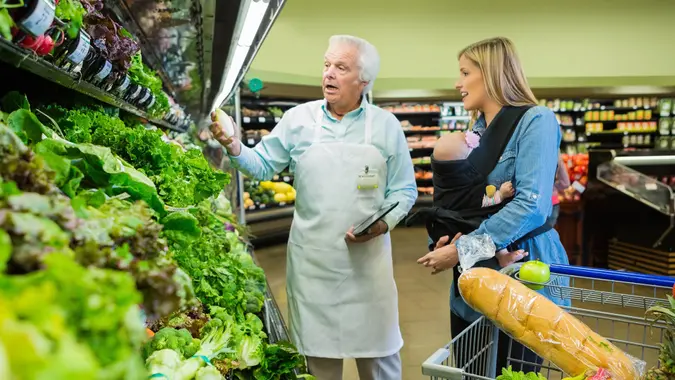 Steve Debenport / Getty Images/iStockphoto
If you want to save money at the grocery store, you probably know the often repeated tips like checking sales in the Sunday flyers, looking for coupons and scouring the discount aisles in stores.
While those tips are helpful and can save you a lot of money, it's also great to get an inside scoop. And, the people who know how to score big when it comes to saving on food are those who have actually worked for grocery stores.
Shannyn Allen, a busy mom who loves to travel, knows a thing or two about saving money at the grocery store. A longtime savings guru who has worked for the H-E-B grocery store chain, Allen has several savings hacks that have enabled her to fund her family travel, which she documents on The Wonder Luster. Here are some of her top tips.
Download Store Apps
These days, most grocery stores also have their own apps. Allen said, "Don't sleep on the grocery store's app!" Many consumers don't realize that grocery retailers often have specific savings only for app users.
To find out if your grocery store has an app, follow these steps:
Search for your grocery store's name in the app store.
Set up an account if your grocery store has one.
Connect any available rewards cards or numbers to your account.
Opt into notifications or emails when new sales hit the apps.
Before heading out for your shopping trip, ensure you've downloaded the app's latest version and saved any deals you want to look for when you go. When you get there, contact a store manager if an item is already sold out. They might be able to get you the same savings once the item is back in stock.
Make Your Money Work for You
Allen added, "Some of the best savings can be found [on the app] by combining multiple coupons for laundry or personal care, and couple that with a printed coupon from the manufacturer."
Join Store-Specific Facebook Groups
There are Facebook groups for just about everything. However, you might not realize that the grocery store you frequent might have a Facebook page or a fan page. Because we live in such a connected world, long gone are the days of stacking coupons on your own. Now, there are so many ways for grocery shoppers to share deals.
Allen explained, "Passionate couponers are already scouring for the best deals and likely have done the work for you." These deal-chasers typically share their finds in Facebook groups. Allen said to make sure you turn notifications on for your grocery store's group and check it before shopping.
Grocery store-specific Facebook groups are also great if you have a limited diet like being vegetarian, vegan or eating gluten-free. Sometimes, grocery shoppers review items you might not have seen before or share a deal on a specialty item. This is very helpful for those who spend extra purchasing products that align with their health and dietary needs.
Shop on Monday or Tuesday
A former Whole Foods employee reported to Eat This, Not That that most people shop on the weekends, so prices tend to be higher on products like meat. However, stores will usually discount meat on Monday or Tuesday, so it's more likely to get purchased before it goes bad.
If you see a sale price on meat early in the week, it doesn't mean there's something wrong with it. Rather, it just needs to be consumed quickly or frozen. As a bonus, shopping early in the week is usually much more peaceful and less busy — a win-win.
Make Your Money Work for You
Final Thoughts
Even though grocery store prices have been higher the past year due to inflation, data shows prices are finally coming down, especially on staple items like eggs. Still, for many people, like Allen, saving on weekly grocery store runs helps allocate money toward other financial goals.
While hunting for sales, avoiding impulse buys, and planning your meals can go a long way toward saving money on food, there's also more you can do to save money at your favorite grocery store. Insiders like Allen reveal each grocery store might have even more savings for savvy customers who want to download their app and join a Facebook group.
Additionally, it's helpful to know your store's pattern for when they have sales, discount meat, and more so you can truly get the best possible prices on food for your family.
More From GOBankingRates