Kansas Residents Are Paying Less for Groceries With Revised Food Tax in 2023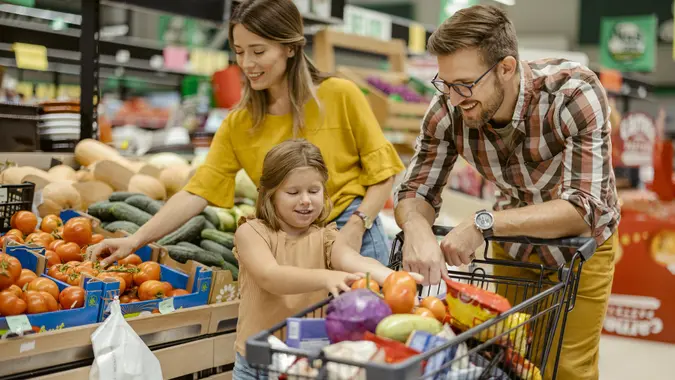 PixelsEffect / iStock.com
There's good news for anyone going grocery shopping in Kansas — you're going to be paying less in related taxes this year. It's all thanks to a new food tax law that went into effect in the state on Jan. 1 that has dropped the taxes paid on groceries from 6.5% to 4%, according to KMBC News.
The media outlet says Kansas ​​Gov. Laura Kelly "made a strong push for the cut in 2022" and the Democratic lawmaker also wants to eventually drop the tax rate to zero. Part of her "Axe the Food Tax" initiative, passed in May, the new law will also move to further drop the food tax in the state to 2% in 2024 and then to 0% in 2025 — unless Kelly can nix the tax sooner than then, a vow she made as part of her re-election campaign, according to the Topeka Capital-Journal.
"Kansans will see the savings very soon, but we can do more. When the Kansas Legislature comes back in January, I will push again for the complete and immediate elimination of the state's sales tax on groceries," she said in a statement.
Per KMBC News, only 13 states in the U.S. charge taxes on groceries. Until now, Kansas' tax was one of the highest, just behind Mississippi, which has a food tax of 7%.
The newly reduced 4% tax applies to all food and food ingredients such as bread, eggs, milk, meat and seafood, bottled water, soda and more. However, the 6.5% tax on alcohol, tobacco and some prepared foods will remain intact. It should also be noted the new rules apply to state taxes, while local taxes will stay in effect.
Make Your Money Work for You
The savings might seem nominal at first, as the Topeka Capital-Journal reported: "On a grocery bill of $100, that means the buyer will save $2.50 in taxes." But over time, the savings could add up. For example, anyone that pays that much weekly in groceries will save $120 over the course of a year — and once the tax rate reaches 0% in 2025, savings could be even more apparent.
The lower food tax also comes as welcome news as the cost in general for groceries remains high. Per the latest Consumer Price Index report, released in mid-December of 2022, the food at home category is up 12% year-over-year even as inflation comes down to 7.1% for all categories.
KWCH-TV recently reported that some Kansans have noticed a glitch, having been charged for taxes twice as the new rates take effect. Analysts advised shoppers to pay attention to their bill over the next few weeks while things get sorted.
More From GOBankingRates