60% of Americans Can't Afford Groceries — 3 Ways To Get Them for Less Money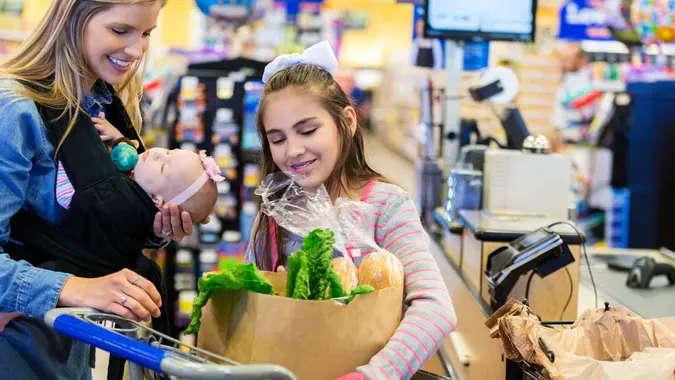 SDI Productions / iStock.com
Food insecurity is a real issue for many Americans, as a majority say they are struggling to afford groceries.
A new report — "Facing Up to Food Insecurity" — by consumer research company Attest, found that a whopping 59.5% of Americans say they are in this situation.
Inflation has taken a toll on consumers' wallets, with food prices soaring. From July 2022 to July 2023, food prices increased 4.9%, according to the consumer price index (CPI).
"The scale of the struggle faced by so many Americans is especially stark," said Jeremy King, CEO and founder of Attest. "Six in 10 admit that one of the most basic human needs, the ability to put food on the table, is a real challenge right now. The consequences of food insecurity cannot be understated, with people's long-term health suffering significantly as a result."
What can Americans do to get groceries for less money?
Shop Locally and at Independent Food Stores / Farmers' Markets
According to the report's findings, 34% of Americans say they never shop at independent food stores or farmers' markets. Drivers include consumers assuming that independent retailers often have higher prices.
"In reality, highly-localized retailers can offer great pricing and/or value," said King. "There are also offers up-for-grabs, for example some independent stores sell cut-price produce that may be near expiry but still perfectly fine to eat. Trying new venues and shopping-around for value is, by necessity, part of the equation for how real consumers can make grocery shopping more affordable."
Comparison Shopping and Couponing
In addition, the report found that more than a quarter of Americans — 27% — will only shop at one grocery store.
Make Your Money Work for You
Yet, habits and loyalty do now have real costs for consumers.
As King explained, by not shopping around at different stores, consumers could be missing out on the benefits of competition between stores — special offers and savings.
"For example; many grocery stores are actively promoting private label products (often because it's more profitable for the grocery store), and consumers can jump on that trend with a lot of value to gain, with little/no deterioration in quality (just a bit more time and travel, to discover new offerings and capture the value on offer)," he said.
Coupons, a classic savings trend, are also vital.
Cook Your Own Meals
Another key finding of the report? Regardless of age or income, 85.5% of Americans are willing to cook, with only 14.5% saying they don't like to cook.
"Given issues around food security, it is especially positive that 8 in 10 Americans are keen to cook their own meals," said King, adding that pre-prepared food and ready-made meals are typically more expensive than the sum of the raw materials. It's better, in that case, to buy whole foods at the grocery store.
"Consumers can recapture part of the value, by cutting out convenience. On top of that, frozen produce for meal preparation can be a simple way to save money; buying in bulk and extending the shelf life of nutritious fruits and vegetables, all in one product change," he added.
Make Your Money Work for You
What's the Outlook for the Near Future?
According to King, inflation has challenged long-held habits and beliefs among consumers when it comes to their diets.
"The coming months will give an indication if such habits will become permanent, especially if food prices continue to fluctuate," he said.
He added that grocery stores and other retailers which understand and respond to real customer needs will help consumers at a time of need — and likely also capture long-term shifts in how consumers shop.
"With a few simple changes from consumers and retailers, the outlook can be brighter, but we should be conscious that these changes are imposed by external factors," said King. "Those that are prepared to give up past assumptions, which were based on the last few years of behavior, will likely succeed fastest."
More From GOBankingRates