I Saved $100 a Week by Making These 4 Tiny Changes to My Grocery Shopping Habits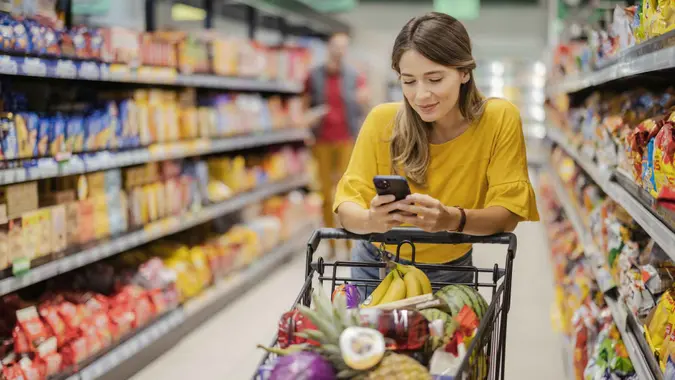 PixelsEffect / Getty Images
Going to the grocery store might not be the most pleasant experience in the world, but it's gotten a heck of a lot worse since inflation has been on the rise and food prices have risen. Plus, you might have developed some bad grocery shopping habits over the years that you need to break.
Fear not, because GOBankingRates is here to help you lower that grocery bill each week. We reached out to some retail and shopping experts to find out what tiny changes they have made in their grocery buying habits that have saved them money.
Want to find out how to keep more green in your pocket and still stock your home with the essentials from the store? Check out these useful shopping tips from those who know best.
Focus on Purchasing Items on Sale Only
Tasia Boland is a frugal living expert who shared her family's secret to keeping a grocery budget to $65 a week for years via her blog and Tiktok channel which includes numerous grocery savings tips. Her number one tip: Sale items are the only thing you should be buying.
"One key strategy to save up to $50 or even $100 per week is to plan your meals around the items on sale at your local grocery store," says Boland. "This approach allows you to take advantage of the best deals while still enjoying various meals. To make this work, scan the weekly sales flyers using a free Flipp app. You can compare grocery store prices and make a grocery list in this app."
Make Your Money Work for You
"For example, last week, our local grocery store Tops Markets had a pack of bacon on sale for $2.99!" Boland shares. "The regular price for that same pack of bacon is $6.99! That is a $4 savings, which means if I save $2-$4 on every item I buy each week, it will easily add up to $50 or more in savings."
Seek Out Generic Brands
Every store has some version of the name brand product stocked on their selves as a generic brand. Why be afraid of them? Nosheen Babar, the owner and CEO of Untold Recipes by Nosheen, embraces the generic items.
"I try and buy generic brands where possible, also buying bagged, dry chickpeas, lentils, and beans and cooking them in my Instant Pot myself versus getting the more expensive canned ones," Babar shares. "These can be portioned and frozen for future use." 
"A generic can of chickpeas is $0.78 and has about 2 cups worth of chickpeas. A generic 1 lb. bag of dried chickpeas costs $1.38 and when cooked, yields 6 cups of cooked chickpeas," Babar notes.
Buy What's in Season
The modern grocery shopping experience allows customers to go to the store or visit one online to purchase anything they want, including food that might not actually be in season. This might be adding unnecessary costs to your overall grocery bill because "out-of-season foods will be pricier," says Blanca Garcia, Registered Dietitian Nutritionist and nutrition specialist at MIDSS.org.
"They are pricier because techniques need to be employed to keep them fresh longer or have a lot of miles on them," Garcia mentions.
Make Your Money Work for You
"A good example is blueberries; out-of-season blueberries can cost $5 per 125 grams. In season this same package can cost $1," describes Garcia. "That is $4 dollars cheaper if you choose in-season blueberries. Usually, in-season blueberries have a limit of 10 containers; I always encourage clients to buy the max amount, keep one in the refrigerator, and the rest freeze for shakes."
Add Plant-Based Protein to Your List
You don't have to be a vegetarian or vegan to live the plant-based lifestyle. In fact, Garcia suggests that buying plant-based proteins twice a week is not only nutritional, but cost-effective as well.
"Most people think that a balanced meal means that the protein must be some type of meat daily," says Garica. "But that isn't the case; you can swap out meat twice a week for a plant-based protein and save a lot of money."
Garcia uses the cost of food from Walmart as an example to illustrate her point.
"A pound of ground beef that can feed a family of 4 (2 adults, 2 small children) can cost $6.93. Buying 1 pound of lentils can cost $1.42. If you add potatoes, carrots, and tomato sauce to the ground beef or lentils, you clearly save $5.51 if you use lentils," she says.
"The cool thing about lentils is that you only need ½ pound to feed the family and have some leftovers for a future meal," Garcia notes. "Saving the lentils for later can save you another $6.93 if you don't buy the ground meat, and it does not go rancid like meat."
More From GOBankingRates