Being a Foodie Is More Expensive in These Cities, Study Finds
See which cities are the best for a foodie's wallet.
Tastes are changing in America. After decades of sticking to more traditional, lower-cost fare when it came to food, Americans today are in the midst of a bona fide foodie revolution, showing themselves to be much more adventurous and discerning in what they eat and drink than in generations past.
However, depending on where you live, being a part of the foodie movement can be significantly costlier, according to a new study by GOBankingRates.
To find out just how much it costs to be a foodie, the study compared the costs of eating in and eating out in 54 major American cities. The comparison included approximate costs for monthly grocery bills, the cost of a mid-range, three-course meal, how many of Yelp's top 100 places to eat were in the city and other factors.
Big Night Out: These Five-Star Restaurants Are Worth Every Penny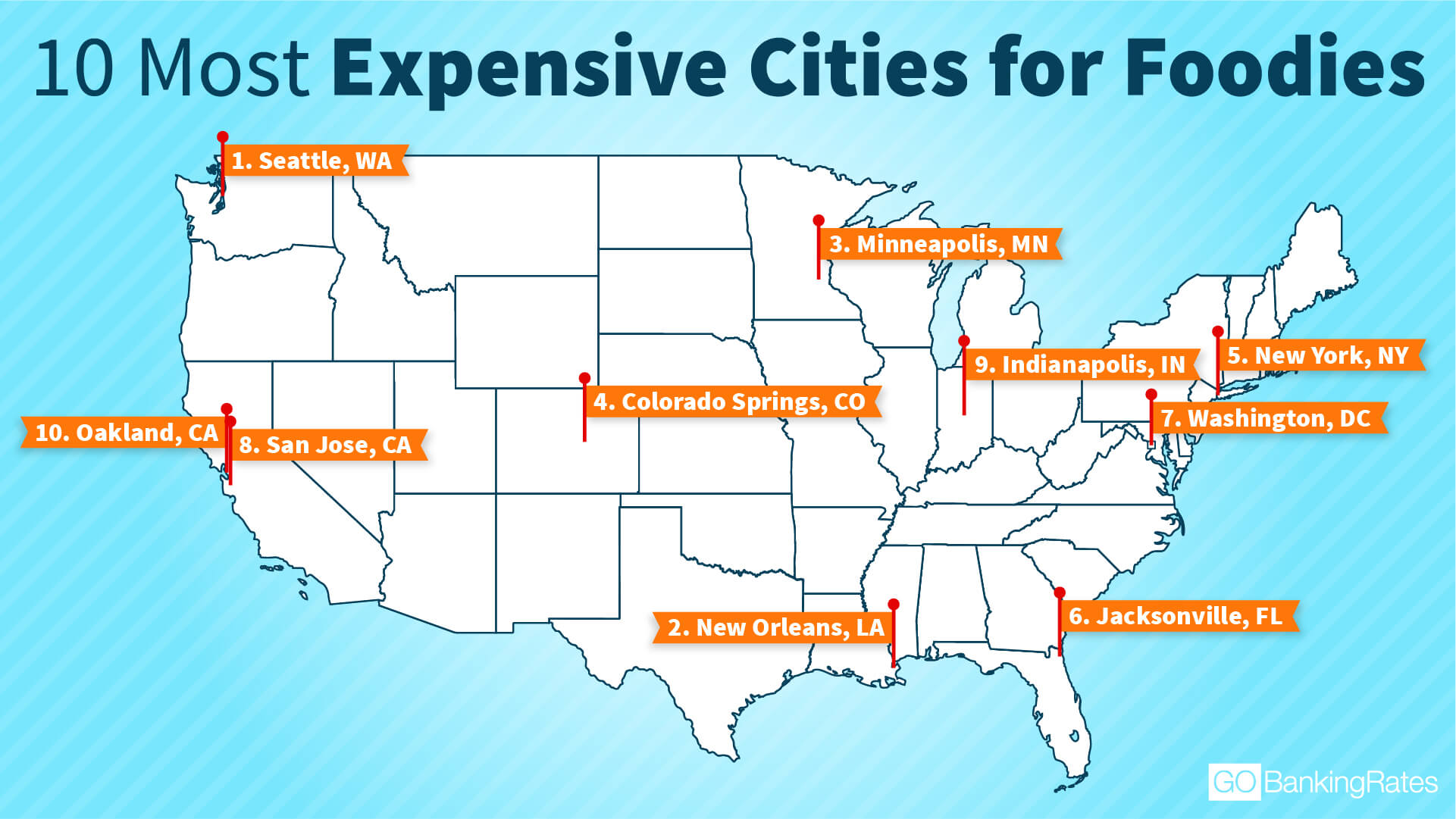 The results showed a large divide in how much you can expect to spend on your food bills. Between San Francisco, where the average monthly grocery bill was its highest, an eye-popping $486.72, and San Antonio, where it was the lowest, at $247.26, there was a nearly $240 gap in how much you could expect to shell out every four weeks. Although there are many ways to save money on groceries, in general, the residents of San Francisco can expect to pay almost double what San Antonians are paying for groceries.
The cost of eating out was similarly pronounced. In this category, San Antonio was once again the most affordable city, with the cost of a three-course meal for two people at a mid-range restaurant only coming to $35, on average. The high end, though, was New York City, where a nice meal out for two would cost an average of $80 — more than double that of the Alamo City.
One clear takeaway was that if you want to eat well and not pay extra, the American Southwest could be the place for you. Among the top 20 cities deemed most affordable by the GOBankingRates study, the majority came from Texas, Arizona, California and Nevada.
In total, 13 of the top 20 most affordable cities came from one of those four states, including Las Vegas, Long Beach, Calif., Phoenix and Houston. Texas, in particular, demonstrated a capacity to serve up great food at good prices, with seven cities in the study's top 20.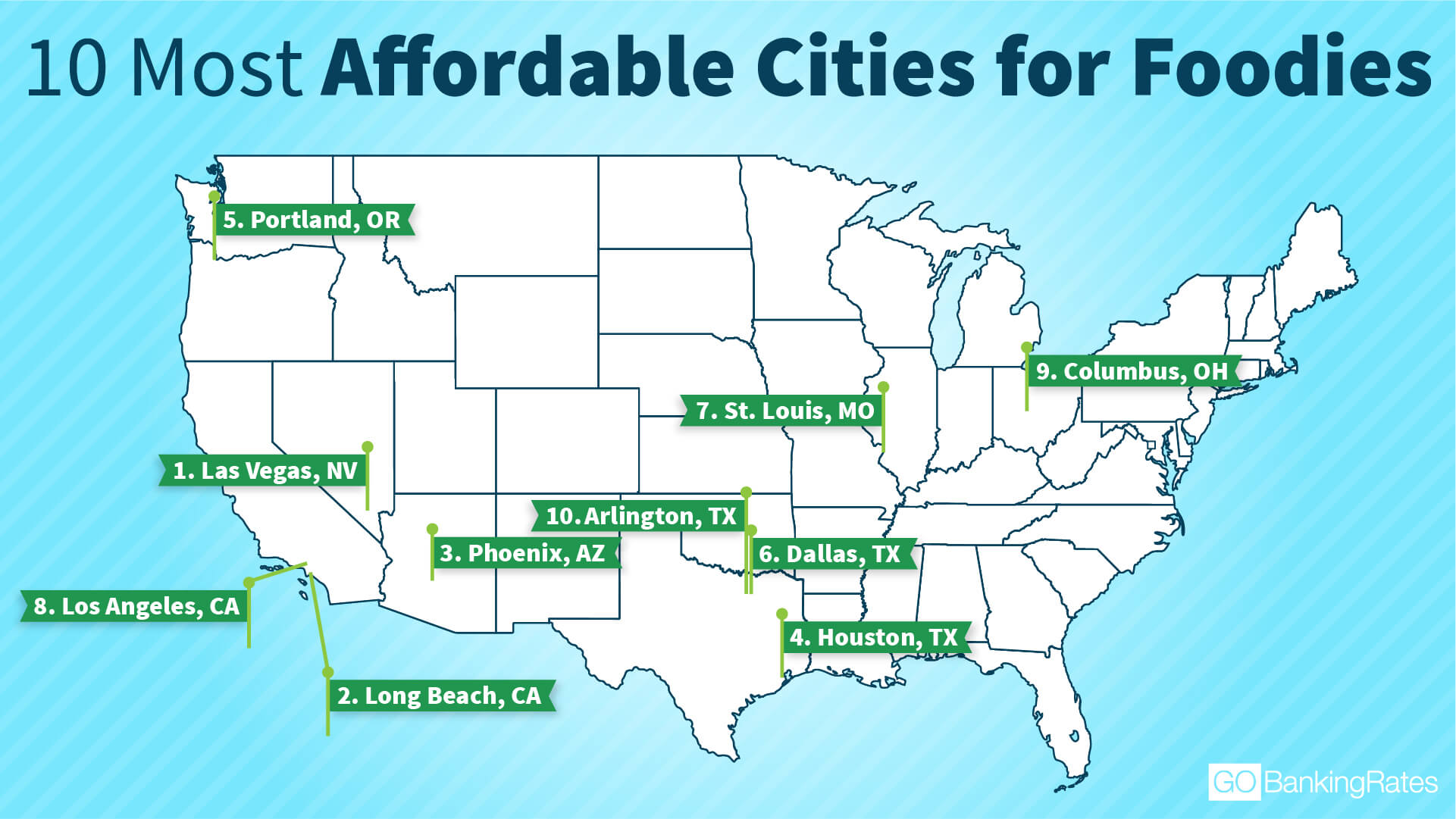 That said, variety is the spice of life, so check out the complete list of which cities are friendliest to foodies' wallets and which ones will make you pay top dollar for good eats.
20 Most Affordable Cities for Foodies:
Las Vegas
Long Beach, Calif.
Phoenix
Houston
Portland, Ore.
Dallas
St. Louis
Los Angeles
Columbus, Ohio
Arlington, Texas
Detroit
Fort Worth, Texas
Virginia Beach, Va.
Omaha, Neb.
San Diego
El Paso, Texas
Oklahoma City
Austin, Texas
San Antonio
Tucson, Ariz.
20 Most Expensive Cities for Foodies:
Seattle
New Orleans
Minneapolis
Colorado Springs, Colo.
New York
Jacksonville, Fla.
District of Columbia
San Jose, Calif.
Indianapolis
Oakland, Calif.
Pittsburgh
Memphis, Tenn.
San Francisco
Charlotte, N.C.
Cleveland, Ohio
Sacramento, Calif.
Raleigh, N.C.
Cincinnati
Wichita, Kansas
Nashville, Tenn.