Celebrate National Burger Day With These 20 Deals, Freebies and More
Bite into big-time savings with these National Burger Day deals.
Memorial Day is the unofficial start of summer, and it's a date when many people will be firing up the grill for the first time this season and enjoying the classic American staple: the hamburger. But May 28 is not only Memorial Day — it's also National Burger Day 2018.
Whether grilling hamburgers is your thing or you prefer your patty flame broiled, you can bite into big-time savings with reduced-price burgers, BOGO deals and even burgers for free.
Keep reading to learn about this year's hottest hamburger deals, discounts, coupons and freebies.
National Burger Day 2018 Deals From Sonic, McDonald's and More
If you're craving a double cheeseburger with all the fixings or just a plain old hamburger, you likely won't need to travel far to find a great deal on National Burger Day. Here are some of the best offers available to burger lovers across the nation:
Avi Glatt
No coupon code is needed to save 14 percent on a 2-pound pack of premium beef burgers at AviGlatt.com, the kosher food delivery service that promises fresh food of all kinds "delivered anywhere."
Take a Bite: The Most Expensive Fast Food Items Only Cost This Much
Buffalo Gal
You don't need a coupon code to save $49 on a gourmet meat sampler, which includes your choice of bison burgers and other meats. Still not convinced? Shipping is also free.
Burger King
If you're a burger aficionado — or a fan of value menu eats — the name Whopper rings loud. This National Burger Day, you can enjoy as much as $30 in coupons on demand when you sign up for the Burger King mobile app.
Carl's Jr.
Join the Carl's Jr. mailing list and buy a Six Dollar Burger, and you'll get a coupon for a small beverage and a small order of fries.
The Counter
Sign up for The Counter's Counterpoints Loyalty Program and get free fries when you register your card. You'll also get a free birthday cake shake on your birthday, surprise rewards all year and access to members-only tasting events.
Denny's
Join the Denny's Rewards program and you'll receive 20 percent off your next visit, which you can use to order one of their 100 percent beef burgers like the bacon gouda burger and spicy Sriracha burger.
Harvey's
One part fries. One part onion rings. They're Frings, and they're free when you sign up for the Harvey's mailing list. Oh, and you also get a free burger for your birthday for good measure.
More Free Stuff: Starbucks and 61 Other Places That Give Away Birthday Freebies
Hunter's Butcher Shop
You don't need a coupon code to get $5 off a Double Burger EXpress — the discount is already applied. Free shipping on orders of $50 or more makes this an even juicier deal.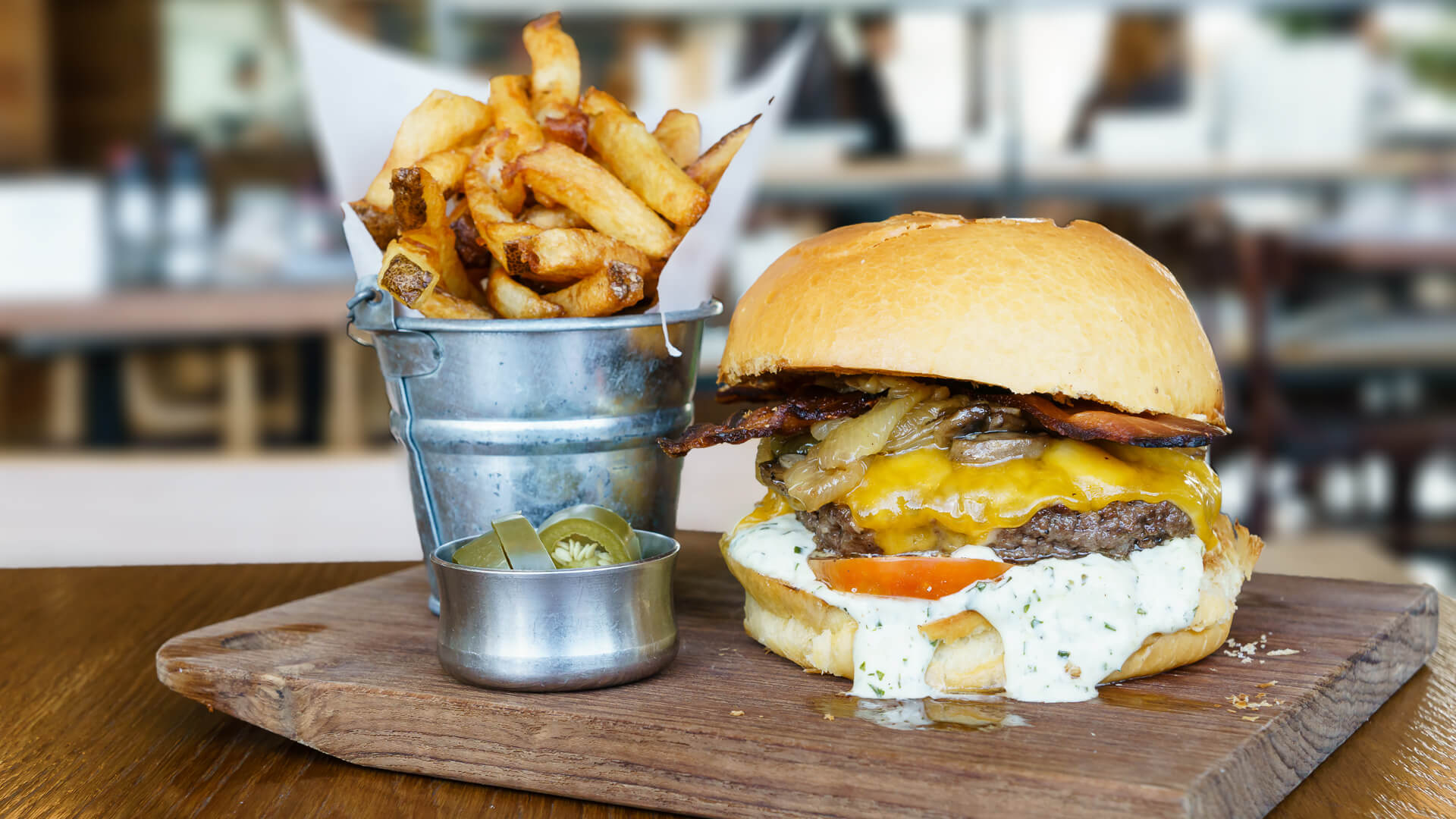 Jack in the Box
Sign up to receive emails or text offers from Jack in the Box and you'll get a coupon for $1 off a bacon or classic Ultimate Cheeseburger.
Johnny Rockets
There are plenty of reasons to join the Rocket eClub, not the least of which is a free burger just for signing up.
Logan's Roadhouse
National Burger Day 2018 falls on a Monday but stop by Logan's Roadhouse any Thursday to get any half-pound burger with fries and a domestic beer for just $10.
McDonald's
Get a free Quarter Pounder with cheese when you buy one through the McDonald's mobile app.
MeatProcessingProducts.com
Are you more of a burger DIY-er? Bring your own hamburger meat recipes to life with all types of contraptions for your kitchen. From patty molds to burger presses, burger baskets, slider presses and more, your burger chef dreams are waiting — and they are all on sale.
Rally's Drive-In
You'll score a free order of fries when you sign up for Rally's emails.
Dropping Dollars at the Drive-Thru: These Are the Best Dollar Menu Items in America
Red Robin
When you buy a $25 or $50 gift card, you'll get a $5 or $10 Bonus Buck reward at Red Robin.
Ruby Tuesday
Sign up for the Ruby Tuesday So Connected mailing list, and your birthday becomes National Burger Day. Not only do you get a free appetizer up to $10 just for joining, but Ruby Tuesday will give you a burger or choice of garden bar entree on your birthday.
Schwan's
You don't need a coupon code to save $1 on a black Angus burger from Schwan's. With three different ways to get ingredients delivered to your home — personal delivery, drop-off and mail order — this means burger time without ever having to step outside.
Sonic
Enjoy the Sonic Drive-In Carhop Classic — that's a 100 percent pure beef quarter-pound double cheeseburger and medium tots, or a classic Sonic Signature Slinger and medium tots — for just $2.99. You'll also get a free medium slush or drink when you download the mobile app.
Get Healthy: 8 Cheap Fast Food Menu Items That Are Under 400 Calories
Steak 'n Shake
Head to Steak 'n Shake on the Saturday or Sunday before National Burger Day and you can get a free kids' plate for every $9 spent. The deal is good for dine-in customers only.
Wendy's
Small Frosty shakes are now only 50 cents for a limited time, so you can use the money you save towards one of Wendy's tasty burger options.
Click through for a guide to the best fast-food secret menu items.
Andrew Lisa contributed to the reporting for this article.
Photo Disclaimer: Please note photos are for illustrative purposes only.