Top 15 Cheap Places to Celebrate National Pie Day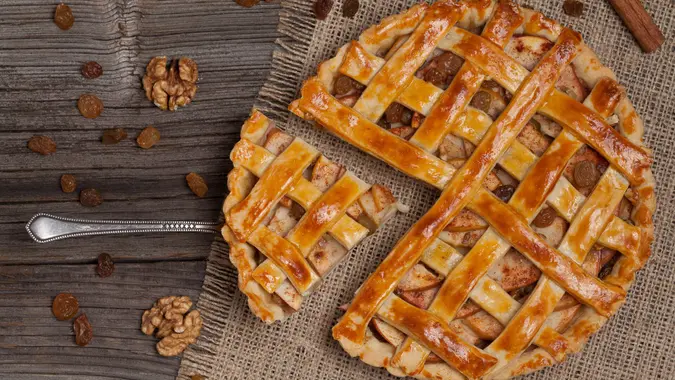 In March, mathletes across the world celebrate Pi Day. But in January, pastry lovers take center stage for a sweeter version that doesn't involve any math at all — unless you're counting calories.
If you always leave room for dessert after dinner, go easy on your entree on Jan 23: It's National Pie Day 2018 — when bakeries, restaurants and websites across the country offer dessert fanatics discount pies, pie coupons and even free pie.
Keep reading to see all the ways you can get your pie fix.
Score a Slice for National Pie Day 2018
Cake, cookies and brownies have their rightful place in the world, but if you're one of the people who thinks there is simply no substitute for a great slice of pie, you're in luck. On Jan. 23, your favorite dessert is about to get even sweeter, thanks to a holiday dedicated to helping you indulge in your favorite dessert for less. Here's where you can enjoy a free slice of pie for National Pie Day:
AI Sports Nutrition:

 

You're about to get ripped eating pie — sort of. Coupon code "Duncan 30" gets you an unspecified discount on pumpkin pie-flavored whey protein from AI Sports Nutrition.
Bakers Square: Bakers Square, which has locations throughout the Upper Midwest, celebrates Free Pie Wednesday every week. Pie Day falls on a Tuesday this year, but starting at 10:30 a.m. the following morning, you can head to Bakers Square to relive the magic all over again with a free slice — of key lime pie, peanut butter pie or whatever you choose — with any purchase.
Black Angus Steakhouse:

 

You don't need a coupon code to get a free mud pie the day after Pie Day and every Wednesday at Black Angus.
Bob Evans:

 

Get a free slice of pie when you buy an adult entree. Use coupon code 0759002558.
Eat'n Park:

 

Use coupon code "GobbleGobble" to get $1 off one whole pie.
Grand Traverse Pie Company:

 

Get a free slice of pie with any purchase on National Pie Day.
King Arthur Flour:

 

You don't need a coupon code to get free shipping on an apple pie recipe bundle.
Marie Callender's: Grab a banana cream pie at participating Marie Callender's locations for $8.99 while supplies last.
Mrs. Smith's:

 

Print

 

this coupon

 

for $0.50 off any Mrs. Smith's pie.
O'Charley's:

 

Tuesday is Pie Day, but the next day — and every Wednesday — is Free Pie Day at O'Charley's, which offers dine-in customers a free slice with the purchase of an entree.
Perkins Restaurant and Bakery:

 

There are nearly 400 Perkins locations throughout the country, and every single one of them turns into a pie lover's dream on the first day of every week. It's Pie Society Monday from 11 a.m. to 9 p.m. the day before Pie Day and every Monday at Perkins, where you'll get a free slice of pie with any entree you purchase.
Polly's Pies:

 

Strawberry and rhubarb pies are now just $7.99 and peanut butter fudge pies are just $13.99. All three come with their own tins.
Priester's Pecans:

 

Sign up for emails and take 5 percent off your next order, including pecan pies.
River Street Sweets:

 

Right now, you can take 15 percent off several specialty pies and cakes, including German chocolate, hummingbird layer cake and coconut layer cake.
Village Inn:

 

Pie Day is on a Tuesday, but the following day — and every Wednesday — is Free Pie Day at the Village Inn, which has locations across the country. Starting at 10 a.m., visit your neighborhood restaurant for a free slice of Chocolate Cherry Dream, Coconut Cream or classic fruit pie with any dinner purchase.
More Sweets for Less: The Best Budget-Friendly Ice Cream Spot in 40 Cities