National Popcorn Day is Here: Deals, Freebies and More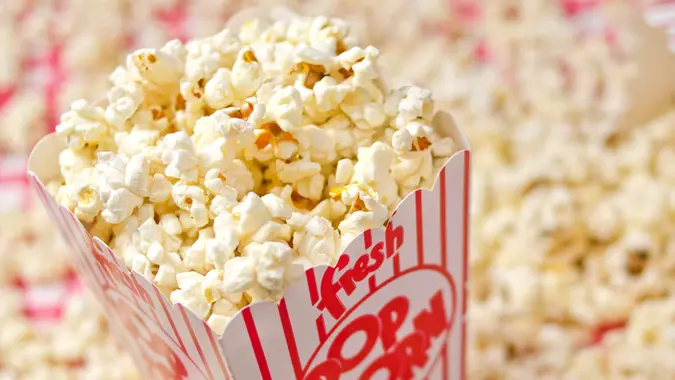 Fudio / Getty Images/iStockphoto
Known as a low-calorie, high-fiber super snack and a movie theater staple, popcorn has been wowing hordes of hungry snackers for generations. Humans were snacking on popcorn for thousands of years before the popcorn machine, popcorn popper or microwave were ever invented.
National Popcorn Day is Jan. 19, and whether you prefer air-popped popcorn or the old-school campfire flame, you can save on jars of kernels, microwave packs, pre-made, butter-heavy movie theater popcorn or even popcorn seasoning like popcorn salt or garlic. No matter your poppable preference, read on to see the many ways you can get your popcorn fix.
National Popcorn Day 2018 Deals from Jolly Time Popcorn, AMC Theatres and More
No matter how you love to pop, the best popcorn is the box, bucket or jarful you get for less. Here's where to save on National Popcorn Day:
AMC Theatres: AMC consistently runs offers and promotions, many of which involve free popcorn, especially for opening night fan events. Also, if you buy a large popcorn and a large ICEE, you'll get a free ICEE for your troubles.
Brooklyn Popcorn: Shipping is free for all orders of $75 or more.
Cinemark Theatres: Sign up for weekly emails and you'll be rewarded with weekly concessions coupons.
Fisher's Popcorn: Use coupon code "GIFT2" to get $2 off a two-gallon coastal wreath and candy cane.
Garrett Popcorn: If you buy one signature pink one-gallon tin of Garrett Mix, you'll get a second one for free.
Harry & David: Harry & David is offering customers a huge range of coupons that can save them 20 percent, give them $10 off an order or provide them with free shipping.
JOLLY TIME Popcorn: When it comes to Jolly Time discounts, popcorn lovers have plenty of options. Current promotions include $1 off the purchase of two boxes of microwaveable popcorn and $0.35 off a bag or jar of kernels.
Just Poppin: The gourmet popcorn shop is offering at least a half dozen items with free or half-priced shipping.
Kernel Season's: When you buy eight Kernel Season's popcorn toppings, you'll get two free.
Mom & Popcorn: Use coupon code "TAFFYSMANCAVE" to take 10 percent off your order.
Paragon Theaters: Sign up for the Diamond Rewards Loyalty program and Paragon will email you a coupon good for one free popcorn.
Popcorn Colonel: Coupon code "10off" gets you a 10 percent discount sitewide.
Popcorn Factory: Use coupon code "SHIP4FREE" at checkout to get free shipping on your order, as long as it's for delivery within the continental United States.
Popcorn Friday: If you place an order of $50 or more, shipping is on the house.
PopCorners: When you use coupon code fbpop2011, not only will you save 20 percent, but you'll also get free shipping.
Regal Cinemas: It's not movie night without popcorn, and thanks to a huge selection of promos and offers from Regal, you can save while you crunch at the movies. When you head to the theater, you can take advantage of deals including a monthly mobile coupon, which gets you 15 percent off popcorn and other snacks, free popcorn with a Paramount movie bonus and 50 percent off popcorn every Tuesday.
Showcase Cinemas: Every week, Showcase Cinemas welcomes older movie buffs to take advantage of Senior Wednesdays, which comes with a whole heap of discounts — including popcorn and a soft drink for just $4.50.
Yum Yum's Gourmet Popcorn: If you'll take the time to post a picture and leave a review, Yum Yum's will give you a voucher for 25 percent off.
Bust out your popcorn maker or microwave popcorn popper — National Popcorn Day is here, and specials, freebies, BOGOs and coupons of all kinds are popping up all over the country. Popcorn is one of the oldest snacks in history, but new deals and discounts are available every day.
Up Next: 30 Ways to Save on Super Bowl Food and Snacks This Year