5 Secrets to Avoiding High Food Delivery Charges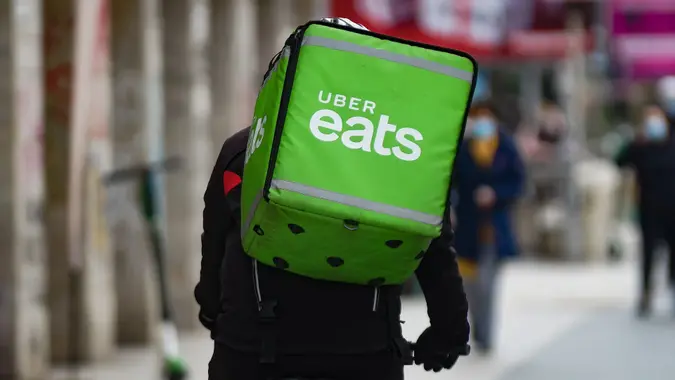 lcva2 / iStock.com
With the days getting brisk and the nights downright chilly, ordering takeout is just what the weatherman ordered — but at what cost? 
Explore: GOBankingRates' Best Credit Cards for 2023
Advice: If Your Credit Score Is Under 740, Make These 4 Moves Now
According to recent research from Circuit for Teams, the average American places nearly 55 food delivery orders a year, spending almost $1,850 in the process. The same research found that delivery fees, service fees and tips make up roughly 36% of food delivery costs, which boils down to an average of $654 per customer, per year.  
Delivery fees certainly are not going to go down for food-delivery companies such as Uber Eats — not while they face a slowdown in demand due to inflation. So what's a restaurant food-loving customer to do, especially when going out to eat (again, because of inflation) is so exorbitantly expensive? 
Let's examine five secrets to avoiding high food delivery charges when using apps such as Uber Eats. 
Make Your Money Work for You
Check Your Timing (and the Weather) 
"Timing is key when it comes to delivery charges," said Paul Kushner, CEO of MyBartender who has been in the food industry since 1997. "Much like Uber's transportation app, there are timing factors that can increase the delivery fees. You will save money on fees if you order during high volume times of day — when more drivers are available — and when the weather is nice. Delivery fees are higher to accommodate inclement weather, so ordering a burger in a snowstorm can be a costly endeavor." 
Take Our Poll: How Long Do You Think It Will Take You To Pay Off Your Credit Card Debt?
Order Close to Home 
"The further the food, the higher the fee," Kushner said. "Generally speaking, if you are in midtown but you're ordering from a downtown restaurant, your fees will be higher than ordering from within a few miles of your location. That's why the 'sweet spot' with apps like Uber Eats is to order from places that are just a little too far to walk to, but not so far away that your order will take an hour or so to arrive."
Make Your Money Work for You
Consider the Premium Service
"I am not endorsed by Uber, but I will say if you order takeout multiple times a month and you pay more than $10 in fees monthly, just bite the bullet and subscribe to their premium service," Kushner said. "For most restaurants it eliminates the delivery fee entirely, so the savings pay for themselves pretty quickly. There are also discounts that apply to their rideshare service, so that may be an extra incentive to invest in a premium subscription, too."
Avoid the Priority Fees
"There's now an option where customers can pay an additional fee to get their food delivered first," Kushner said. "This means you could avoid your driver making a stop to pick up someone else's order along the way, delaying your food and letting it go cold. While this can be a worthwhile delivery fee for special occasions, I think you're better off saving the money and reheating your food in the oven if possible. If you have food that will melt or go soggy, maybe splurge the extra few dollars."
Make Your Money Work for You
Pick It Up Yourself
"If you are within walking distance of the restaurant, you can avoid delivery fees entirely by selecting the 'pick up order' option," Kushner said. "Just make sure you select the correct restaurant if they have multiple locations, as you'd hate to show up and have no food ready to go home with you."
More From GOBankingRates
Make Your Money Work for You