SNAP 2023: Grocery Prices Have Jumped 15% Since Biden's Food Stamp Expansion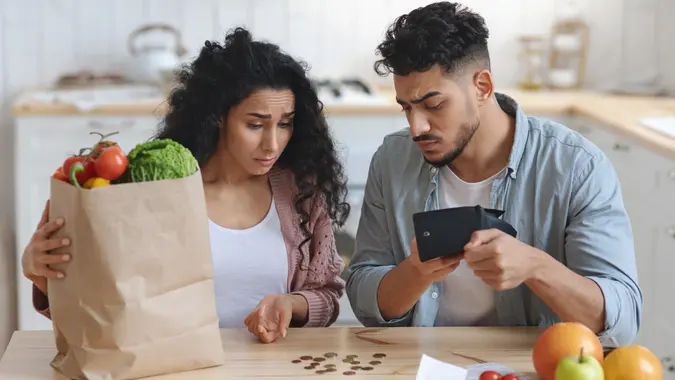 Prostock-Studio / Getty Images/iStockphoto
The food stamp program — renamed the Supplemental Nutrition Assistance Program (SNAP) upon the creation of the 2008 Farm Bill — is one of the larger federal social welfare initiatives and has been around in some form since 1939.
It's also one of the largest federal social welfare programs in terms of cost, and since President Joe Biden's expansion of SNAP in September 2021, has caused grocery prices to increase by at least 15%, according to a new study by the Foundation for Government Accountability (FGA), a conservative public policy think tank.
"USDA cooked their books to hike food stamp benefits by 27% — the largest permanent increase in program history. And they bypassed Congress to do it," said Jonathan Ingram, Vice President of Policy and Research at the FGA.
According to the FGA report, increased SNAP spending by the Biden administration is responsible for the high inflation and consumer prices that have overwhelmed Americans over the last few years. SNAP spending more than doubled between 2019 and 2022, from $4.5 billion to $11 billion, per the study.
"Data show the Biden administration's overreach led to massive spikes in grocery prices," Ingram added. "They're feeding inflation, not stopping hunger."
According to Fox News, the FGA is calling for a repeal of Biden's "unlawful" expansion, which could save taxpayers $193 billion over the next decade. Federal food stamp spending is projected to cost taxpayers more than $1 trillion the same time period.
House Republicans are desperate to change SNAP eligibility, establish income thresholds and eliminate loopholes that enable unqualified Americans to enroll in the food stamp program.  
Make Your Money Work for You
SNAP spending will be a talking point number one as Congress works toward drafting a new five-year Farm Bill, which is set to expire on September 30, 2023. A new version of the Farm Bill gets drawn every five years and touches on a wide range of topics from federal food assistance to conservation initiatives.
Farm Bill discussion is expected to be fractious, especially after the Biden administration conceded additional work requirements for food stamps as part of the debt limit bill reached by the president and House Speaker Kevin McCarthy at the end of May and became public law as the Fiscal Responsibility Act of 2023 on June 3.
The Supplemental Nutrition Assistance Program is a federal aid program administered by the Food and Nutrition Service (FNS) of the U.S. Department of Agriculture (USDA) which provides food assistance to low and no-income people and families living in the United States.
According to Pew Research, almost 42 million people in over 22 million households receive SNAP benefits monthly, or approximately 12.5% of the U.S. population. The program runs in all 50 states, the District of Columbia, Guam and the Virgin Islands.
More From GOBankingRates
Make Your Money Work for You