Stock Up Now on These 7 Summer Groceries To Save Money All Year Long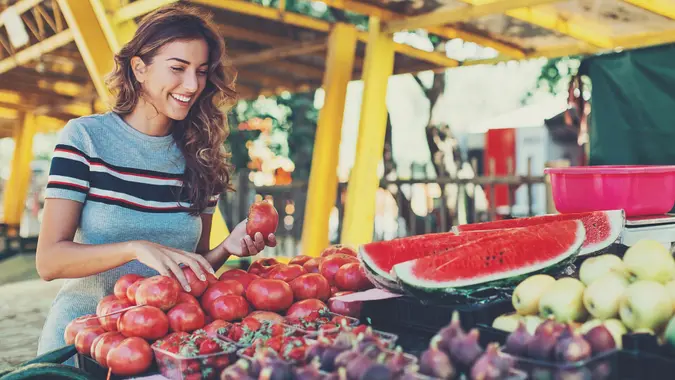 Petar Chernaev / iStock.com
Buying in bulk is one of the smartest ways to save on groceries. While some items can be bought for basically the same price all year round (think rice and beans, for example), there can be a seasonal element to this process. Certain foods are less expensive in summer than they are in other months, and so you should stock up on them ASAP if you can.
Additionally, some foods you may go through faster this time of year (think grilling meats for barbecues), so it's wise to buy those in bulk now, too.
Here are some grocery items to buy this summer to save money all year long:
1. Tomatoes
Tomatoes are in season from May through October. It's worth stocking up on these nightshades now. Since tomatoes as whole fruits don't do great in the refrigerator, it's best to prepare your tomato-based dishes now. For instance, make tomato sauce or chili now and freeze it for future use.
Make Your Money Work for You
2. Melons
From May to September, melons are in season and, thus, priced more affordably during that time frame. According to the National Center for Home Food Preservation, the best way to store melons in the freezer is by choosing firm-fleshed, well-colored and ripe melons. Cut them in half, remove the seeds and rind, then cut the melon into slices or cubes. Pack into tupperware containers and cover with cold 30% syrup before sealing.
3. Berries
Blackberries, blueberries and raspberries come to fruition in spring and early summer. So, this may be your last window of time to find them both fresh and reasonably priced. According to Farm Flavor, the ideal way to store berries is to put them on paper towels and drain them. Then, place them in a single layer on a jelly-roll pan or cookie sheet, and put the pan in the freezer labeled with the date.
4. Cucumbers
Cucumbers — a dietitian favorite because they're packed with water — peak from May through August. These are a bit trickier to store long-term. Many consumers just stash them whole and bare in the crisper drawer. This is an okay approach, but the best method is to wrap the whole cucumber in plastic wrap and place it in an airtight container before putting it in the fridge, according to Real Simple.
5. Corn
The peak season for corn spans from May through September. It's a good time to stock up on corn not only because it's in season, but because corn prices have been surging and are expected to soar even more. Corn is difficult to preserve because it really tastes best fresh on the day of purchase, but according to Southern Living, you store dehusked ears of corn loose in the refrigerator. But you should consume it within two days of storing.
Make Your Money Work for You
6. Grilling Meats
Summer is the season of outdoor grilling, so stocking up on meats (including burgers and hot dogs) that you can easily store in the freezer is a good move.
7. Lunch Box Goodies
Back to school will be here before you know it. Get ahead of the game by stocking up on your kids' favorite lunch box goodies that are either non-perishable or can be frozen for future use.
More From GOBankingRates