7 Cheap Dollar Tree Summer Items To Buy Early This Year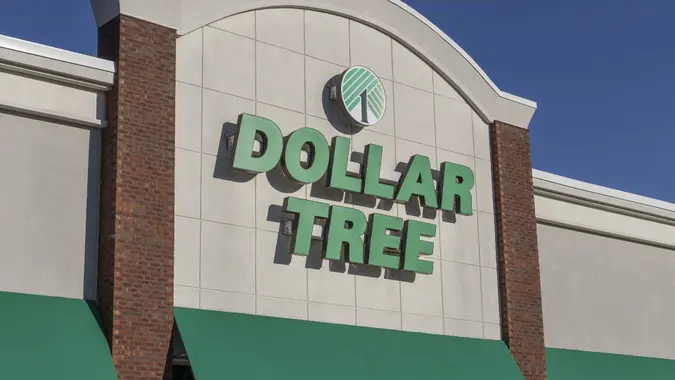 jetcityimage / iStock.com
The summer season brings both rising temperatures and inflation. Dollar Tree has become a go-to for budget-conscious shoppers. To help you stay cool without spending a fortune, GOBankingRates put together a list of seven summer items from Dollar Tree that offer great value for the cost. Enjoy all your favorite summertime activities with these affordable finds.
Sunbasics SPF 50 Kids' Sunscreen Lotion
$1.25 each, or $30 for 24 online
It's important to keep your child's sensitive skin safe from the damaging effects of the sun in summer. This sunscreen is both gentle on their skin and provides effective protection. This particular formula is not only free from potentially harmful ingredients like octinoxate, oxybenzone and parabens, but also water-resistant for up to 80 minutes. So you can have peace of mind knowing your child can safely enjoy their time in the sun.
H2O Blasters Floating Water Toys
$1.25 each, or $30 for 24 online
Make Your Money Work for You
Enjoy a fun time in the water with friends and family of all ages using these assorted animal-shaped water toys that collect and spray water. Perfect for pools, beaches and even bath time.
"They make excellent summer toys both in and out of the pool," says Julie Ramhold, consumer analyst with DealNews.com. "These are fun for a variety of ages, and even if you have to buy a case online, it'll still be 24 for a total of $30. These are perfect for party favors, too, and at that price, you won't feel bad if they don't make it past the summer."
Colorful Mat Pool Floats
$3 each, or $54 for 18 online
Snag these large, colorful pool floats that come in green, pink and blue — perfect for pool parties, beach days or lounging in your backyard pool at a great price.
"These are just $3 a pop, and come in bright colors perfect for summer," says Ramhold. "Much like the toys above, if they only last a season, that's not too bad for the price, and if they last longer, it's even better. If you can find them in-store, they're pretty much a must-have, but if you have to order them online, you may want to weigh your options, as you'll have to purchase 18 in that case for a total of $54. If you don't have a use for that many floats, you may want to skip buying them in bulk."
Make Your Money Work for You
Bubbles With Wands 
$1.25 per pack of three 4-ounce bottles, $45 for 36 three-packs online
Get ready for endless hours of bubble-blowing fun! These packs include three 4-ounce bottles of bubble liquid with wands that are easy to use. Not only are they ideal for outdoor play at home, but they're also great for weddings instead of the traditional rice-throwing. 
Jumbo Iced Drink Tumblers
$1.25 each, $30 for 24 online
Stay refreshed and stylish this summer with these jumbo drink tumblers, featuring three tropical designs.
"Perfect for drinking ice-cold beverages all summer and staying hydrated," says Ramhold. "They're $1.25 each and since they're plastic, they're perfect for having poolside without having to worry about glass."
Plastic Ice Cream Sets With Spoons and Bowls
$1.25 for each eight-piece set, or $30 for 24 sets online
These sets of four bowls and four spoons, available in pink, light blue and green are just right for serving frozen treats at any barbecue or birthday party.
"These come in a few different colors, and are eight-piece sets, so you have enough for four people with just one pack," says Ramhold. "Perfect for parties, especially since these cups are small enough for the perfect amount of ice cream."
Make Your Money Work for You
Summertime Slice Paper Plates
$1.25 per pack of 12, or $45 for 36 packs online
Elevate your summer picnics with these paper plates, which feature a vibrant, summery design of sliced fruit. Not only are they visually appealing, but they are also practical and convenient, making cleanup a breeze. These plates are perfect for all of your summer picnics and barbecues. They come in a pack of 24, ensuring that you have enough plates for all your guests.
More From GOBankingRates