How To Do Thanksgiving Dinner on a Budget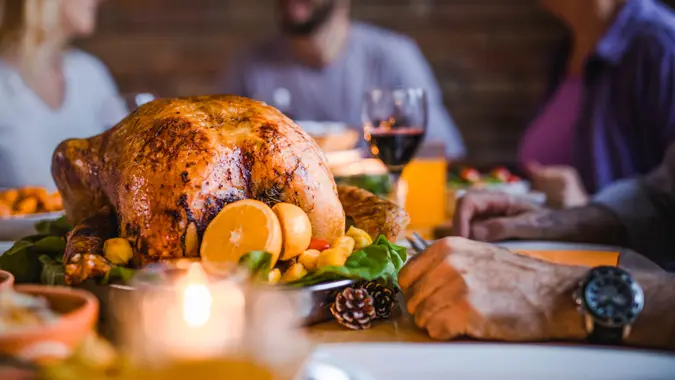 skynesher / Getty Images
While Christmas is often the budget blowout of the year, Thanksgiving costs are nothing to sneeze at. Americans spent an average of $186 each, according to Yahoo Finance, in 2020. And many Americans spend an additional almost $1,000 on Christmas holiday expenses according to Investopedia. 
See: Expect All-Time High for Holiday Sales Despite Supply Chain Issues and Labor Shortages
Learn: 5 Apps That Send Alerts When The Holiday Gift You Need Is Back In Stock
Part of these expenses can be attributed to holiday eats. Visit a grocery store close to the holidays and you'll see every register in action, with long lines extending across the main aisle, and bare shelf spaces for items like canned cranberry sauce.
But that doesn't mean you have to follow the masses. Instead, you can learn how to save on Thanksgiving expenses, so you won't start the holiday season with a dent in your budget.
How To Save on Thanksgiving Dinner
Dinner is the biggest expense of Thanksgiving. People spend a lot of money preparing a variety of traditional Thanksgiving dishes Americans love — from green bean casserole to mashed potatoes to cranberry sauce — and don't forget the main course: the giant roast turkey.
Make Your Money Work for You
People also account for more food sensitivities and special diets than they used to, which may add some cost as well. According to YouGov, millennials are more likely than other age groups to have a guest with dietary restrictions.
Fortunately, there are many ways to feed your family a cheap Thanksgiving dinner or otherwise balance out the cost of the meal. First, like anything else when it comes to finances, you have to stick to a budget that you can afford.
You can also try a potluck-style dinner that requires everyone to bring main or side dishes so that each person attending doesn't have to spend too much money. Or if you don't want to go the potluck route, ask guests to RSVP ahead of time. Then, you'll know how many are coming in advance and you won't cook too much.
Find Out: Rude Money Questions You Shouldn't Ask at the Holidays
Cooking from scratch and using boxed or canned ingredients alongside fresh ones can help you save on the actual costs of the meal. Boxed cornbread mix can be found for a couple of bucks and just needs to be combined with a few eggs and milk. Ready to bake biscuits are also a steal at just a few dollars per package, or less. Making cornbread or biscuits from scratch involves buying flour, cornmeal, baking soda and other ingredients, which can all cost a few dollars each, making the cost add up.
Make Your Money Work for You
It's also key to pay attention to store coupons and shop ahead of the holidays. You can actually find many of the best food deals the week before Thanksgiving. You should also keep a lookout for retailers that give shoppers a free whole turkey once they've spent a certain amount, and take all your coupons there.
If you're extreme in your desire to save, you can even wait to have Thanksgiving dinner the day after. You simply postpone your trip to the supermarket until items go on clearance that Friday.
Look: Wrapping Paper, Greeting Cards and More Holiday Items to Only Buy at Dollar Stores
Average Cost of Thanksgiving Dinner
The cost of Thanksgiving dinner can be high in a regular year, but this year food prices are up 4.5% alone, according to the Consumer Price Index. The turkey alone can cost around $20 and more than $30 for a big one. This year, due to pandemic related supply chain issues and worker shortages, turkeys are expected to be as much as 10%-12% more expensive than last year, according to ABC News. The basic components of a full Thanksgiving meal for a small family costs around $50, according to a prior study done by the American Farm Bureau Federation. However, this year, the Federation predicts that the cost of the same dinner has gone up by 5%, the highest it has been in a long time. The basic components named in the study include a small turkey, stuffing, sweet potatoes, dinner rolls, frozen peas, cranberries, a half-pound of carrots and celery and pumpkin pie ingredients.
Make Your Money Work for You
The problem is that families hosting large dinners with extended family will need much more food. Modern Thanksgiving dinners will also include dishes adapted for various dietary preferences. In reality, Americans spend double that on Thanksgiving, minus travel costs.
Here's the estimated cost of other popular Thanksgiving ingredients:
Sweet potatoes:

$3.99

for a 3 lb. bag 

Bag of cubed stuffing:

$2.66

Fresh cranberries,

12 oz:

$1.98 

Pumpkin pie

ingredients: $5.09

Pie shells,

2 count: $1.94

Buttermilk,

1 quart: $1.90

Whipping cream,

16 oz: $1.98 

Chicken broth,

32 oz: $1.33

Green beans,

fresh, 12 oz: $2.78
Related: The Most Popular Thanksgiving Sides on a Budget
Managing Your Money Around the Holidays
As the holiday season approaches, it's not only time to celebrate but also to consider how you will spend your money. Thanksgiving is just the start of it. Then as November comes to a close, December can bring with it expensive plane tickets, presents and holiday decorations. And last, but not least, don't forget New Year's celebrations.
Making a budget is about deciding what your priorities are around the holidays. Is shopping on Black Friday something you can't miss? If so, you'll want to make a budget for gifts. Though consider taking advantage of earlier sales, as supply chain disruptions may mean that items ordered on Black Friday don't make it in time or are not as deeply discounted as in past years. Are you focused on spending time with family? Then you may want to be prepared to spend more on travel than presents. Do you want to eat healthily but heartily around the holidays? In that case, you may want to spend most of your budget on food.
Make Your Money Work for You
Be honest with your family and tell them in advance if you can't spend as much as you normally would on purchases like gifts because you prioritized your budget toward travel or the Thanksgiving menu. Planning ahead and setting a strict budget for your holiday spending costs is key to getting through to January.
To tackle the question of how to create a budget, check out these specific budgeting methods to help you keep your holiday expenses under control.
Check Out: 6 Holidays Purchases That You Should Only Make at Costco
Activity-Based Budgeting 
Activity-based budgeting analyzes line items to determine where you can cut or spend more money. Examining your budget in this way can allow you to identify expenses that you could reduce during the months of November and December, which would allow you to funnel more money toward holiday expenses.
Envelope Method
Favored by the likes of Dave Ramsey, this budgeting method involves putting money that you would normally bank into different envelopes. Each envelope is marked for a specific purpose, such as "Thanksgiving dinner." The envelope method can work well when trying to save for the holidays because you can set the money safely aside ahead of time for Thanksgiving, Christmas, Hanukkah or New Year's.
Make Your Money Work for You
Incremental Budgeting
Incremental budgeting uses last year's spending to help you create this year's budget. In this case, you can look back at your transaction history and determine how much you spent on Thanksgiving dinner — or on holiday presents. By doing so, you can figure out how much you should put aside in preparation for this year's expenses.
Find Out: Are Banks Open on Thanksgiving?
Thanksgiving Dinner on a Budget Is Possible
Although getting together all the dishes for a Thanksgiving dinner may seem expensive and overwhelming, it doesn't have to be. If you plan ahead and budget for it, you will be able to have the holiday of your dreams. Hopefully, these tips and information will help you prepare for the most delicious day of the year without worrying about breaking the bank.
More From GOBankingRates
Jordan Rosenfeld contributed to the reporting for this article.
Make Your Money Work for You