The Cost of Groceries Around the World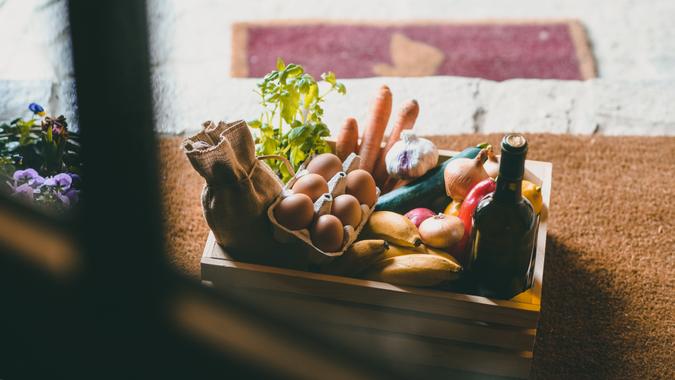 Halfpoint / Shutterstock.com
No matter where a family lives, groceries are a regular expense. How much produce and household essentials cost varies from country to country based on the local economy and what's in demand.
During the pandemic, we saw hand soap and hand sanitizer fly off the shelves, but now manufacturers have adjusted and those aren't quite the rarities they were before. However, essentials stay the same. NetCredit defines essentials as breakfast cereal, a carton of eggs, a pound of boneless chicken breast, 16 ounces of local cheese, a liter of vegetable oil, a loaf of fresh white bread, a liter of milk, two pounds of potatoes, two pounds of tomatoes, two pounds of bananas, a can of tuna and a 1.5-liter bottle of water. These cost $25.71 on average in the United States, which is pretty close to the world's average of $28.25.
More Advice: 16 Ways To Save Money on Food
Watch Out: Costly Mistakes People Make While Grocery Shopping
Based on how much those staples are valued at internationally, here's a look at the cost of groceries around the world. 
Most Expensive: Switzerland 
Basket of essentials cost: $52.95
The cost of living in Switzerland is quite expensive, so it makes sense groceries would be as well. A one-bedroom apartment in the country costs the equivalent of about $2,150 on average. Swiss cities Zurich, Bern and Geneva were all ranked among the world's 10 most expensive places. On the flip side, the average wage is comparably high, coming in at about the equivalent of $7,000 per month.
Make Your Money Work for You
Second-Most Expensive: Iceland
Basket of essentials cost: $52.55
You'll find groceries just a hair less expensive in Iceland than in Switzerland. Iceland is the ninth-most expensive country in the world to live in. Regulations on farming contribute to the high cost of living, and specifically high grocery prices. All farm equipment is imported, as are many foods, which will both be reflected in food purchase costs.
More: Supermarket Buys That Are a Waste of Money
Third-Most Expensive: Cambodia
Basket of essentials cost: $49.70
The average daily income in Cambodia is only $5.28, so a person would have to work 9.5 days to afford groceries. The reason for the high grocery costs have to do with a decline in trade and the rising prices of imports over the years. Cambodia spends nearly $1 billion annually to import meat such as pork, chicken and duck, plus vegetables from Thailand, Vietnam and China. 
Make Your Money Work for You
Average: Greece

Basket of essentials cost: $29.64
The overall average cost for groceries among all countries was $28.25. The individual country that was closest to that was Greece. A loaf of white bread is only $0.86 in Athens, but cheese will cost between $4 and $8. Compared to Switzerland, it's much cheaper to live in Greece. A one-bedroom apartment in the center of Athens will cost you about $515 per month on average.
Check Out: 25 Secret Money Traps at Target, Walmart and Other Big-Box Stores
Cheapest: Djibouti
Basket of essentials cost: $6.89
For groceries in the East African country of Djibouti, you'll spend just under the equivalent of $7. However, the cost of living in Djibouti is about 11% higher than the United States. A one-bedroom apartment in a bigger city will cost $603 a month, and a three-bedroom apartment outside of the city will cost $499.
Make Your Money Work for You
Second Cheapest: Moldova

Basket of essentials cost: $12.93
Shopping for groceries in Moldova is quite cheap. A loaf of white bread costs $0.31, and a pound of chicken filets is only $1.76 in Chisinau. When you buy a Coke or Pepsi at a restaurant in Chisinau, it will cost you $0.72 on average.
Related: Budgeting 101: Essential Tips To Create the Perfect Budget
Third Cheapest: Paraguay
Basket of essentials cost: $13.35
Paraguay was one of the few entries on this list where most of the essential items on NetCredit's grocery list cost under a dollar. A loaf of white bread is $0.52, while a pound of white rice is only $0.32 in Ciudad de Este. In Asunción, the largest city in Paraguay, a one-bedroom apartment in the city is $303, while a three-bedroom apartment in the city is $581. The average monthly salary in Asunción is $340.86; so, although $13.35 is cheap in comparison to the United States, it's still a huge chunk of a Paraguay worker's monthly check.
More From GOBankingRates
Make Your Money Work for You