Trader Joe's Best Deals? Superfans Reveal 9 Standout Buys for Your Money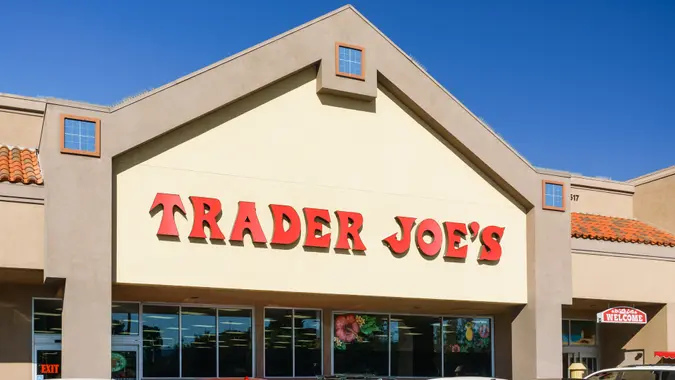 Ken Wolter / Shutterstock.com
Trader Joe's, one of America's favorite grocery store chains, is known for its unique and affordable products. With a wide range of options, it can be overwhelming to decide what to buy — especially when you're on a budget.
That's where Trader Joe's superfans come in.
These dedicated shoppers have scoured the aisles to find the best deals and standout buys for your money — without sacrificing quality or taste. Whether you're a regular or a first-time shopper, these hot tips will give you the inside track on the best of the best at Trader Joe's.
Avocado Oil Cooking Spray 
"A great non-stick spray using avocado oil as a base, which has a higher smoke point compared to other oil types," shares TJ's Superfan Clara Cheng of Fitsian Food Life. Cheng also points out that many avocado oil cooking sprays cost between $6-7 dollars, which makes this a great quality product at a fraction of the cost.  
A five ounce container costs $3.49 at Trader Joe's. 
Cento Canned Tomatoes
When it comes to high quality canned tomatoes, you can pick yours up at Trader Joe's for a steal. "These are the cheapest I've ever seen a quality can of San Marzano, the top tier of canned tomatoes, being sold," says Cheng. "San Marzano tomatoes are typically upwards of $5 for a 28 ounce can."
Make Your Money Work for You
A 28 ounce can costs $3.99 at Trader Joes.
Take Our Poll: Are You Concerned With the Safety of Your Money in Your Bank Accounts?
Frozen Hashbrowns 
What is a weekend breakfast without some hashbrowns? Nothing we want to indulge in! While it might be slightly cheaper to make these on your own — it's not a deal if it takes you a long time and they're just not as good. "The first time I bought these, the cashier recommended letting them go just a bit longer than the directions say for an extra crispy texture and to be generous with the salt," shares Trader Joe's superfan Julie Ramhold of DealNews.com.  
A 22.5 ounce packet (of 10 hashbrowns) costs just $2.49 at Trader Joe's.
Sublime Ice Cream Sandwiches
A day without ice cream is like a day without sunshine — and these high-quality sandwiches are a deal you won't be able to resist. Ramhold calls these "the absolute perfect cookie ice cream sandwich." She adds that the size is perfect for an afternoon pick-me-up or post-dinner dessert and that they're soft right out of the freezer and "so addictive."
A box of 4 costs $4.99 at Trader Joe's. 
Make Your Money Work for You
Beefless Bulgogi
This is a popular and flavorful plant-based alternative to traditional Korean bulgogi, with a satisfying texture and a good balance of sweet and savory flavors. "We're interested in cutting down on meat in my household and this was a major hit," shares Trader Joe's superfan Sarah Meads. "My 10-year-old cannot get enough!" Meads adds that meat alternatives can be pricey and so this is a great deal on a filling main-course for her entire family of four. 
A 10 ounce box costs $4.49 at Trader Joe's.
Chocolate Chip Pain Au Lait
Need a decadent, easy, and majorly affordable breakfast on-the-go? Look no further than Trader Joe's chocolate chip pain au lait.  "These are soft and fluffy with just the right amount of sweetness, so you won't experience a sugar crash an hour later," shares Ramhold. "I love keeping these on hand but they never last long because they're so light and tasty."
A 9.9 ounce bag with 8 rolls costs $2.99 at Trader Joe's.
Make Your Money Work for You
Organic Elote Corn Chip Dippers
Inexpensive, flavorful, and perfect as a snack with guac or crushed up and used to coat your favorite fried food, these organic elote corn chip dippers are a winner — and a steal. A smaller bag of Frito's is currently at Target for $4.49 — and they're not even organic! Or, according to Ramhold, as delicious "Thanks to these chips I'll never be able to eat regular corn chips again," she says.
A 9.75 ounce bag costs $2.69 at Trader Joe's. 
Daily Facial Sunscreen
When this hit the market last year, the internet went wild. "Considered a dupe for an extremely popular and pricey sunscreen, this Trader Joe's formula is smooth, silky, and available at a fraction of the price," says Meads.  
A 1.7 ounce container costs $8.99 at Trader Joe's.
Organic Dark Chocolate Bar With Almonds 
Trader Joe's is legendary for great deals on chocolates and nuts, and this chocolate-covered almond bar is no exception. Trader Joe's superfan, Jenna Shaughnessy of Jenna Kate at Home, says this dreamy candy bar is one of her favorite finds. "The dark, rich chocolate that covers the crisp almonds is not overly sweet," she says. "As a snack or a topping for yogurt or oatmeal, they're fantastic."
Make Your Money Work for You
A 3.5 ounce bar costs $1.99 at Trader Joe's.
More From GOBankingRates
Make Your Money Work for You