Trader Joe's 8 Best Premade Meals To Save You Money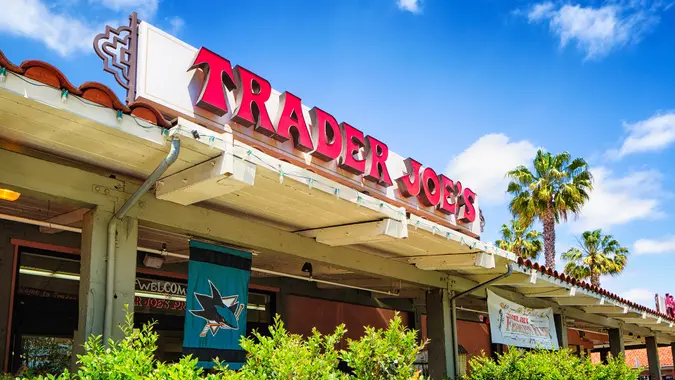 NicolasMcComber / Getty Images
Trader Joe's is beloved for its delicious prepared meals for savvy shoppers looking to stay within their budgets. With a wide array of convenient options, this beloved grocery store has won the hearts and palates of many across the nation. From exotic international flavors to comforting classics, these premade meals are carefully crafted to fulfill your cravings and save you precious time in the kitchen.
Here's a roundup of Traders Joe's best premade meals that are not only appetizing but also easy on your wallet. 
Vegetable Biryani With Vegetable Dumplings
Drawing inspiration from a traditional South Asian recipe celebrated in the Indian region for many years, Trader Joe's Vegetable Biryani boasts basmati rice layered with vegetable pan-fried with dried spices, oven-finished and garnished with raisins and cashew spices. 
"The vegetable biryani with vegetable dumplings … is an excellent vegetarian option you can whip up in no time," said Jake Hill, CEO of DebtHammer. "The combination of dumplings and rice makes this meal surprisingly filling. For $2.99 for a 10-ounce package, this is one premade meal you could eat several times a week and not break the bank."
Mandarin Orange Chicken
A timeless classic, Trader Joe's infamous mandarin orange chicken comes at an affordable price of $4.99 for a 22-ounce bag. This comfort food can be quickly prepared in the microwave or over the stove or baked in the oven at 400 degrees, according to Trader Joe's recommendation. Its delightful flavors and satisfying crunch make it a delightful addition to rice and vegetables. 
Make Your Money Work for You
"This flavorful dish is a customer favorite and is known for its generous portion sizes," said Nathaniel Lee, chef and owner of Meal Prepify, a cooking website that helps individuals meal prep in an easy, inexpensive and nutritious way. "It offers a great balance of tender chicken, tangy orange sauce and crispy breading, all at an affordable price."
Cauliflower Gnocchi 
For cauliflower enthusiasts, Trader Joe's cauliflower gnocchi is a delightful find, priced at a mere $3.29 for a 12-ounce bag. This Italian delicacy consists of 75% cauliflower, combined with cassava flour, potato starch, extra virgin olive oil and sea salt. To prepare, simply crisp the cauliflower pieces over the stove and toss them with your favorite toppings.  
"A healthier alternative to traditional potato gnocchi, this versatile option is perfect for those looking to save money without compromising on taste," Lee said. "It's a delicious pasta substitute that can be paired with various sauces and toppings."
Chicken Tikka Masala 
A long-standing favorite in Trader Joe's frozen section, the chicken tikka masala has been captivating taste buds since 2009. This classic dish features cumin-flavored basmati rice in a creamy, spice-filled sauce with tender chunks of white meat throughout. Priced at $4.49 for an 8.5-ounce dish, this frozen entree makes for a satisfying lunch or dinner, ready in under five minutes in the microwave. 
"This Indian-inspired dish is a crowd pleaser," Lee said. "The tender chicken, creamy tomato sauce and fragrant spices make it a fantastic choice for those craving a delicious, budget-friendly meal."
Make Your Money Work for You
Vegetable and Soba Noodle Stir Fry Kit 
Trader Joe's vegetable and soba noodle stir fry kit includes most of the makings of Japanese yakisoba and is a vegan and gluten-free tasty and easy-to-make Japanese dish. You can find this kit in the veggies section of Trader Joe's and its delicious flavors can be customized to your protein preferences by including tofu, pork or chicken. 
"This kit offers a combination of fresh vegetables, flavorful sauce and authentic soba noodles," Lee said. "It's an excellent option for those looking for an easy and affordable way to enjoy a nutritious stir fry at home."
Pork & Ginger Soup Dumplings
A beloved offering at Trade Joe's, the pork and ginger soup dumplings are a major crowd pleaser priced at $3.49 for a 6-ounce package. Inspired by the xiaolongbao originating from the Jiangsu province of China, these dumplings are filled with hot soup and boast over 5% ginger, offering a delightful spicy heat in every bite.
"These are everyone's favorite, but they are worth repeating," said Brian Nagele, CEO of Restaurant Clicks and a former restaurateur. "They include 14 grams of protein in a package and are ready from the microwave in minutes. These are great alone, added to soup, or even with some microwaved steamed broccoli for added nutrition."
Chicken Burrito Bowl
The Southwest-style chicken burrito bowl offers 22 grams of protein in each serving and is hearty, delicious and easy to prepare. Whether enjoyed on its own, in a burrito or tacos or atop a bed of greens as a Southwest salad, this $3.49 option delivers a satisfying and cost-effective meal.
"This one is more of a complete meal than the famous soup dumplings," Nagele said. "You have rice, corn, quinoa, beans, veggies, chicken and slightly spicy chipotle sauce. It is also $3.49, which is wild when you compare it to a burrito bowl from most restaurants. Even if you bought two of these to have a restaurant-sized portion, you are easily saving at least $10 compared to ordering from a restaurant."
Make Your Money Work for You
Lemon Chicken & Arugula Salad
Trader Joe's lemon chicken and arugula salad is a tasty and convenient favorite priced at $4.99 per salad. Inspired by Moroccan flavors, this salad features a delightful mix of parsley, arugula, mint and spicy red pepper dressing, complemented by couscous, red quinoa and sweet currants. 
"TJ salads are tasty, convenient and loaded with protein, and for $4.99 per salad, they are a cheap but healthy convenience meal," Nagele said. "This one is particularly balanced because it is loaded with greens, chicken and grains like quinoa."
More From GOBankingRates