7 Unexpected Places To Shop and Save on Groceries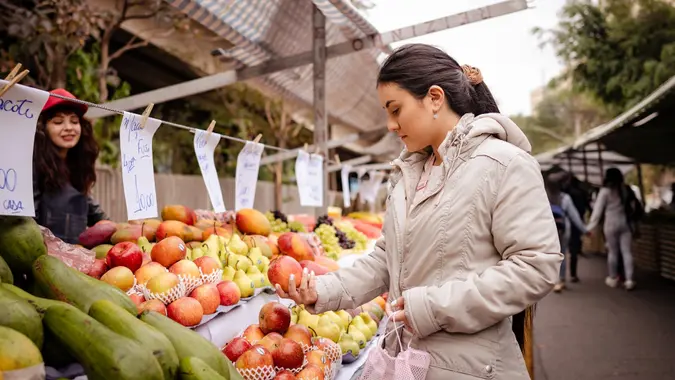 rparobe / iStock.com
If you want to save money on your grocery bill, it's time to look beyond your regular supermarket. That's right, there are many places where you can buy high-quality groceries at lower prices. That way, you can enjoy the satisfaction of filling your pantry with high-quality food while still staying within your budget. Your wallet (and stomach!) will thank you.
Farmer's Markets
You can get fresh, local, and organic produce at farmer's markets at a fraction of the cost of a supermarket. You'll also be supporting small farmers and reducing your carbon footprint.
"Where farmers markets really shine is with fresh produce," said Julie Ramhold, consumer analyst at DealNews.com. "Grocery stores will have produce brought in from all over the place and it may or may not be at its peak; but if you shop at farmers markets, you can take advantage of local produce that's going to be at its best, so you'll be supporting the local economy and getting your hands on seasonal items that should be at their peak or at least near it. Find out what's grown in your area and try to take advantage of these markets to pick up produce and other local items, like fresh-baked goods, farm-fresh eggs, and more."
Make Your Money Work for You
CSAs
CSA stands for Community Supported Agriculture, and it's a great alternative to visiting a farmer's market in person. Typically you just select what size box you'd like to receive every month, and it arrives filled with whatever fresh, local and organic produce is in season, directly from the farmers. Use LocalHarvest.org to see what's available in your area. 
Imperfect Foods and Misfits Market are two other options that are similar to CSAs. They both deliver produce that is good quality but are slightly blemished or oddly shaped, at a savings over the regular price. Who cares if your apple has a dent? It still keeps the doctor away!
Amazon
Yes, Amazon, the same place where you can buy books, gadgets and inflatable unicorns for the pool. You can find great deals on pantry staples and get them delivered to your door for free if you have Prime. 
"Even though Amazon Pantry isn't around anymore, you can still find plenty of shelf-stable items in bulk on the site," Ramhold said. "Very often the unit price can be far better because of that versus shopping for the same items in a standard grocery store. For example, if you want to buy something like Nature Valley Crunchy Oats 'n Honey granola bars, you could spend around $7 for a box of 24 bars, or roughly 27 cents each. But if you shop on Amazon, you could get a package of 48 bars for around $10.49, or 22 cents per bar. That might not seem like a big difference, but these kinds of things can add up when you're purchasing items regularly."
Make Your Money Work for You
Also, remember to use Subscribe & Save when available to get additional discounts on items you buy regularly. You can cancel anytime if you change your mind.
Marshall's
Marshall's offers an array of spices, sauces and other pantry essentials at a discounted price, and its inventory is constantly changing. Make sure to explore its selection the next time you need to stock up on groceries. You may even find new ingredients to inspire your cooking. And don't forget to check out other discount stores such as Ross and T.J. Maxx for similar deals on pantry items. You never know what kind of treasure you might uncover while browsing the shelves.
HomeGoods
HomeGoods is more than just a destination for decorative pillows and rugs — it's also a treasure trove for grocery deals. The store offers a surprising variety of food items including quality cooking oils, coffee, tea, baking supplies and more. At HomeGoods, you can expect to find high-quality products at affordable prices. Whether you're looking for pantry staples or gourmet ingredients, HomeGoods has got you covered.
Dollar Tree
Did you know that you can save a significant amount of money on packaged foods and canned goods just by visiting your local dollar store? Dollar Tree, in particular, is a great place to stock up on shelf-stable items such as canned goods.
Make Your Money Work for You
"Believe it or not, dollar stores can be a great place to shop for common grocery staples," said Jake Hill, CEO of DebtHammer. "Canned goods and pantry items such as spices and dried pasta can often be found in these stores for far less than traditional grocery store prices. In some cases, customers can even find name-brand items at dollar store prices, which is a true bargain."
Buy Directly
It's worth checking to see if your favorite brand offers direct-to-consumer shipping. By shopping directly from the brand's website, you can potentially save money by cutting out the middleman.
A good example is A Dozen Cousins, which offers many of its flavorful beans in a 12-pack for $45, versus $4.79 each in-store. That's a savings of over $12 when you buy directly.
More From GOBankingRates
Make Your Money Work for You