5 Ways To Save More Money on Meat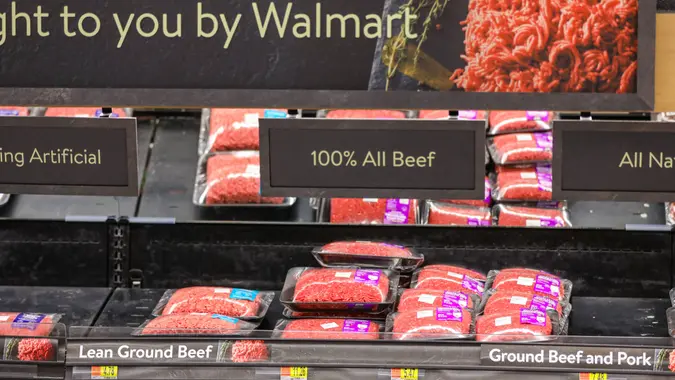 chara_stagram / Shutterstock.com
Inflation has sent the cost of meat higher than it has been in quite some time. According to the U.S. Bureau of Labor Statistics, the price of meat went up 7.69% between 2021 and 2023.
People are looking for ways to cut the cost of what's often the main course at their meals. GOBankingRates spoke with financial experts to find out the best ways you can save money on meat next time you shop. 
See other tips for creating a grocery budget.
Look for Sales
Before you do your grocery shopping, do your homework.
"Always do your research before going to the store," said Howard Dvorkin, CPA and Chairman of Debt.com. "Look online for sales and deals, and comparison shop, especially if your supermarket does price matching."
You can find promotions on a store's website or by using sites such as Coupons.com.
Take Our Poll: Are You Concerned About the Safety of Your Money in Your Bank Accounts?
Make Your Money Work for You
Plan Your Meals
Meal prep can save you some money and some headaches when you've got meat on the menu.
Erin Voisin, managing director of wealth management services at EP Wealth Advisors, recommends planning out your week's meals before you go shopping.
"If you plan out your meals," Voisin said, "you can better identify the day to stop by the grocery store and look for the manager's special meat. Or meal plan around what you see on a manager's special if you are already at the store."
Stretch Your Meat
Another way to save money: Don't use all of the meat in one meal.
Dvorkin recommends making dishes where you can spread one cut of meat over several days. "Stretch your food dollar by using the meat you buy in stews, soups, casseroles and other dishes that allow you to make large meals with less meat." 
Freeze Your Meat
Just because you buy the meat today doesn't mean you have to eat it tomorrow.
Voisin says a good way to save money is by buying meat in large quantities for cheap, then saving what you don't use by freezing it.
Make Your Money Work for You
Said Voisin: "Find the deals at Costco, Sam's Club or any other place you can buy meat in bulk and freeze it until you need it."
Know the Meat Department's Stocking Schedule
If you have a go-to grocery store, get to know when it restocks the meat.
"Don't be afraid to ask the meat department when their stocking schedule is," Voisin said. "They might be able to tell you when certain types of meat will go on sale, which will allow you to plan better and save money."
More From GOBankingRates
Make Your Money Work for You