Will SNAP Benefits Decrease As Inflation Drops?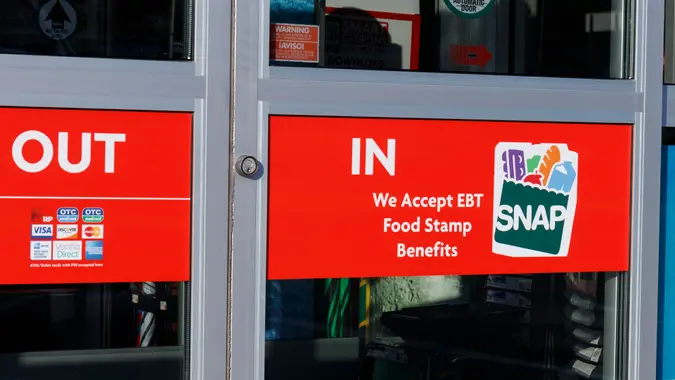 jetcityimage / Getty Images
The Supplemental Nutrition Assistance Program (SNAP), formerly called food stamps, is the nation's most important anti-hunger program and one of the largest social safety nets in the U.S. SNAP benefits are calculated based on the U.S. Department of Agriculture's Thrifty Food Plan, which states how much it costs a family of four to eat a healthy diet on a budget.
According to U.S. Government Accountability Office (GOA), benefit amounts are updated each year by adjusting the cost of the Thrifty Food Plan for inflation.
SNAP benefits increased as inflation hit record levels last year, reaching 9.1% over the 12 months ending in June 2022, per Consumer Price Index numbers. Since then, inflation has dropped to 5.0% in March. Despite being higher year over year, food at home prices decreased in March with the price of eggs dropping 10.9%; the cost of meat, poultry and fish was down 1.4%; and expenditures on fruits and vegetables were down 1.3%.
Make Your Money Work for You
However, decreased food costs will not lower future benefit levels. In Oct. 2021, the USDA allowed the Thrifty Food Plan to increase beyond inflation, boosting SNAP benefits by 21%, the first increase in SNAP's buying power in 45 years, after the plan was recalculated to reflect changes in food prices, changes to dietary guidelines and trends in what Americans purchase and eat. This increase is permanent, the USDA reports.
Going forward, the GOA says the USDA is required by law to update the Thrifty Food Plan every five years.
This change veers from policies in place before 2021, when the USDA would regularly update specific foods and beverages used by the Thrifty Food Plan to determine SNAP benefit amounts, but kept the cost of the plan and buying power of SNAP dollars at 1975 levels, says the GOA. Between 2013 and 2019, yearly SNAP benefit payments decreased at an average rate of 6.5%, noted USAFacts. 
Take Our Poll: Do You Think the US Should Raise the Medicare Tax on High Earners To Help Save the Program?
Social Security: 20% Cuts to Your Payments May Come Sooner Than Expected
Make Your Money Work for You
Recent decreases in benefits were due to the expiration of pandemic-related supplemental funding. The only way SNAP benefits can go down is if there are changes to your household's circumstances.
More From GOBankingRates
Make Your Money Work for You