Best Free Weight Loss Apps to Help You Lose Weight This New Year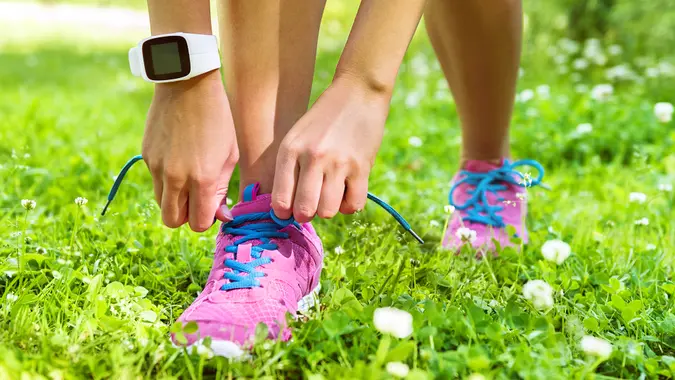 Maridav / Shutterstock.com
Losing weight is a daunting task without calculated objectives. Fortunately, there are a few steps you can take to beat the odds and stick with it for the long run. 
First, focus on incremental change. Break up your big goal into realistic steps and monitor your progress along the way. Use one of the nine free health apps listed below and stay on track to tackle all of your weight loss dreams.
1. Maipo 
Maipo is an iPhone health app that doubles as a pedometer. The app counts how many steps you've taken throughout the day, how long you've spent walking and how many calories you burned. Anyone motivated by visuals will love the monthly calendar screen, which has a chart that lets you see what you've accomplished each day of the month. 
Pros
Daily goal suggestions based on your height and weight

Nine color themes to choose from
Cons
Stay on Track: Free Weight Loss Programs to Help You Keep Your New Year's Resolution
2. SparkPeople Mobile
Consistently rated five stars on iTunes, the SparkPeople app is not only the best calorie tracker app but also one of the best fitness apps. Users can upload their daily fitness routines, input their food and water intake, and access a variety of nutrition lists. All of the tools are easy to use and make developing a healthy habit much more fun.
Points you earn for reaching goals are excellent motivators, and users can join the community feed to get encouragement from other members.
Make Your Money Work for You
Pros
Works with iPhone and Android devices

Barcode scanner quickly locates calorie and nutritional information

Comes with a health-centric meal planner
Cons
Potentially overwhelming amount of information

Flood of emails after signing up
3. Fooducate
No matter which weight loss programs you intend to follow, Fooducate is an excellent companion. This app is available for download on both iTunes and Google Play. It's among the best food apps as it received the top prize in the U.S. Surgeon General Healthy App Challenge. The scanner recognizes over 250,000 products and the app helps you to track your sleep, mood and hunger levels to determine how the foods you eat are affecting your body.
Pros
Can join the community of members to ask or give advice

Tracks the quality of the calories you eat, not just the quantity

Can personalize account for age, weight, height, gender and activity level

Option to import exercise data from another app
Cons
No easy way to search for product nutritional information

Limited database of food items
Find Out: How Much That New Year's Resolution Will Cost You
4. Weight Watchers
When it comes to weight-loss plans, Weight Watchers ranks among the top. In fact, Weight Watchers was ranked No. 1 in four different categories by the U.S. News & World Report. Weight Watchers members can download their weight-tracker app on either iTunes or Google Play to look up thousands of on-plan recipes, set weight-loss goals and monitor progress.
Pros
Can share progress with community

Badges awarded for reaching goals

Syncs with Apple Health for step monitoring
Cons
Requires a Weight Watchers paid subscription
5. ShopWell
Recommended by "The Today Show" and EatingWell, ShopWell is one of the best diet apps on the market. It can give you feedback on over 400,000 products instantly and recommend healthy substitutes for unhealthy choices. Additional features include a location finder for food items in your grocery store and a mobile shop that allows you to order recommended foods right from the app.
Make Your Money Work for You
Pros
Alerts for food allergies, such as gluten, peanuts and soy

Compatible with Apple Health Kit
Cons
Doesn't come with recipes

Not really a standalone product
6. MyFitnessPal Mobile
MyFitnessPal Mobile makes counting calories fast and easy. Users set their daily calorie goals and then log in to record all meals and exercises. The app reveals how many calories you're consuming to keep you aware of what you're eating.
Pros
Web and mobile apps sync

Enormous database of food

Can log food items from your favorite restaurants

Community feature encourages accountability
Cons
Requires $9.99 payment every month

 to upgrade and unlock all features

Has potentially inaccurate user-generated nutritional information
7. Nike Training Club
Individuals with exercise goals on their New Year's resolution list will find the Nike Training Club app is one of the best workout apps. Experienced Nike trainers and athletes put together over 100 workouts for members to choose from. Users can take advantage of the personalized training plan that will adapt based on your weekly progress. You can add activities like playing basketball or taking a spin class with that awesome new gym membership.
Pros
App contains workouts for all levels

Opportunity to work out with celebrities

Syncs workouts with Apple Health
Cons
Start Training: Cheap Workout Trends to Try
8. Lose It!
Although Lose It! is one of the weight-loss apps for Android, it is also available on iTunes and Amazon. Over 30 million members have collectively lost over 60 million pounds using the app. Download the app and input your profile details. Next, tell Lose It! your goal weight and the app automatically figures out how many calories you should be consuming per day. You'll need to log in daily to track your meals, exercises and weight.
Pros
New embodyDNA feature provides additional insights about how your body responds to certain foods and exercises

Barcode scanner makes reporting foods easier

Customizable meal planning feature
Make Your Money Work for You
Cons
Some features are only available with a $39.99 upgrade.
9. Nudge
Nudge works with your favorite health and exercise apps but allows you to manually enter how many hours you slept, how many glasses of water you consumed and what exercises you completed. You'll get a health score after 30 days and be able to connect to a real coach who will give you the motivation you need to meet your goals.
Pros
Ability to join clubs of like-minded individuals

Seamless syncing with wearables
Cons
Can add sleep hours but not subtract them

No way to contact support from within the app
Up Next: Keep Your New Year's Resolution — Workout Accessories for Under $50