Free COVID-19 Tests, Vaccines and More Gone in May as US Ends Public Health Emergency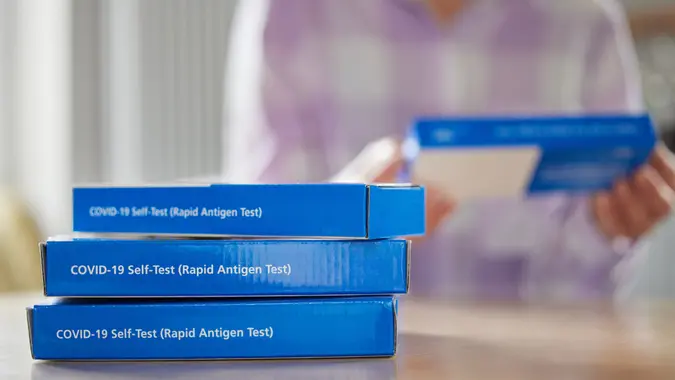 Daisy-Daisy / Getty Images/iStockphoto
COVID-19 emergency efforts that began nearly three years ago will officially end in May, meaning that many Americans will no longer have access to the free tests and vaccines that became a key element in fighting the pandemic.
$2,000 Quarter? Check Your Pockets Before You Use This 2004 Coin
Find Out: 3 Ways Smart People Save Money When Filing Their Taxes
Student Loan Forgiveness: Will You Qualify for $0 Payments Under Biden's New Plan?
In a Jan. 30 announcement, the White House said it would end the COVID-19 national emergency and public health emergency on May 11, 2023. Those initiatives were set to expire on March 1 and April 11, respectively, but the Biden administration extended both to May 11.
In its announcement, the White House said a continuation of the emergency declarations "does not impose any restriction at all on individual conduct with regard to COVID-19. They do not impose mask mandates or vaccine mandates. They do not restrict school or business operations. They do not require the use of any medicines or tests in response to cases of COVID-19."
Make Your Money Work for You
When the emergency measures do end, they will have an immediate impact on how Americans navigate future COVID variants. As The New York Times reported, millions of Americans received free COVID tests, treatments and vaccines during the pandemic.
Many of those freebies will end when the emergency is over. A lot depends on what state you live in, as well as whether you have private insurance, Medicare coverage, Medicaid coverage or no health insurance.
The administration's decision to extend the emergencies to May 11 gives hospitals and other healthcare organizations more time to prepare for changes when the emergencies are no longer in place. And by ending both emergency declarations on the same day, the administration hopes to guarantee an orderly transition.
"An abrupt end to the emergency declarations would create wide-ranging chaos and uncertainty throughout the health care system — for states, for hospitals and doctors' offices, and, most importantly, for tens of millions of Americans," the White House.
It is probably no coincidence that the announcement came as the GOP-controlled U.S. House of Representatives prepares to vote on a bill that would immediately end the public health emergency. The White House opposes such a measure, but Republicans continue to press forward with it.
Make Your Money Work for You
"Rather than waiting until May 11, the Biden administration should join us now in immediately ending this declaration," Rep. Steve Scalise (R-Louisiana) and majority leader said in a statement. "The days of the Biden administration being able to hide behind Covid to waste billions of taxpayer dollars on their unrelated, radical agenda are over."
The White House has countered that federal spending on free COVID tests, treatments and vaccines has led to a major decrease in both cases and deaths. COVID was the third-leading cause of death from 2020 through mid-2022 but is now no longer among the top five killers, federal officials told the New York Times.
Take Our Poll: What Are Your Financial Priorities in 2023?
Meanwhile, some Democrats wonder whether the White House is ending the emergency too early.
"I've yet to hear, 'Okay, here is the rationale,'" Sen. Tim Kaine (D-Va.), a member of the Senate health committee, told Politico. "I'm sure that they have one, I just haven't heard it."
More From GOBankingRates
Make Your Money Work for You