Inflation Has 40% of Americans Unable To Afford Medical Costs — How They're Surviving and 5 Expert Tips To Plan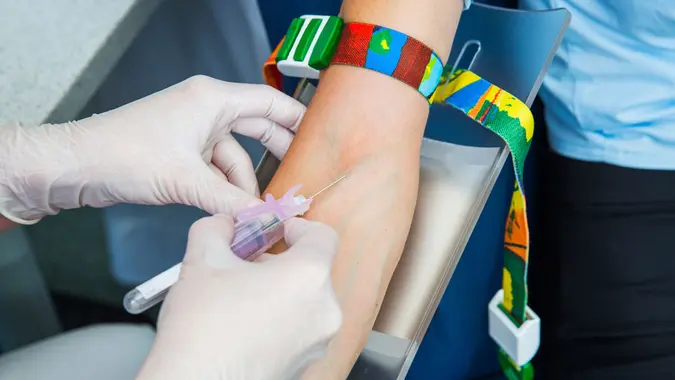 ©iStock.com
Inflation may have come down from the unfathomable heights it reached in May 2022, when it hit 8.6% — the highest it had been in four decades — but it certainly has not been extinguished, and the effects of inflation are still hurting Americans across income sectors. Not only is inflation squeezing consumers' wallets when it comes to everyday expenses like groceries, it's also impacting their ability to afford healthcare — even when they have coverage through their jobs.
A new survey by Curative Insurance Company and The Health Analytics and Insights Group found that four in 10 people insured by employer-provided health plans have such high out-of-pocket expenses that they need to dip into savings and take on debt to cover them. This method of cutting into savings and burying oneself in debt is hardly ideal, but it appears to be the main way Americans are getting by amid this untenable expense. 
Here are some key ways to cut back on healthcare expenses and plan ahead of major ones.  
Switch to Generic Prescription Drugs and Over-the-Counter Medicines 
If you need prescription medication, it's highly worthwhile to see if a generic version of your name brand medicine is on the market. You can use this strategy when shopping for OTC medicines, too. Generics have the same active ingredients as the brand-name drugs they're inspired by, and according to the Food and Drug Administration, they cost 20% to 70% less than name-brand alternatives.
Get Routine Health Screenings 
Prevention is critical. It can not only save your life, it can also save your savings. Most insurance companies provide free preventative health screenings. These typically cover a number of tests, including mammograms, colonoscopies, cholesterol tests and many others. You can also get routine vaccinations against diseases such as measles, polio and meningitis, along with regular flu shots, at these screenings.  
Make Your Money Work for You
Find Out About Outpatient Services 
Hospital stays can rack up a hefty bill, even if you have health insurance. If you're scheduled for a surgery or other procedure, ask if you can have it done on an outpatient basis. This means you'll go home the day of the procedure (provided your medical team deems you fit to do so). Ditching an unnecessary hospital stay can save you a ton of money. 
Find In-Network Providers 
Health expenses can go through the roof if you use an out-of-network provider. Do your best to find an in-network provider for your medical needs. You can usually find one on your healthcare providers' website after some searching around. 
Use a Health Savings Account
Opening a healthcare savings account allows you to put pre-tax dollars (which will remain untaxed) into a personal account that you can tap into for most any medical expense, even acupuncture and hearing aids. Unlike with a flexible spending account, HSAs do not expire at the end of the year, and you can contribute to it for the rest of your life or until you enroll in Medicare. However, you'll need to be enrolled in an eligible high-deductible health plan to open one.
More From GOBankingRates
Make Your Money Work for You