7 Tips for Saving on Your Holiday Shopping If You Got a Late Start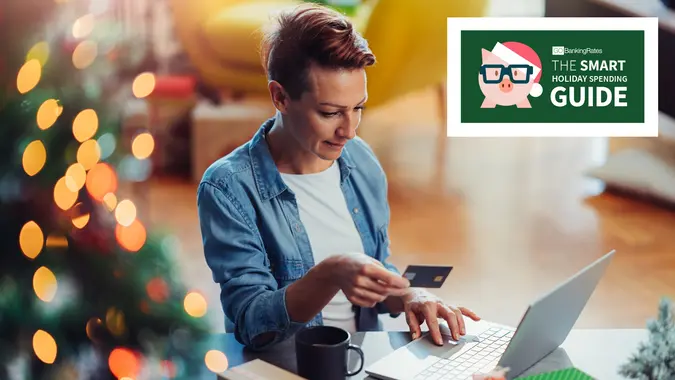 Kerkez / iStock.com
It's December and the countdown to Christmas has begun. If you've just now gotten around to working on your holiday shopping list, don't panic. There are still sales to be had, gifts that don't require expedited shipping and ways to leverage cash-back deals to make the most of your holiday budget. Here are the best tips from industry experts to help you save if you're behind on your holiday shopping.
Take Advantage of Upcoming Sale Days
"Just because Black Friday and Cyber Monday have come and gone doesn't mean you can't save on gifts!" said Trae Bodge, smart shopping expert at TrueTrae."Days like Green Monday (12/13), Free Shipping Day (12/14), and Super Saturday (12/18) will be good days for deals."
Bodge recommended checking your favorite deal sites during those days. 
"For example, on Green Monday, Rakuten will be offering 10% cash back from many major retailers," she said. "And over Super Weekend (Dec. 18-19), you'll be able to get triple cashback from participating retailers."
Check Out: 
And if you're up for shopping in person, here's some additional advice. 
Consumer analyst Julie Ramhold with DealNews said that Super Saturday is also known as Panic Saturday. "There's a good chance that retailers will be offering up savings to encourage consumers to shop (or finish their shopping) that day. If you don't mind dealing with the crowds, you can likely find gifts for everyone on your list that day."
Make Your Money Work for You
Use Your New Credit Card To Earn a Cash-Back Bonus 
If you've recently received a new credit card that offers a welcome bonus, holiday shopping is the perfect time to earn it. For example, Chase Freedom Flex is offering a $200 bonus when you spend $500 in purchases within the first three months of account opening. Essentially, if you spend $500, you could get $200 or 40% back on your holiday purchases, which is a great saving. 
Note that this strategy is only a good idea if you can pay off your purchases at the end of the billing cycle to avoid interest. Racking up credit card debt and paying interest is not a wise financial move. 
Opt For a Gift Card
Gift cards are a great way to stay on budget because you can often customize them for any amount. 
"They have a bad reputation but honestly, gift cards are so much better now than they used to be," Ramhold said. "You can get gift cards for practically any retailer or restaurant now, as well as services like Netflix, Spotify, Hulu and Audible. So if it's down to the last minute and you're drawing a blank, consider going the gift card route."
If you're worried about shipping delays, Ramhold pointed out that eGift cards can be delivered whenever you'd like, including Christmas Day. 
Make Your Money Work for You
"If you want a physical [gift card], you'll want to order a few days in advance, at least," she said. Also, keep an eye out for bonus promotions, as many retailers and restaurants will be offering bonus cards with select gift card purchases, so you can treat yourself while also shopping for others."
Consider Streaming Devices and Subscriptions
"One very trendy gift this year is streaming TV subscriptions where pricing is competitive, and this is one of the best times of year to save money streaming devices from Roku, Apple TV, Google TV and Amazon Fire TV, which have plenty of inventory and pricing around 30% off some of their most advanced models," said Vipin Porwal, consumer expert and founder of Smarty, the smart one-stop for coupons and cash. "And adding subscriptions for digital streaming services like Disney+ and Netflix to your gift lists make great stocking stuffers, and doesn't even require shipping, or spending money on rising gas prices."
Important: 
Go Digital
"There are also lots of digital gifting options, like subscription boxes, online classes and fitness memberships," Bodge said."Or, try a GiftYa, which is like the Venmo of gifting. It's essentially spending money for your recipient's favorite business, like a store or restaurant. You personalize the GiftYa with a photo, video, or different colors and designs, and the GiftYa arrives on their phone via text. They pair GiftYa with their credit or debit card and go shopping, or they can switch retailers or opt for a Visa gift card if they'd prefer to shop elsewhere."
Use Deal Alerts
"If you have specific items in mind but you don't want to pay full price, set deal alerts on Slickdeals," Bodge said. "Once an item goes on sale, you will be alerted so you can make your move – I saved $100 on Airpods Pro just the other day by doing this."
Make Your Money Work for You
Pay Attention to Shipping Times
"A new survey of 2,000 American adults from retail customer engagement specialist Emarsys reveals one in three (33%) are concerned over supply chain issues, and 29% are worried their Christmas purchases won't arrive on time," Bodge said. "When placing orders online, the shipping time should never be assumed (even for Amazon Prime orders). Before you check out, read estimated shipping times carefully. If the quoted shipping time is longer than you'd like, opt for in-store or curbside pickup, if available. This is not a year to take chances!"
Plus, really consider before you pay extra for expedited shipping. It's possible your gift won't arrive by Christmas — even if the delivery is guaranteed — and you'll waste your money.
More From GOBankingRates