10 Ways Retailers Trick You Into Spending More During the Holidays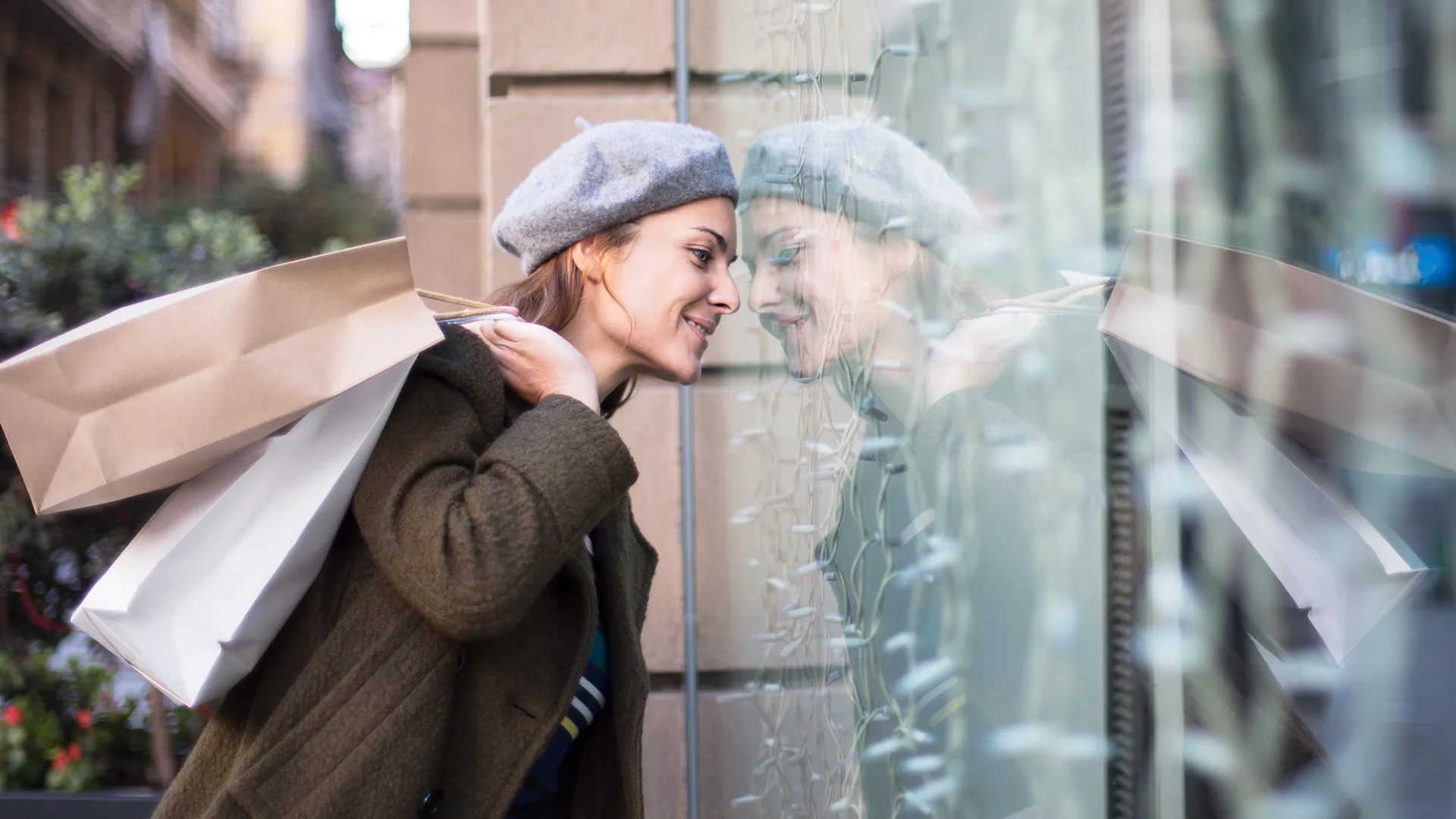 They Play Relaxing Music
If a crying baby and crowded theater can get you to bow out of a movie, chances are you won't enjoy venturing to a crowded mall for your holiday shopping — or spend very long in stores. Queue the calming music.
Research reported by the Association for Psychological Science shows that when you go into a store with relaxing music, you're much more likely to spend more time there. If you're already in a buying mood, chances are you might end up with an extra item or two in your basket.
People who hear classical music while shopping, for example, might spend more money than they planned because the genre is connected to the perception of affluence. This tactic is used more frequently during the holiday season, said retail specialist Mari Corella, who has worked with large national retailers such as Saks Fifth Avenue, Gap and Sears.
"Retailers pump Christmas songs through their stores to invoke emotions of nostalgia and generosity, all leading to a greater basket size," Corella said.
Make Your Money Work for You
They Use Warming Scents
Retailers also use holiday-specific scents to try to increase your will to spend money, said Corella.
"Retailers often scent their stores during the holidays with seasonal fragrances such as gingerbread and pine," she said. "Similar to Christmas music, this tactic invokes a sense of warmness and generosity, all leading to larger purchases."
This tactic is used by small and large businesses and can be especially effective when the scent complements music being played, said Bruce Sanders, a retail consultant, consumer psychologist and author of "Sell Well: What Really Moves Your Shoppers."
"Small retail stores use candles, and large retailers use fragrance diffuser machines," he said. "If Christmas music and Christmas scent in the store match up, people say they like the store and merchandise better and are more likely to shop at the store."
Sensory experiences can play a large role in your perception of a store and brand. The more pleasant the shopping experience, the more likely you'll walk out the door with less money in your hand.
They Make You Nostalgic
Retailers frequently sell items that appeal to people's feelings of nostalgia, such as a '50s-style dining set, an old-school video game system or a retro turntable.
Gifts that trigger a memory or inspire a young person to try something from the past can offer richness that general gifts like candles cannot, according to Fortune Magazine.
These feelings of nostalgia seem to have a significant impact on the spending behaviors of holiday shoppers. Nostalgia led shoppers to pay more money for products and value their money less, according to a study from the Journal of Consumer Research.
They Offer Bulk Pricing
You might be accustomed to seeing two-for-one deals, but you can expect even more of them — and larger bulk offers — during the holidays.
Grocery stores, in particular, use this tactic frequently, such as by offering 10 items for $10, making you think you have to buy 10 to get the $1-per-item deal. But if you want to shop smart, you can usually get the deal price regardless of how many items you buy.
Research has shown that adding the sentence "maximum eight cans per customer" to the price tag of soup cans caused sales to increase by giving the illusion of a great discount even if none was offered, according to Time.
Make Your Money Work for You
They Use the Number 9
While shoppers are accustomed to the majority of retail items going for prices such as $39.99 instead of $40, not many shoppers stop to think about why merchandise is priced this way. Not using round numbers is another trick intended to make you spend more, said William Poundstone, author of "Priceless: The Myth of Fair Value."
In his book, Poundstone looked at eight different studies on the use of what is called "charm prices." He found that using this pricing method increased sales on average by 24 percent when compared to the use of rounded, even pricing.
This pricing structure probably won't change anytime soon, so customers should just remind themselves that while $39.99 looks cheaper than $40, it's only a 1-cent difference.
They Put More Profitable Items at Eye Level
Stores often put items with the best price margins at eye level so you see the products easily. Items that are better buys for the customer — and therefore not as profitable for the retailer — are more likely to be found at the bottom or top of aisles.
"This is a classic retail tactic," Corella said. "Eye level is such valuable real estate that retailers charge manufacturers to have placement there. This cost is then passed on to the consumer. And kids are not exempt from this tactic either, as products targeted towards children are placed at their eye level."
They Mark Up Prices Before the Holidays
Kyle James, founder of Rather-Be-Shopping, a site that helps consumers save money, said the holiday season is notorious for what is called "high-low pricing," which often tricks consumers into thinking they are getting a much better deal than they really are.
"[High-low pricing] is when retailers have relatively high everyday prices, then release 'holiday' coupons to make you think you're getting an amazing discount via the coupon," said James. "In reality, retailers that use high-low pricing know they'll sell minimal items at full retail, and if they do, it's a bonus."
James said you'll likely see this tactic used by many popular retailers during the holidays, such as from Ann Taylor, JCPenney, Kohl's and Old Navy.
Make Your Money Work for You
They Sell You Gift Sets
Head into a place like Bath & Body Works or Williams-Sonoma, and you'll find plenty of gift sets, whether it's a set of lotion, body wash and perfume, or a barbecue essentials kit. These gift sets even come in nice packaging, which means you have a beautiful-looking gift ready to go.
Gift sets seem like a great deal because the value of all items priced together is typically lower than if you were to buy them separately. The stated value of the set, however, is the full retail of all items in it, so it can sometimes be cheaper to buy the items separately if they are on sale, said Corella. Buying gift sets also can lead to overspending, she said, which will undermine your plans to shop smart.
"This is also an upsell tactic where you come in to buy a single item but end up with a gift set because it seems like you get so much more for just a few more dollars," said Corella.
They Mix High-Cost Items With Regular-Priced Goods
The holiday season is a popular time for some retailers to mix luxury items with other products so pricing on regular items looks much more reasonable by comparison, Sanders said. This tactic is one of the spending triggers that can put you in the red.
Neiman Marcus' annual Christmas Book includes high-end fantasy gifts, which for 2016 included a $500,000 VIP Grammy Awards experience for two and a $120,000 sleepover for 12 at Neiman Marcus.
"Leading off by thinking about these, the Christmas Book browser starts to consider that $895 price for a designer triacetate-and-polyester gown as a little more down to earth," said Sanders. "The price of the first item considered becomes an anchor for what the shopper expects to pay."
Make Your Money Work for You
They Make Finding Clearance Items Hard
Clearance racks or shelves are often located all the way in the back of the store or are hidden as much as possible because retailers want holiday shoppers to have to walk through the entire store to get to them, according to Business Insider. By walking through the store, you're more likely to see higher-priced items first, which you might end up buying.
Once you do find the clearance section, it's purposefully in a state of disarray. True bargain shoppers don't mind sifting through the mess to find the great deals, but the average shopper is more likely to be turned off by the obstacle and instead buy non-clearance items, letting the retailer win.
This holiday season, avoid these retailer tricks so you can shop smart. Your wallet and bank account will thank you.
More From GOBankingRates

BEFORE YOU GO
See Today's Best
Banking Offers