5 Best Christmas Shopping Apps That'll Save You All the Money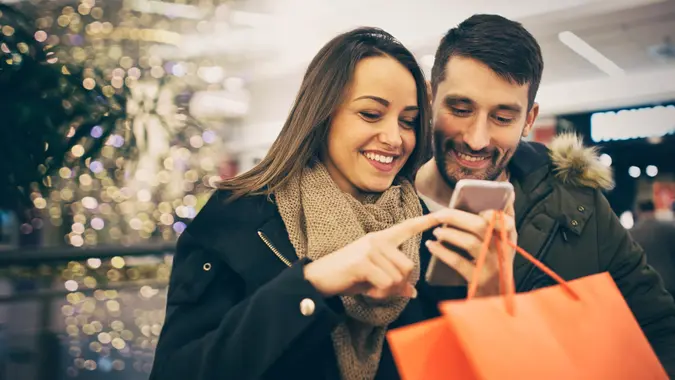 zeljkosantrac / Getty Images
Tis the season to be shopping! This year, savvy holiday shoppers will be heading to their favorite retailers with wish lists, budgets and apps that can help them save extra money. If you don't already use a holiday shopping app, or you need another suggestion to add to your roster, you've come to the right place.
Download these Christmas shopping apps to save all the money this holiday season.
Santa's Bag
This app is a favorite of money saving expert Andrea Woroch. Here's how it works: Santa's Bag is a gift list tracking app. Woroch said you can use the app to make your shopping list for the holidays. Easily track each gift you buy from now through Christmas, manage what you've bought, and mind your budget. 
"You can set a budget per person and then track your actual spend so you can check at any time to see where you are with your finances," said Woroch.
Fetch Rewards
Using Fetch Rewards allows shoppers to earn cash back for everything they buy from now until the holidays. What makes this app unique, Woroch said, is you can turn these points into free gift cards by taking pictures of your receipts. 
"You will earn 25 points per receipt, but sometimes way more depending on which store or restaurant is offering a promo or which type of grocery or household brand you buy," said Woroch.
Make Your Money Work for You
For example, those who earn up to 1,000 points using Fetch Rewards receive $1 with these points. Points may be redeemed for a variety of gift cards at stores like Amazon, Target, Walmart, Ulta Beauty, GAP Athleta and more. Woroch recommends using gift cards you're able to save up through the app to buy gifts or give them out as the actual present to save more money.
PayPal Honey
If you like to shop on your phone, you'll enjoy this app. Trae Bodge, smart shopping expert at TrueTrae, said one of her favorite holiday shopping apps is PayPal Honey. 
In addition to helping shoppers find coupons and cashback options they can use and earn, Paypal Honey provides sale notifications and historical pricing information.
Slickdeals
Shoppers seeking just an all-around savings app may consider downloading and using Slickdeals. Bodge said what makes this app different from other savings apps is they crowdsource their deals through a community of over 12 million deal seekers. This community votes up and vets the deals, versus shoppers only being able to find deals based on a retailer's partnerships. 
Bodge recommends looking for in-store deals on the app, website and even its browser extension to find coupons, cashback offers and credit card offers.
Paribus
Paribus, now part of Capital One Shopping, tracks purchases linked to your email. Woroch said Paribus will notify you if something you bought online went on sale within the retailer's price adjustment policy.
Make Your Money Work for You
"In some instances, Paribus can even request the price adjustment for you," said Woroch. 
If it can't, though, Paribus will still send over instructions on how to get it yourself. Woroch said this takes the guesswork out of trying to time when an item is available at its lowest sale price and takes the stress out of monitoring price drops on your own.
More From GOBankingRates