Best Walmart Thanksgiving Dinner Shopping Deals for 2023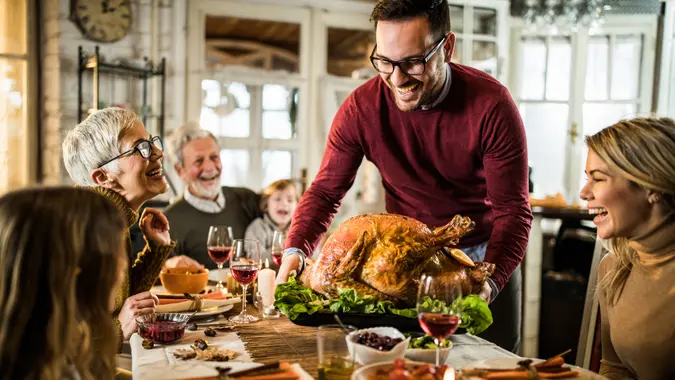 skynesher / Getty Images
Thanksgiving dinner will not put as much of a strain on Americans' wallets as it did last year, but still, with food inflation, finding ways to save is always welcomed.
The average cost of this year's classic holiday feast for 10 will will be $61.17, or less than $6.20 per person, according to the American Farm Bureau Federation's annual survey, which was released on Wed., Nov. 15.
Several stores, including Walmart, are offering deals ahead of the holiday to make your dinner not only simpler, but cheaper.
Walmart has put together "baskets," or grocery lists, for two versions of a Thanksgiving dinner — one for a meal made of prepared foods, and one for a meal made from scratch. While both baskets are more expensive than the meal costs cited by the AFBF, the ingredients cost less this year than last, according to Walmart.
The prepared Thanksgiving dinner basket includes ready-to-heat macaroni and cheese, mashed potatoes and dinner rolls, along with premade stuffing mix, cranberry jelly, turkey gravy and thaw-and-serve pies with whipped topping. The cost for four people is $60.64.
The from-scratch Thanksgiving dinner basket includes ingredients for making a whole turkey and ham, stuffing, green bean casserole, sweet potato casserole, mac and cheese, mashed potatoes, cranberry sauce, candied carrots and pumpkin pie with whipped topping. The cost for four people is $72.92
Here are some of the best shopping deals from Walmart's Thanksgiving dinner baskets to help you put together your own basket for less.
Canned 100% Pure Pumpkin
If you plan on making your own pumpkin pie, Walmart has these 15-ounce cans on sale at $1.22, down from $1.47.
Make Your Money Work for You
Bob Evans Gluten-Free Original Mashed Potatoes
One of the holiday's main side staples, these mashed potatoes come in a 32-ounce tray and are now $3.87, down from $5.48.
Stove Top Stuffing Mix for Turkey
Another must-have for Thanksgiving, this six-ounce package of stuffing mix makes six half-cup servings. It's on sale for $1.98, down from $3.88.
Marie Callender's Southern Pecan Pie
If you're not much of a baker, this 32-ounce already-made pie is a good option. It's selling for $5.63, down from $6.98.
McCormick Turkey Gravy Mix
What's a turkey without gravy? This easy-to-make mix is now $1.30, down from $1.49.
La Marca Prosecco Rose Sparkling Wine
Every holiday is better with bubbles, and Walmart is now selling this 750ml. bottle of prosecco for $14.36, down from $15.98.
Rubbermaid EasyFindLids 40-Piece Food Storage Container Set
These food containers will help you store all your Thanksgiving leftovers. They now retail for $20.96, down from $24.96.
More From GOBankingRates