Costco's Thanksgiving Meal Is Sold Out — Here Are 6 Alternatives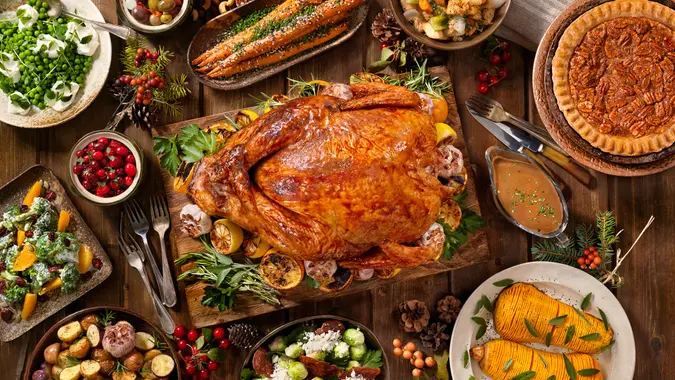 LauriPatterson / Getty Images
Earlier this month, Costco debuted its complete Schwan's Thanksgiving Meal. The meal-kit — which includes a ready-to-roast turkey breast, baked potatoes, sweet potatoes, green beans, sweet corn, biscuits, a pumpkin pie and vanilla ice cream — retails for $99.99 and serves eight people. The meal is such a steal that it's unfortunately already sold out, but there are a number of alternatives that can feed your whole Thanksgiving crew, minus the hours of slaving away in the kitchen.
See: 6 Holidays Purchases That You Should Only Make at Costco
Find Out: Costco, Walmart and 17 Other Stores That Will Be Closed on Thanksgiving
Try these six complete Thanksgiving meal alternatives.
Bob Evans: Serves 8 Turkey Farmhouse Feast
You can pick up an entire Thanksgiving meal at Bob Evans from Nov. 21-24. The meal includes slow-roasted turkey, bread and celery dressing, corn, mashed potatoes with gravy, freshly baked rolls, green beans with ham, cranberry relish, pumpkin bread and pumpkin pie. The meal is served cold — simply heat up at home to enjoy.
Boston Market: Complete Boneless Roasted Turkey Breast Meal for 4-6
Boston Market's heat-and-serve holiday meal comes with boneless roasted turkey breast, spinach artichoke dip and crackers, vegetable stuffing, cranberry walnut relish, mashed potatoes, gravy, six dinner rolls and an apple pie.
Buca di Beppo: Ready To Serve Thanksgiving Feast, Large
In addition to a heat and serve option, Buca di Beppo offers a ready-to-serve Thanksgiving meal that includes sliced white meat turkey, roasted garlic mashed potatoes, homestyle gravy, spicy Italian sausage stuffing, green beans, cranberry sauce and pumpkin pie. The large meal serves six.
Make Your Money Work for You
Cracker Barrel: Thanksgiving Heat n' Serve Feast
Cracker Barrel's meal serves eight to 10 people. It includes two oven-roasted turkey breasts, cornbread dressing, turkey gravy, cranberry relish, sweet potato casserole with pecans, choice of two country sides, sweet yeast rolls, pumpkin pie and pecan pie.
Marie Callender's: The Ultimate Whole Turkey Feast With Pumpkin Pie
Check your local Marie Callender's to find out what holiday meals are available. Offerings can include the Ultimate Whole Turkey Feast, which feeds six to eight people and comes with apple-sage stuffing, fire-roasted yams, cranberry sauce, mashed potatoes, turkey gravy, vegetables, cornbread and a pumpkin pie. Keep in mind that the meal requires three hours reheating time.
Whole Foods: Classic Whole Roast Turkey Meal for 8
Whole Foods' meal comes with an Animal Welfare Certified classic roast turkey, green beans with roasted shallots, creamy mashed potatoes, herb stuffing, turkey gravy and cranberry-orange sauce.
More From GOBankingRates