5 Dollar Tree Thanksgiving Recipes You Can Make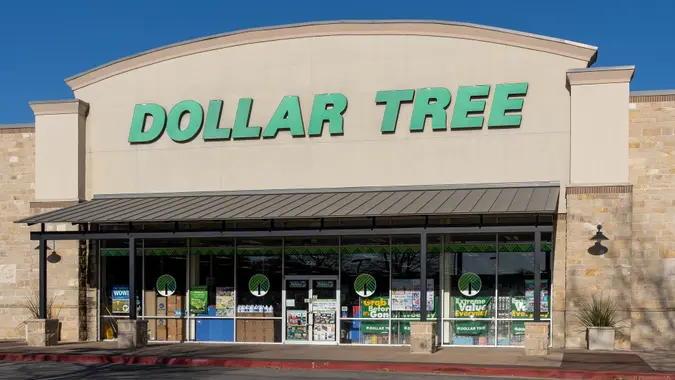 JHVEPhoto / iStock.com
Thanksgiving is just around the corner, and while it's a heartwarming moment for many who reunite with their families to celebrate, it can also be stressful, as it can take a toll on Americans' wallets.
With inflation persisting, food prices have not been going down by much. Last year, the average cost of a Thanksgiving dinner for 10 was $64.05, according to the Farm Bureau. This was a $10.74 — or 20% — increase from the 2021 average of $53.31.  And this year, the food-at-home index — what you pay for groceries — is up 2.4%, according to the U.S. Bureau of Labor Statistics' Consumer Price Index (CPI).
Save on Thanksgiving at Dollar Tree
Enter the Dollar Tree Thanksgiving meal, which will help you celebrate even if your budget is tight. You can even make an entire Thanksgiving dinner with all the trimmings while not breaking the bank, thanks to some expert advice. 
"This Thanksgiving budget challenge shows you, you can make homemade green bean casserole, Dollar Tree apple pie, enjoy one dollar rolls and pour yourself a glass of [non-alcoholic] bubbly," said Meals With Maria on her YouTube channel.
In the video, she said she used all Dollar Tree items — except for the spices she already had in her panty — and it cost her $19 for her goal to have "a full Thanksgiving dinner, dessert and appetizer." She also noted, however, that you can find some items cheaper elsewhere, such as margarine, which is 84 cents at Walmart, instead of a $1 at Dollar Tree.
Make Your Money Work for You
And she even ends up with a lot of leftovers.
Here are some of the recipes she made in the video.
Green Bean Casserole
She uses the recipe posted on the Campbell's website. These are the ingredients needed:
1 can (10 1/2 ounces) Campbell's Condensed Cream of Mushroom Soup — or 98% Fat-Free Cream of Mushroom Soup or Unsalted Cream of Mushroom Soup
1/2 cup 2% milk
1 teaspoon soy sauce
4 cups cooked cut green beans
1 1/3 cups French's Fried Onions
After preparing the dish, she cooks it in the oven at 350 Fahrenheit for 20 minutes. She notes that you can prepare it and cook it ahead of time.
Pie Crust
Meals With Maria references a recipe on the Food Network website. You'll need:
12 tablespoons (1 1/2 sticks) very cold unsalted butter
3 cups all-purpose flour
1 teaspoon kosher salt
1 tablespoon sugar
1/3 cup very cold vegetable shortening
6 to 8 tablespoons (about 1/2 cup) ice water
When the crust is ready, she fills it with already-made apple pie filling and sprinkles on some cinnamon, and voila!
Stuffing
She based the recipe in the video on the one on Once Upon a Chef, switching some ingredients.
3 Hawaiian rolls, cut in squares — there was no stuffing at her Dollar Tree
1 stick (1/2 cup) unsalted butter
1 1/2 cups diced yellow onion — 1 large or 2 small onions
1 cup diced celery — 3 large celery stalks
4 garlic cloves, finely chopped
1 pound bulk sweet Italian sausage
2 3/4 cups low sodium chicken broth
1 large egg, beaten
1 tablespoon fresh chopped rosemary
1 tablespoon fresh chopped sage
1/4 cup fresh chopped parsley
1/2 teaspoon salt
1/2 teaspoon freshly ground black pepper
Make Your Money Work for You
Turkey and Mashed Potato
Meals With Maria suggested buying deli turkey instead of a regular turkey to keep the budget under $20.
As for mashed potatoes, she uses store-bought potato flakes, which allow you to make bigger quantities, she said.
Appetizers
Roasted garlic bagel chips
Pepper jack cheese
Lunchables pepperoni cheese and crackers
Cocktail shrimp
Spicy ketchup
Bubbly
Non-alcoholic Martinelli sparkling white grape
More From GOBankingRates