The Cost of Thanksgiving 2023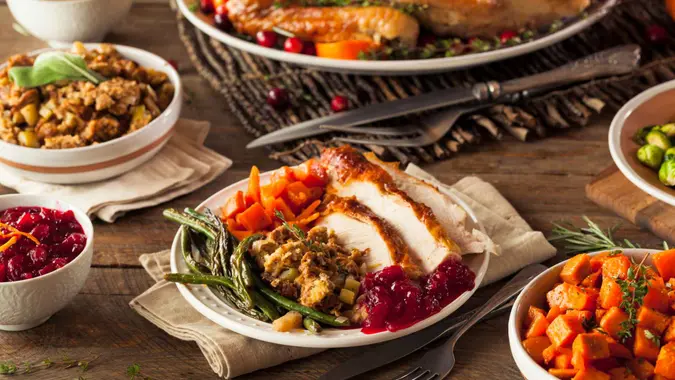 bhofack2 / Getty Images/iStockphoto
Finally, in a bit of good news coming just in time for the holidays, Americans will find some relief at the supermarket ahead of Thanksgiving. This may be interpreted, by some at least, as a tangible sign that inflation is starting to cool down.
This year, a Thanksgiving dinner won't take as much of a toll on your wallet as compared to last, according to The American Farm Bureau Federation's (AFBF) 38th annual survey.
In fact, the average cost of this year's classic holiday feast for 10 place settings will cost $61.17, or less than $6.20 per person, according to a press release.
The AFBF noted that this is a 4.5% decrease from last year's record-high average of $64.05. Yet, it is still a whopping 25% higher than it was in 2019.
Prices of turkey helped bring down the overall cost of dinner, as the average price for a 16-pound turkey is $27.35, down 5.6% from last year.
"Traditionally, the turkey is the most expensive item on the Thanksgiving dinner table," AFBF senior economist Veronica Nigh stated in the release. "Turkey prices have fallen thanks to a sharp reduction in cases of avian influenza, which have allowed production to increase in time for the holiday."
There are also regional price differences. For instance, the meal will be most affordable in the Midwest — $58.66, followed by the South, at $59.10. Those in the West will pay an average of $63.89, and in the Northeast, $64.38.
Make Your Money Work for You
The lower cost of the dinner reflects the consumer price index (CPI) food-at-home index, which primarily focuses on groceries. The index increased 2.1% in the past year, a notable drop from the steep 12.4% hike in October 2022, according to CPI data released Nov. 14.
Here is the AFBP breakdown of 2023 prices compared to 2022:
16-pound turkey: $27.35 or $1.71 per pound (down 5.6%).
14-ounces of cubed stuffing mix: $3.77 (down 2.8%).
2 frozen pie crusts: $3.50 (down 4.9%).
Half pint of whipping cream: $1.73 (down 22.8%).
1 pound of frozen peas: $1.88 (down 1.1%).
1 dozen dinner rolls: $3.84 (up 2.9%).
Misc. ingredients to prepare the meal: $3.95 (down 4.4%).
30-ounce can of pumpkin pie mix: $4.44 (up 3.7%).
1 gallon of whole milk: $3.74 (down 2.6%).
3 pounds of sweet potatoes: $3.97 (up .3%).
1-pound veggie tray (carrots & celery): $.90 (up 2.3%).
12-ounce bag of fresh cranberries: $2.10 (down 18.3%).
More From GOBankingRates