How To Do All Your Holiday Shopping for Less Than $100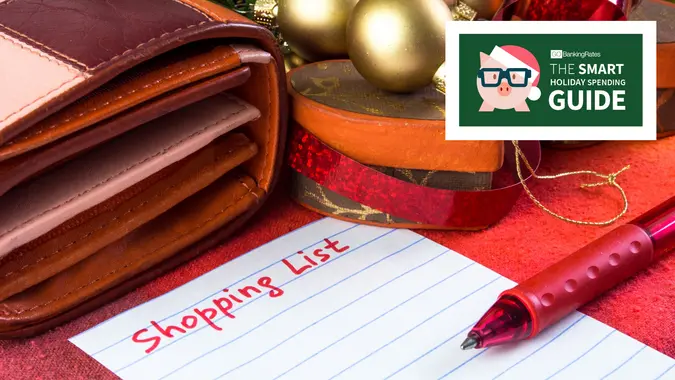 Amenohi / iStock.com
Doing all of your holiday shopping for less than $100 will take some serious restraint and creativity. After all, you could easily spend that much and more when picking up items for your holiday meal or selecting stocking stuffers for your loved ones. 
The best way to keep your shopping expenses under budget is to first determine what you can eliminate this year. Then, make a plan to meet the rest of your holiday expectations as cheaply as possible. Or better yet, come up with ways to accomplish things like gift-giving for free. 
Here are some ideas to help you keep your holiday expenses to a minimum this year. 
Opt Out of Holiday Events That Will Require Money
Unfortunately, $100 won't go very far, so you need to eliminate as many holiday expenses as you can upfront. Resolve to opt out of every event that requires you to spend money, such as office gift exchanges, parties that require formal wear or celebratory restaurant dinners with friends or co-workers. A good rule of thumb is if it costs money and you can do without it, don't hesitate to slash it from your budget. 
Recycle Holiday Supplies
Take inventory of the holiday supplies you have on hand and commit to using them. Chances are you have partial rolls of holiday wrapping paper, remnants of ribbon and various sizes of gift bags that you can utilize. You likely also can reuse all of your old indoor and outdoor holiday decor. After all, if you made the effort to store it at the end of last season, you must have thought it was worth keeping. 
Make Your Money Work for You
Opt For Gift Swaps
Gift swaps are a great way to save money, but you'll have to set the gift budget low to keep your expenses under $100. 
"Rather than buying a gift for everyone on your list, opt for one-on-one gift exchanges instead," said consumer analyst Julie Ramhold with DealNews. "Organize a game of Secret Santa and focus on purchasing a gift for one person, or if you prefer, organize a game of White Elephant. Just be sure that either way you set price limits on the gifts, and if you do organize White Elephant, make sure attendees know to buy serious gifts and not gag gifts. This way you can focus on getting one great gift for one person or for a group of friends to play for, and you don't have to worry about stretching your budget and overspending."
Make or Bake Your Gifts
"Consider crafting your own gift, such as homemade liqueurs or vanilla extract," Ramhold said. "Alternatively, bake your favorite cookies, make your favorite candies to gift or create your own kind of hot cocoa or spice mix to give away. It'll be cheaper in the long run than buying a bunch of separate gifts, and you'll be able to give something handmade that will likely be more appreciated than some random item purchased from the store."
Check your local thrift stores, visit the dollar store or raid your cabinets for appropriate containers to package homemade gifts. Add some ribbon from your stash, and you're good to go.
Perform Acts of Service as Gifts
A $100 budget limits the amount you can spend on store-bought gifts, so consider performing an act of service for those who you'd like to give something to. 
Make Your Money Work for You
"It can cost you $0 upfront to give the gift of babysitting to a family with children or the gift of quality time to a lonely grandmother," said Carter Seuthe, CEO, Credit Summit. "This can be an impactful and affordable way to stuff stockings."
Buy Secondhand Items
If having wrapped gifts under the tree is a must for your household, skip shopping at retailers and visit online marketplaces. 
"If you don't mind buying an item second hand, you can check places like Facebook Marketplace, Kijiji or eBay to find gifts that are within your budget since you can avoid paying full price," said Sandy Yong, award-winning author of "The Money Master."  "Oftentimes, you can find great products at a discounted price that are in great condition. It may take some extra effort but you could find a great deal!"
Host a Potluck Holiday Dinner
If it's your turn to host the family holiday dinner, suggest going potluck to not only save money but switch things up and allow everyone to bring one or two of their favorite holiday dishes. 
"Holiday meals can be expensive if one person alone is cooking, so potluck dinners are a great way to save money!" said Marissa Zen, budgeting expert and founder of Squirrels of a Feather. "Everyone can sign up to bring one to two items, such as appetizers, entrées, side dishes, desserts or drinks, for a complete meal that leaves everyone satisfied."
More From GOBankingRates
Make Your Money Work for You