6 Offbeat Valentine's Gifts for Less Than $50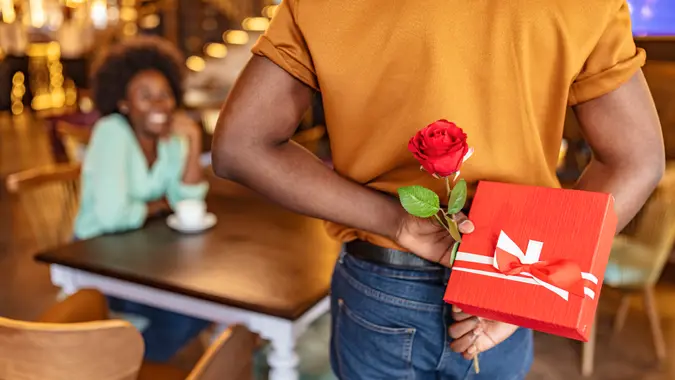 ljubaphoto / Getty Images
According to a survey by the National Retail Federation, 52% of Americans plan to celebrate Valentine's Day this year, with many giving gifts like jewelry, candy and flowers. Although flowers and chocolates are considered traditional Valentine's Day gifts for that special someone, they also can be viewed as cheap, uninspired or boring. At the other end of the spectrum are gifts that have a certain wow factor, like custom-made jewelry or an expensive night out, but those kinds of over-the-top gifts aren't always appropriate or affordable. 
If you're looking for something a little different this Valentine's Day — a present that will make an impression without breaking the bank — here are six offbeat Valentine's Day gifts under $50 to inspire you.
Build-a-Bear After-Dark Teddy Bears: $25 and Up
Warning: These aren't your kid's Build-a-Bear buddies. Instead, they are part of a special After-Dark Collection, which isn't nearly as racy as it sounds. Choose from bears, rabbits, dogs, lions and more sporting heart-shaped paw patches, holding adult beverages and wearing Valentine's Day-themed pajamas or graphic tees with flirtatious messages. These gift sets start around $25, with some coming in closer to $50.
Make Your Money Work for You
Name a Cockroach After Your Ex: $5 to $25
Perhaps you (or someone you know) is in between love interests this Valentine's Day, but they're still feeling the sting of a romance gone wrong. In honor of scorned lovers everywhere, select zoos across the country are offering a special Valentine's Day gift. For example, the San Antonio Zoo in Texas has gift options ranging in price from $5-$25. Pay $10 and the zoo will give a cockroach your ex's name and feed it to one of the animals.
If you're not into cockroaches — no problem — you can substitute a rodent for $25 or a vegetable for $5. Add-ons include having the zoo send your ex a digital Valentine's Day card that shares the pertinent details of the deed or paying $150 extra to send a personalized play-by-play video of the animal chowing down on your ex's namesake.
Live Richer Podcast: You Might Be Losing Your Credit Card Reward Points: Here's What You Should Do
Personalized Love Tickets and Box: $45
If your significant other would appreciate a gift that keeps on giving, consider the Personalized Ticket to Love Box from Uncommon Goods for $45. This gift includes a personalized wooden ticket box and 10 wooden love tickets. When ordering, you can choose 10 wooden love tickets from 40 romantic options that will entitle your special someone to be able to redeem at-will things like 100 kisses in 24 hours, a full-body massage, a lover's quarrel victory or a "yes" day.
Make Your Money Work for You
Uniquely Flavored Soda Set: $27.55
If you're looking for a gag-type gift to give someone on Valentine's Day, Lester's Fixins Outrageous, Wild, Crazy, Unique Flavor Soda Pop Sampler Set is perfect.
The set is $27.55 and comes with six glass-bottled sodas in very unique (and possibly gag-inducing)  flavors, including Bacon Soda, Buffalo Wing Soda, Sweet Corn Soda, Pumpkin Pie Soda, Ranch Dressing Soda and Peanut Butter & Jelly Soda. 
Meathearts: $24.50
If you're looking for an edible Valentine's gift and candy hearts just won't do, Meathearts from the Manly Man Company could be a good alternative. These miniature beef jerky hearts are laser-etched with Valentine's Day messages such as "Beef Mine," "XOXO" and "Meat Me." Or you can opt for the spicy/naughty version of these beefy treats, which are etched with words like "Hot," "Wild" and "Eat Me." Both options come in packages of 16 for $24.50. However, be warned that the company only handcrafts small batches each day, and it frequently sells out. So be poised and ready to order at 7 a.m. PST to get your share. 
Chocolate Wine: $10 and up
You've probably heard of pairing chocolate with wine, but what about a chocolate wine? There are a handful of choices and one example is Cocoa di Vine Chocolate & Wine, which you can find for around $10. Described as a dessert in a glass, this white wine blend produced from Argentine grapes is combined with a velvety chocolate cream from a top Wisconsin creamery. The result is a rich milk chocolate flavor enhanced by undertones of caramel and vanilla.
Make Your Money Work for You
More From GOBankingRates
Make Your Money Work for You