Retailers Make Big Pre-Holiday Shifts To Accommodate Online Shopping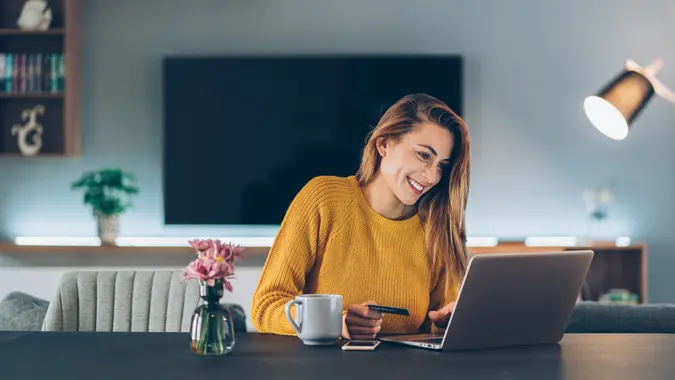 filadendron / Getty Images
With no end to the pandemic in sight, many consumers are opting out of in-person holiday shopping. A recent Sykes survey revealed that approximately 54% of shoppers are planning to shop online and have gifts shipped directly to them. And retailers are shifting to accommodate.
Instead of a traditional Black Friday sale, Lowe's is planning daily, online-only Cyber Steals from Oct. 22 through Dec. 2., which will be available for in-store and curbside pickup or online delivery.
And if picking up a fresh-cut Christmas tree or wreath is on your to-do list, you can order holiday greenery online from Lowe's. Starting Oct. 30, Lowe's is reportedly offering customers free delivery on these two items, as long as your order totals $45 and up.
If you want some other online holiday shopping options, loyal Walmart shoppers can get unlimited free delivery just by paying a monthly fee of $12.95 — or $98 annually — to join Walmart+. Even better, the company allows you to take the membership for a test drive with its 15-day free trial. That means you could potentially do all of your holiday shopping online and get everything delivered at no out-of-pocket expense.
Along with that, through Oct. 31, Bed Bath & Beyond is offering a $29 gift card in exchange for paying $29 to join Beyond+, which is like getting the membership for free. With Beyond+, shoppers can save 20% on their entire purchase, score free shipping and take advantage of holiday perks.
And there's always Amazon Prime. While the company's Prime Day has come and gone, Prime members can still get free shipping and save big on gifts with Amazon's daily Holiday Dash Deals.
Make Your Money Work for You
Retailers are also offering Black Friday deals way ahead of schedule to help shoppers snag massive savings. Walmart is offering Black Friday Deals for Days, which includes three separate online and in-store sales events throughout November. Macy's is offering its lowest prices of the season through Oct. 31, with up to 60% off top styles for everyone in the family. Online retailer Wayfair's Head-Start Holiday Sale offers up to 60% off on all things Christmas and various home goods. And Best Buy is offering Black Friday pricing guaranteed on everything from cellphones to major appliances — as long as you have a free Best Buy member account.
Getting the jump on your holiday shopping this year can undoubtedly help you score some great deals and secure free shipping, but it also puts you in danger of busting your budget before the season is over. Shoppers who tend to spend early spend significantly more, according to a study by Deloitte.
So before you online shop, make sure you know all the tips and tricks to get the best deal.
More From GOBankingRates