5 Steps for Paying Off Your Buy Now, Pay Later Holiday Purchases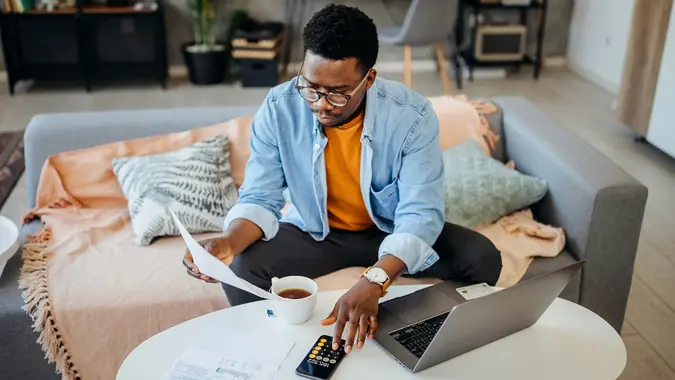 Pekic / iStock.com
Affirm, Klarna, Afterpay — chances are, you've come across these popular buy now, pay later (BNPL) companies while shopping online or in certain retail stores. BNPL soared in popularity during the pandemic, making it an in-demand option for holiday purchases this past year. In fact, 20% of Americans planned to use BNPL over the holidays and another 20% were on the fence, according to a 2022 survey by the Electronic Transactions Association and the Strawhecker Group.
But now that the holiday rush is over and those first BNPL payments are due, the allure of buying gifts without paying upfront may be fading. If you used BNPL for holiday purchases, here are the best ways to start paying them off as soon as possible, according to financial experts.
Review Your Accounts and Make a Budget
If you haven't already, now is the time to look at your BNPL accounts so that you thoroughly understand their terms and conditions, interest rates, late fees and repayment schedules. This can help you get a sense of how much you owe overall and how quickly you need to pay it off, explained Alastair Hazell, founder of the financial education resource The Calculator Site.
Next, you'll need to create a budget.
"Determine how much you can realistically afford to pay toward your BNPL balances each month, and create a budget to help you allocate your money wisely," he said. "But make sure to leave room for other expenses and emergencies."
Make Your Money Work for You
Pay More Than the Minimum
Although BNPL options differ in terms of rates, fees and payment schedules, many require you to repay the entire amount within 30 days to 12 months. However, Tatiana Tsoir — a CPA, personal finance coach and author — recommends trying to pay off your holiday purchases within six months at most.
"Take the total you owe, divide by 6, and pay that resulting monthly payment instead of only the minimum," she said. "Then, not only are you on a set schedule to pay it off, but you might also avoid interest and give yourself a six-month buffer until the next holiday season."
Plus, if your provider charges interest, paying off your balance early can save you money in the long run.
"Consider making additional payments or paying more than the minimum amount due each month to reduce the overall cost of the debt," said Mina Tadrus, CEO of Tadrus Capital.
Pause Discretionary Spending
BNPL can be a good choice for larger or unexpected purchases, whereas credit cards may be a better fit for smaller, everyday purchases, said Bobby Tzekin, CEO of the BNPL company Wisetack. However, if you've used BNPL for the holidays, he recommends making a short-term plan to pay it all off, even if that means temporarily pausing other purchases.
"Depending on each individual's financial situation, it may make sense to hold off on shorter-term discretionary spending post-holidays and instead use that money to pay off holiday purchases," he said.
Make Your Money Work for You
Consider Consolidation
Did you make holiday purchases with multiple BNPL accounts? If so, you may find that some of them have higher interest rates or fees. In this case, consider consolidating your higher-cost BNPL balances into a single loan with a lower interest rate.
"This can make it easier to keep track of your payments and save money on interest charges," Hazell said.
Look Into Alternatives for Next Year
There are some benefits to using BNPL for the holidays. It can allow you to take advantage of holiday sales even if you don't have the cash to pay upfront for items. And since many BNPL companies don't charge interest, it can sometimes be less expensive than using a credit card, Tadrus said.
However, if your holiday BNPL purchases are leading to hefty fees, interest charges or overspending, you may want to consider using other methods during the next holiday season. Here are a few alternatives to consider:
Credit cards: If your credit card has 0% APR, it may make more sense to use it to buy holiday gifts instead of BNPL.
Save up ahead of time: Setting aside money for holiday purchases months in advance takes more effort, but it can help you stress less about paying off short-term debts.
Layaway: If you find an item you love but can't afford quite yet, ask the store to put it on layaway for you for a few weeks.
Personal loans: You can use personal loans for holiday shopping, too. Their fixed interest rates and repayment terms may make it easier for you to budget and plan for payments, Hazell said.
More From GOBankingRates