55 Stocking Stuffers Under $5 (That Are Actually Useful)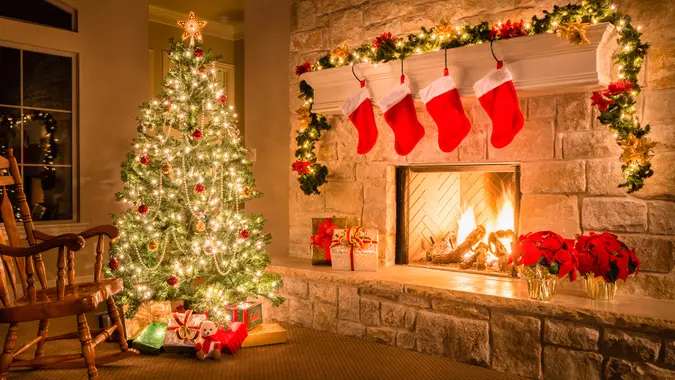 David Sucsy / Getty Images
Stocking stuffers should be fun, festive and inexpensive. These small gifts should serve as the appetizer or dessert for the main course of the presents under the tree. The holiday season is here — which means the shopping season is here — so now is the time to brainstorm ideas for what will fill your stockings.
See: If Your Credit Score is Under 740, Make These 4 Moves Now
Stocking Stuffer Ideas for $5 and Under
Stores like Dollar Tree, Dollar General and Family Dollar all sell an amazing array of affordable holiday items and gift ideas. Here are 55 items that make great stocking stuffers and don't cost more than $5.
Toys and Games
Bath toys: Getting kids clean is easier when they are distracted, so bath toys are always a good idea. You can find many inexpensive bath toys, such as the Shark Grabber from Family Dollar for $5.
Lego Minifigures: Legos are always a hit at Christmas time. Kohl's has Lego Minifigures of The Muppets for $4.74.
Mad Libs book: Mad Libs are always a fun way to play with friends and relatives. You can get the books in different themes. For example, Amazon has a Stranger Things Mad Lib book for $4.99.
Play-Doh mini canisters: Family Dollar has Play-Doh containers of confetti compound for $1 each.
Pocket-sized games: Dollar General has such classics as Monopoly in grab-and-go sizes for just $5.
Toys: Discount stores such as Dollar Tree, Dollar General or Family Dollar all have a huge selection of toys under $5. For example, Family Dollar has musical recorders, emoji sponge balls and sidewalk chalk all for $1.
Make Your Money Work for You
Art and Creative Supplies
Art supplies: Dollar Tree offers a myriad of art supplies, such as brushes, paints, stencils and palettes all under $5.
Coloring activity books:

Keep the children entertained with these assorted superhero coloring activity books that are just $1 each at Family Dollar.

Composition book: Great for students or office workers alike, composition books always serve a purpose. Office Depot has them for $1.99.
Erasers: Walmart has fun Pen + Gear 3D erasers in the shapes of all kinds of treats such as cupcakes and popsicles for $4.97.
Note pads: For all office supply goodies, Staples is a stop that makes sense. It carries note pads and memo pads in an assortment of colors, starting at $3.23.
Pencils: Fun for school or the office, Dollar Tree has Dr. Seuss pencils for $1.25.
Scented markers: Consider this fun gift to spruce up arts and crafts. Dollar Tree has scented marker packs for $1.25.
Stampers: Fun for party favors and stocking stuffers, stampers are great to give to every kid at the party. Walmart has 8-packs of stampers for $2.12.
Stickers: A perfect stocking stuffer for all ages, festive stickers are available at Dollar General for $1.
Tasty Treats and Kitchen Items
Cookies: A great way to save money on presents is to make some homemade goodies. You can get the Betty Crocker cookie mix in a variety of flavors at Target for $1.39.
Brownies: You can get Great Value Fudge Brownie Mix for $1.24 at Walmart. You can even make a double batch for multiple people for under $5.
Hot cocoa: A perfect stocking stuffer for a cold day, Swiss Miss cocoa packets are available at Target for $2.19.
Pumpkin pie spice: Tasty in lattes or many holiday treats, this spice is a cute way to give the flavor of the season in a stocking. Target has some for $1.79.
Bottle opener: This is a useful option, especially for the holiday party season. You can get a pack of six from Amazon for just $5, so you'll have a present for multiple stockings at a super reasonable price.
Reusable straws: Help cut down on someone's plastic use and give them reusable straws in their stocking. Crate & Barrel has a set of 4 stainless steel straws for $3.99.
Sippy cups: These portable children's cups are great for the stockings of kids or parents. Walmart has several options under $5.
Tumbler: Keeping your cold drinks cold and hot drinks hot, tumblers are always fun to get in a stocking. Target has three packs of tumblers with lids starting at $5.
Seasonal dish towels: Lots of cooking on the holidays means lots of dishes to do, so dish towels are always a welcome gift. Bed Bath & Beyond has adorable options for as low as $2.69.
Cookie cutters: Always festive, cookie cutters are a fun holiday tradition, and Target has stainless steel tree-shaped cookie cutters for $1 each.
Holiday mugs: Family Dollar has seasonal mugs in an assortment of different holiday options for $3.
Ice cube molds: Chill out with fun ice cube molds, such as the heart-shaped ice cube tray from Walmart which comes in at $4.59.
Make Your Money Work for You
Accessories and Beauty
Compact mirror: Having one of these in your bag can make checking your teeth or hair more convenient. Amazon has a pretty one that also magnifies, starting at just $4.39.
Cosmetic sponges: For quality, inexpensive cosmetic sponges, pharmacies are always a good bet. Walgreens has makeup blending sponges for $2.99.
Hair accessories: Rubber bands, headbands and clips are probably all used daily by your long-haired family members. They make great stocking stuffers, and CVS has a variety of them for under $5.
Lip balm: Winter is the season for chapped lips, so give your loved ones something soothing. Walgreens has ChapStick brand lip balms in a variety of flavors for $1.49.
Lotion: Give the gift of hydration during this dry skin season. CVS has lotions from such brands as Aveeno, Vaseline and Cetaphil all for under $5.
Neck gaiters: While these functional fabric tubes are often in the range of $10 or more, you can find several options for under $5 on Amazon.
Novelty glasses: Fun holiday-themed novelty glasses are good for a giggle and are now just $3.99 at Walmart.
Santa hat: Nothing is more fun than playing Santa, so give the hat in a stocking to signify that person should pass out the presents. Michael's stores have Santa hats on sale for $2.49.
Slipper socks: Keep every family member's toes warm with cozy slipper socks. Kohl's has them starting at $1.59.
Touchscreen gloves: Great for your avid phone users in cold weather, touchscreen gloves typically cost at least $10 — but you can find several options on Amazon for under $5.
Travel-sized toiletries: With everyone traveling on the holidays, travel-sized toiletries make a great stocking stuffer. Rite Aid even has an entire dental travel pack for $2.99.
RFID secure wallet: RFID-protected wallets are a useful way to keep your loved one's information safe. Amazon has some starting at $3.42.
Self-Care
Bubble bath: Eves St. Claire makes a vanilla bubble bath sold for $1.25 at Dollar Tree.
Face masks: Face masks for skin care are always a fun option for holiday sleepovers. Target has a variety of Burt's Bees sheet masks for $2.99.
Hand soap: With all the hand washing now, a nice hand soap would be an appreciated gift. Dollar Tree has name-brand hand soaps, such as Jergens or Dial, for $1.25.
Sleeping mask: These make a thoughtful stocking stuffer for anyone visiting and sleeping on a sofa bed. Amazon has a 2-pack available for $4.99.
Make Your Money Work for You
Festive Décor
Cinnamon-scented pinecones: The stockings are hanging from the fireplace, so you might as well help the fire smell nice. Joann stores have cinnamon-scented pinecones for just $3.99.
Magnets: A fun fridge decoration to stuff in someone's stocking are magnets. You can find a huge variety of different themes and colors at Dollar Tree for $1.25 each.
Tea candles: A cheap and cheerful decoration ideal for anyone's stocking. Target has 12-packs of scented tea candles for $4.
Air fresheners: A seasonal option from Febreze is "Pumpkin Patch," which comes in at $3.24 at Walmart.
Electronics Accessories
Batteries: With "Batteries not included" being such a common caveat on battery-operated gifts, who doesn't need batteries for the holidays? You can get packs of anything from AAA to D batteries all under $5 at Dollar General.
Flashlights: When it comes to snowstorm season, it is always good to stock up on flashlights. Dollar General has LED flashlights for $1.
Airpods case cover: Airpods are easy to lose, so a case cover is a great gift to give to someone who has them, to keep their Airpods case protected and show off their style. Amazon has several options in different colors and styles under $5.
Wireless charging pad: These are perfect to give to guests so they don't have to worry about hooking up their charger in every room. Best Buy has wireless charging pads for as low as $3.49.
Pocket Tools
Carabiners: Useful stocking stuffers for climbers, dog owners or just in general, carabiners fit conveniently into any stocking or budget. Home Depot carries many under $5.
Folding pocket knife: Whether it's cutting through present ribbons or opening boxes, pocket knives come in handy, and Amazon has them for just $4.89.
Keychains: DollarDays has fun animal-shaped LED keychains for just $2.48 each.
Hand sanitizer: Hand sanitizer is now a necessity, especially when on the go. Target has travel-sized bottles complete with a case that clips onto your bag for $1.49.
Final Thoughts
You don't have to spend a fortune to have a full and meaningful stocking. Quality presents for your friends and loved ones can come in under $5 — so you don't have to overspend your holiday budget.
FAQ
What is the most common stocking stuffer?

Stocking stuffers can vary by region and household. Classic gifts used to include things such as oranges, walnuts or candy, but now, you will find toys or functional items, such as batteries, to be more common.

How much should a stocking stuffer cost?

There is no hard and fast rule as to how much you should spend on stocking stuffers. It's more important to get something in your budget that the recipient will enjoy than to spend a lot of money. Many wonderful gifts are cheap and cheerful, so it is easy to set and stick to a budget.
Prices are accurate as of Nov. 28, 2022, and subject to change.
Make Your Money Work for You