6 Tips To Have a Cheap Thanksgiving Dinner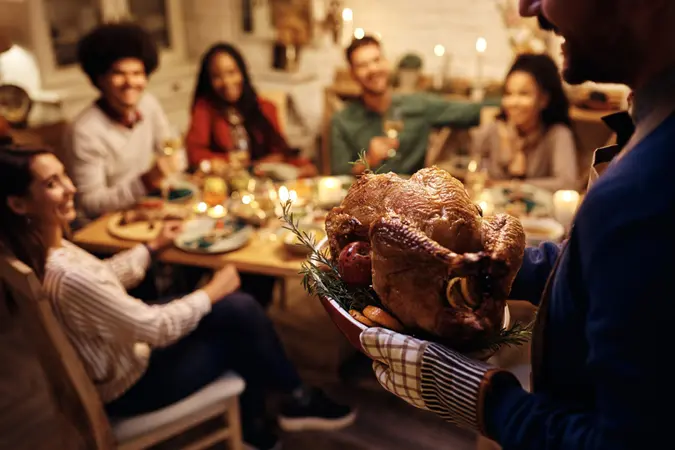 Drazen Zigic / Getty Images/iStockphoto
Thanksgiving is right around the corner, and inflation has many Americans looking for ways to cut costs on food. In a bit of good news just in time for the holidays, Americans can expect to find some relief at the supermarket ahead of Thanksgiving.
Indeed, the American Farm Bureau Federation's annual survey found that this year, a Thanksgiving dinner for 10 will cost $61.17, or less than $6.20 per person. While this represents a 4.5% decrease from last year's record-high average of $64.05, it is still an eye-popping 25% higher than it was in 2019.
"With inflation and the increasing pressure of rising interest rates, no one should be faulted or shamed for switching up the menu a bit," said Peter C. Earle, economist, the American Institute for Economic Research. "I personally know people who've exercised the option to have pizza Thanksgivings in years that they've faced financial difficulties. The spirit of the thing is what matters, and a less conventional meal may bring the added bonus of quicker, easier cleanup."
This is one way to lower the cost of Thanksgiving dinner, but if you don't want to break from tradition, here are additional manners to save.
Create a Thanksgiving Budget
If you really want to save, take just a few minutes to plan out your menu in detail, said Tanya Peterson, vice president of brand at Achieve. This budget should include all food, drinks, decorations, serving dishes and utensils you may need.
"People who don't budget can easily spend twice as much as they would with a budget," said Peterson.
Incorporate Local Food When Possible
Typically, you can save up to 15% by opting for in-season produce. "Think beets, Brussels sprouts, squash, broccoli," said Peterson. "Try making your own pickles from locally grown cucumbers for big savings (and better taste) over prepackaged. You could even check into buying a turkey from a local farm."
Make Your Money Work for You
Buy Crafted Drinks
Another way to save is to look into locally crafted wines and beers, and serve tap water instead of bottled water, she added.
Get Out the Good China
Or at least skip buying Thanksgiving-themed paper and plastic ware.
"If you are short on place settings, borrow — neighbors, family and guests usually are happy to share — or look on Craigslist, eBay or at thrift stores for extras you can reuse," recommended Peterson.
She also suggested that if you need more napkins, make your own or purchase a stash of bandanas in colors you like from a hobby store.
Save on Decorations
If you usually buy flowers, try a more economical option instead.
"Apples, stalks of Brussels sprouts, or bouquets of herbs can all be used after the big day and are just as festive as cut flowers," said Ashley Schuering, who writes the blog Confessions of a Grocery Addict.
Fall leaves, branches of pretty plants from your yard, or even crafted decor like coffee filter leaves are, if not free, very cheap compared to flowers, she added.
Make it a Potluck Dinner
One easy way to save a lot of money at Thanksgiving is to have a potluck dinner.
"The other approach is if you're inviting guests for dinner, to ask each to bring a certain portion of the meal," said Earle. "This not only spreads the cost out but may enhance the sense of community."
More From GOBankingRates
Make Your Money Work for You